Last Updated on
By: The Backyard Gnome
Installing a Tiki Hut in your backyard is a unique way to add fun and tropical vibes to your outdoor parties and family gatherings. They bring out a feeling of peace, relaxation, and joy, turning your backyard into a mini tropical paradise.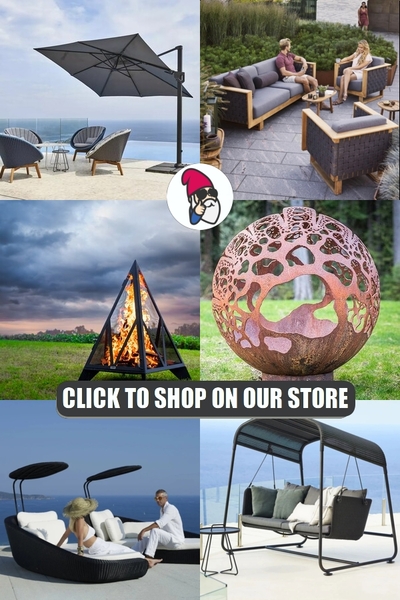 The more tropical cousins of gazebos, tiki huts can also be used for creating outdoor theaters, simple shade structures for private or public events, outdoor ticket booths and vendor areas.
Actually, Tiki Huts can be used in all sorts of situations where a permanent or temporary open-air structure is needed.
Our today's article is all about these world-famous huts. Here is what we are going to cover today:
Let's start with the history behind Tiki Huts…
---
The Interesting History behind Tiki Huts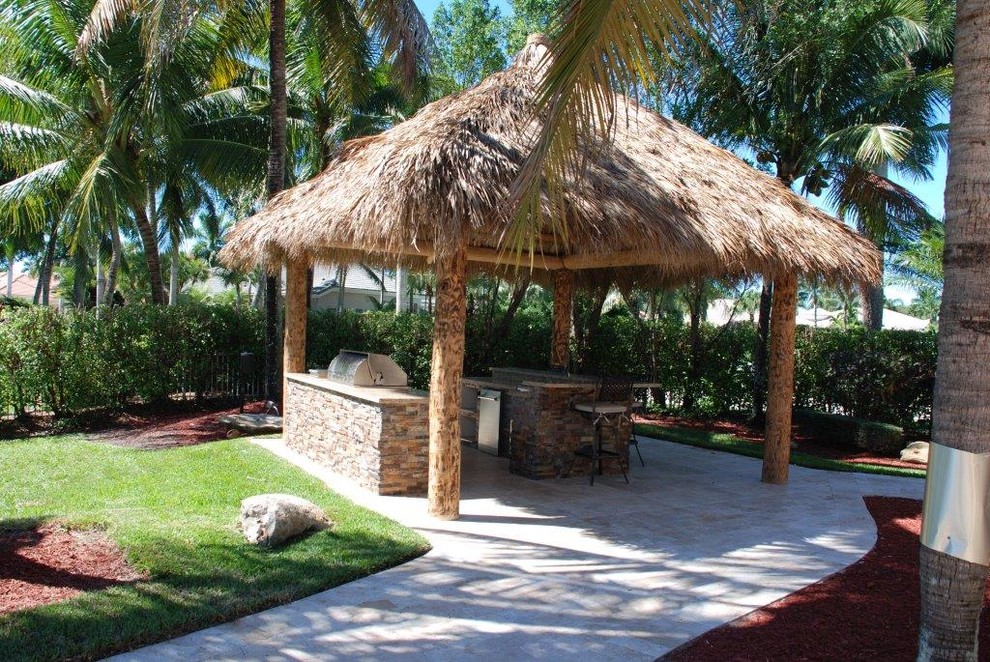 Although many people may believe that tiki huts originated from some remote island culture, they actually originated from the United States of America.
Tiki huts were originally built by the Seminole and Miccosukee tribes of Florida. The beginning of the 19th century was a difficult time for Native Americans.
The Seminole and Miccosukee tribes had to move around a lot and they needed a shelter that could be put up and taken down easily.
These tribes eventually fled to Everglades where they had an unlimited access to cypress logs and palm fronds which they started using for making huts.
The Seminoles referred to their huts as "chickees," which is Seminole word for "houses." The huts were made of a raised platform to prevent the floor from flooding, sturdy cypress posts, and a thatched roof.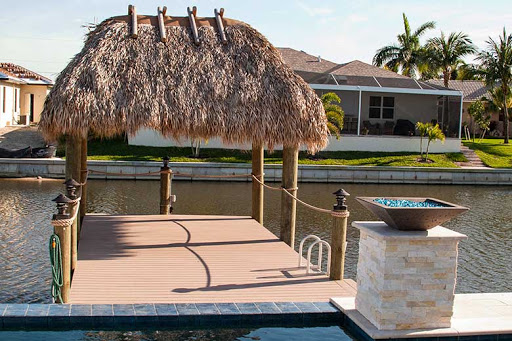 Somewhere throughout their history, the huts began to be referred to as "Tiki Huts", a reference to the Tiki style of the South Pacific. Tiki huts, as we know them today, are a product of the two cultures.
The name "Tiki" originated from the Polynesian mythical figure of Maori, who was also known as Tiki. This man, according to Polynesian mythology, was believed to be the first man created by the gods. The name and the origins quickly spread throughout the United States.
Next, we discuss what makes Tiki Huts so popular nowadays…
---
What makes Tiki Huts so popular?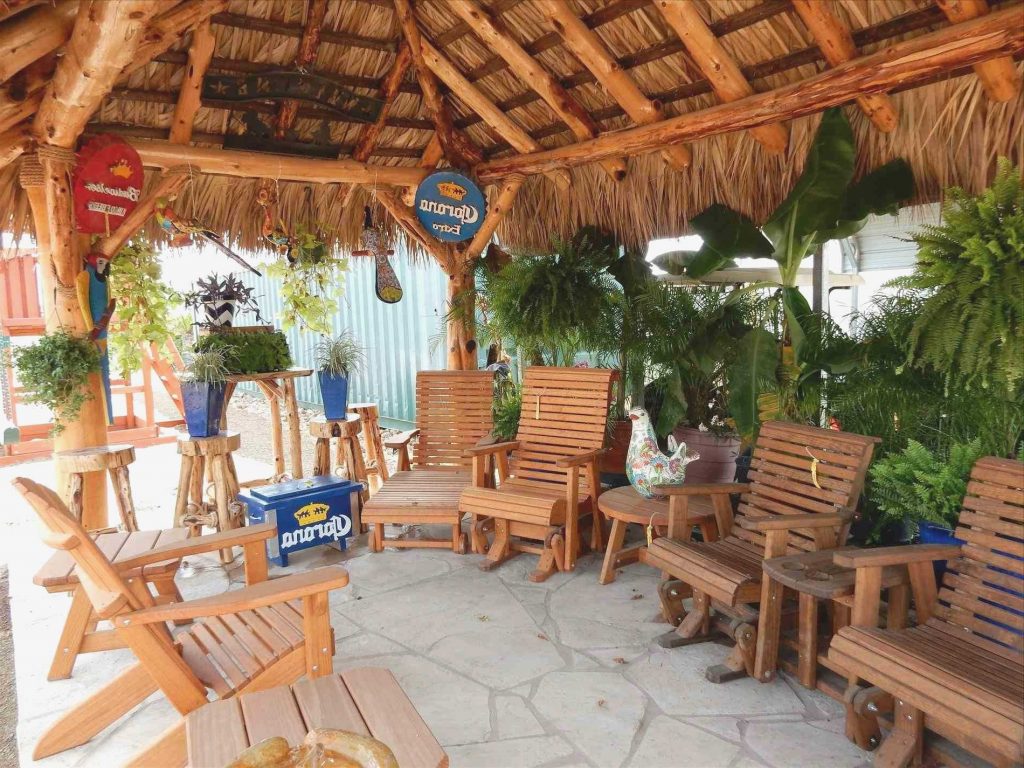 Tiki Huts can bring the fun and excitement of a remote tropical island to your backyard or business. They provide a unique way to relax, rejuvenate and get away from all the stress and problems you might have in your life. You could be living anywhere in the world and still enjoy the comforts of paradise thanks to these amazing huts.
Wherever there are tiki huts, there is a lot of fun to be had. Not many people will be able to refrain from the natural allure of a well-designed tiki hut. The unique appearance of tiki huts is more than enough to catch anyone's attention. Your friends and your family will definitely be amazed by the simplicity and the beauty of your tiki hut.
Tiki huts are also fairly easy to install and cost lower than other structures, such as a gazebo. It is also worth mentioning that the thatched roofs of tiki huts are almost indestructible and require low maintenance.
Next, we move on the defining features of tiki huts…
---
What Are the Defining Features of Tiki Huts?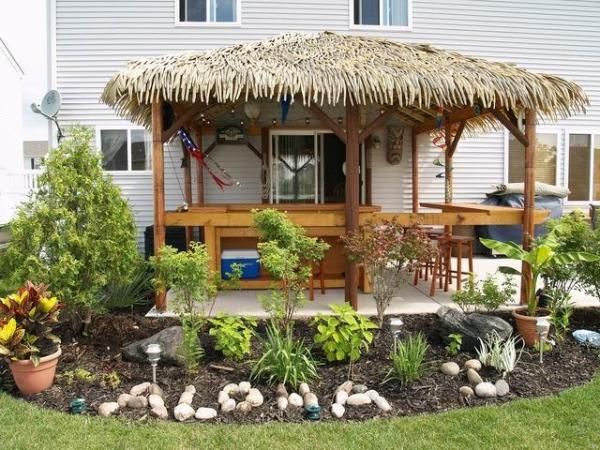 You don't have to be an architect or builder to easily recognize a tiki hut. These shelters have a very distinctive look so even children can recognize them.
Thatch roofs is what give them their characteristic appearance, as they look tropical, casual, and natural. Tiki thatch roofs move organically in the breeze, unlike any other roofing material.
A Tiki thatch roof covering is all about ambiance, peace, relaxation and tranquility. However, not all thatch roof for tiki huts are the same. Nowadays, tiki thatching is available in several different colors and styles including Mexican Rain Cape, Tahiti Thatch and Thatch Reed Panels.
Stay with us to find out more about different types of Tiki thatch roof covering…
---
Different Types of Tiki Huts
Mexican Rain Cape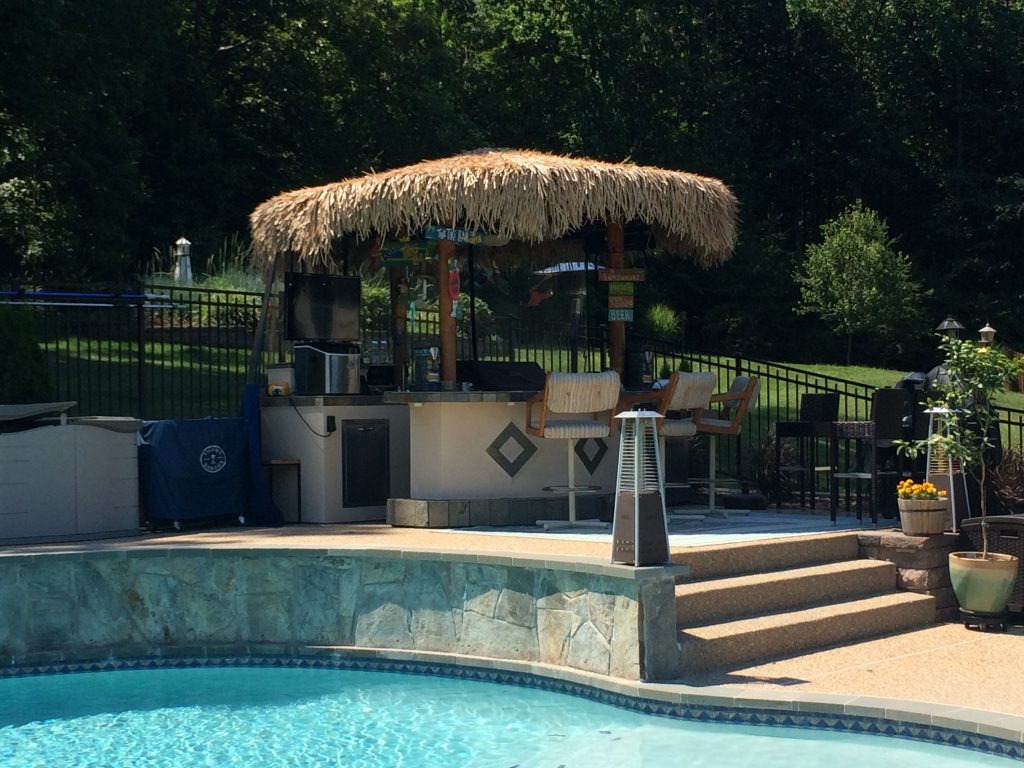 Mexican Rain Cape is made with the fronds of Mexican palm trees and comes in a light blonde color. It is installed in naturalistic, uneven strands around the roofline, which make it look more natural than man-made.
Mexican Rain Cape is one of the most budget-friendly types of thatch which can last indefinitely indoors. However, it does have one drawback. It's unlikely to last more than 18 months outside.
Here is a great video explaining more about Mexican Rain Cape.
---
Tahiti Thatch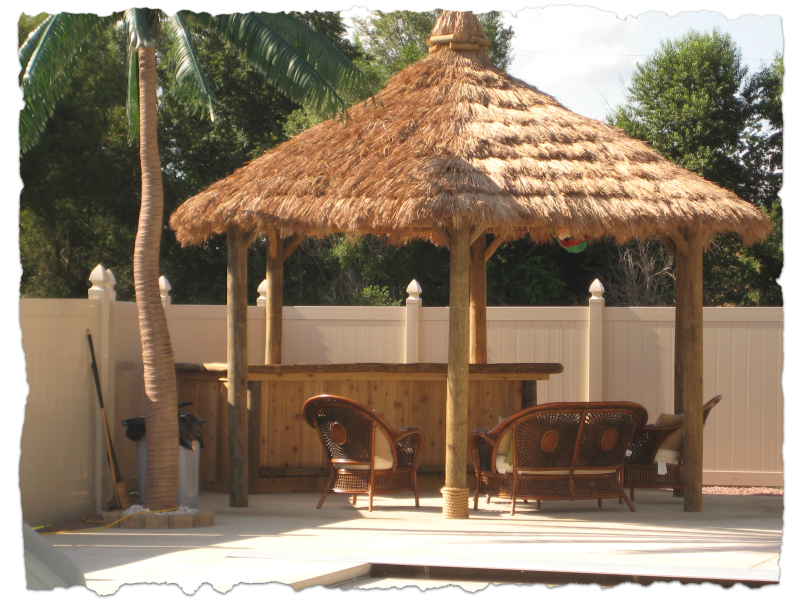 Tahiti Thatch is much thicker and more appropriate for waterproofing than Mexican Rain Cape.
This type of thatch is actually 98% water-proof. Its thickness is what allows water drops to roll off of the roof and not soak through. The Tahiti thatch fronds are sewn with nylon rope for extra durability and offer an average of 6-7 years of life
Here's a bit more information about Tahiti Thatch in this helpful video:
---
Thatch Reed Panels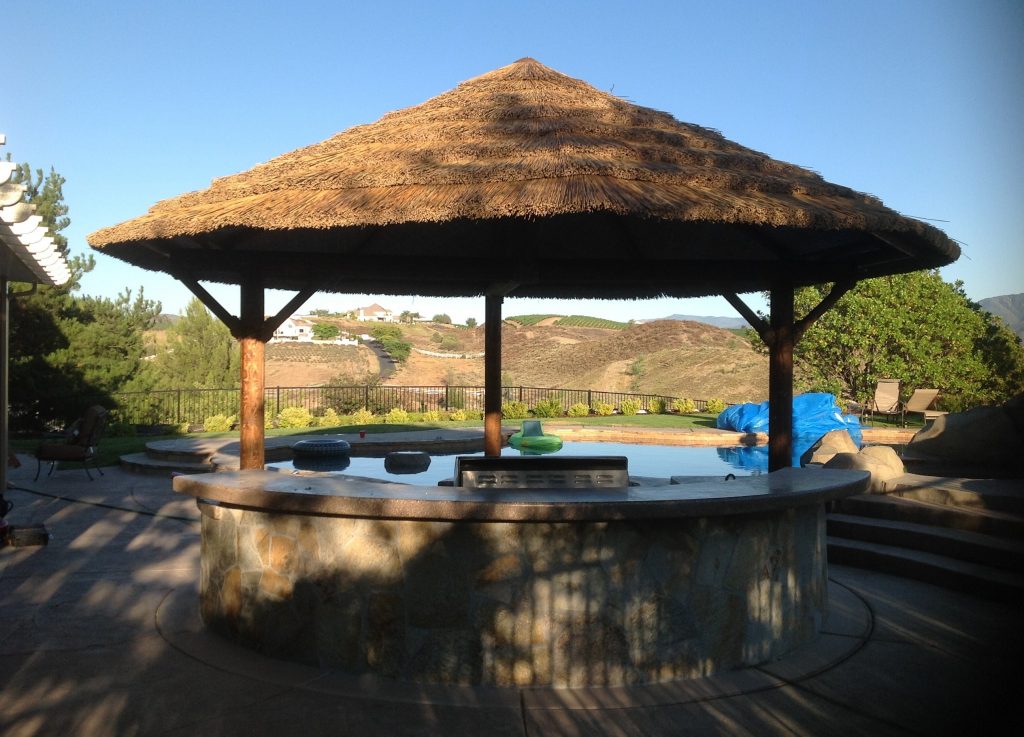 Thatch Reed Panels have a more refined classic look which makes them extremely popular for homeowners. They are made from natural African reeds which is the most durable and waterproof material on the market.
Finally, we answer whether you need a building permit in order to build a Tiki Hut…
---
Do You Need a Permit to Build a Tiki Hut?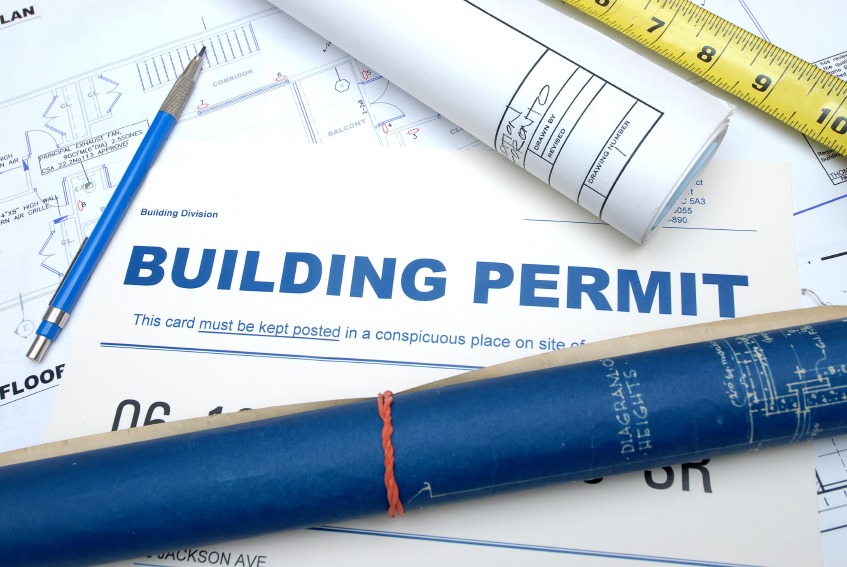 Do you need to get Tiki Huts permits? Ultimately, this depends on the type of structure as well as local building codes.
Most states allow a tiki hut under a certain size to be built without a permit. In these states, you can build a tiki hut without building permit provided your hut doesn't have plumbing, electrical or concrete features in the construction. However, you still have to abide by the local zoning laws.
Thanks for reading and please do share any comments or questions you have below!