The allure of earthenware is undeniable. It is warming, rustic, and classic. Earthenware looks great amongst any landscaping or home décor, as iconic as it is.
These pot-bellied ovens are widely beloved today, used in homes, backyards, porches and campsites (and the list goes on)!
They are sought after for their classic appeal, and for performing function as well as aesthetic.
They can be used for fires to sit around and enjoy, for cooking, warming up, and for lighting, in addition to providing a rustic ornament to any landscaping or yard décor.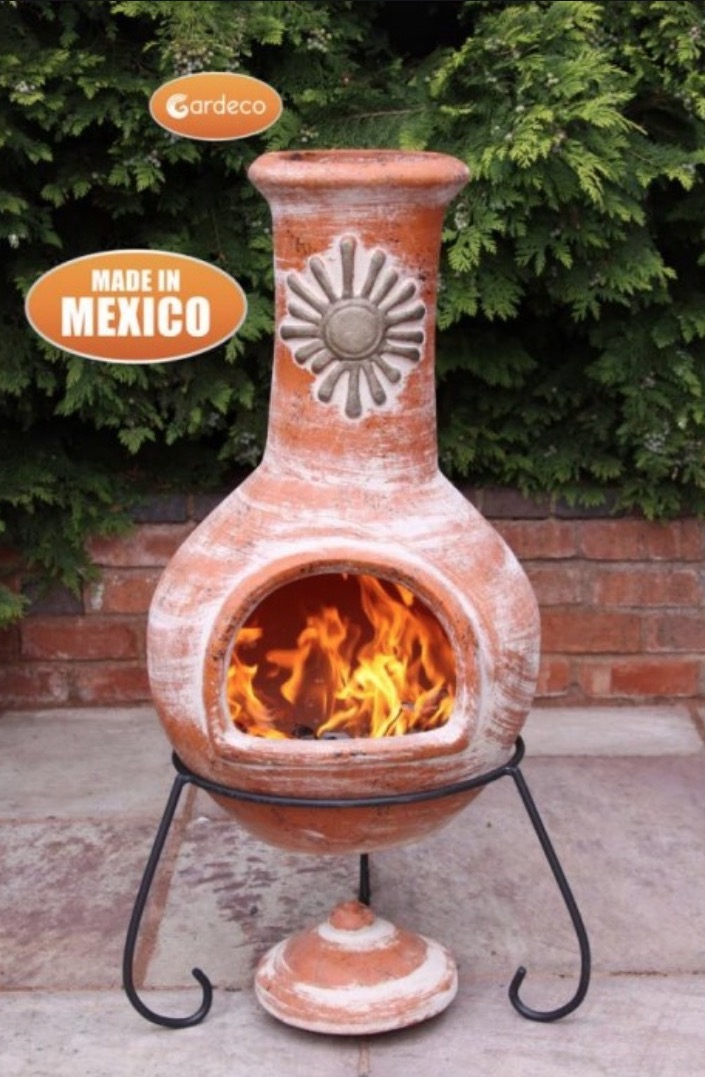 Often we see chimineas in typical earthy tones like oranges, greys, and browns. This one comes in a variety of tones, including purple! It weighs in at 110 pounds, making for a hefty piece of equipment.
You can rest assured it will remain stable during wind and be able to handle a nice, big fire.
Some of its great features include a large opening mouth, which makes it very easy for loading firelogs, re-fueling, and accessing the cooking grate should you decide to cook with your chiminea.
Each model has a rich color, and is vivid enough to catch the eye and be a work of art in your yard, but it also is organic enough that it will blend with any landscaping or décor you have.
We would even go so far as to say that this chiminea will turn you into a backyard entertaining sorcerer!
The Gardeco chiminea is handpainted to achieve the classic rustic look. It is a sizable oven, measuring fifty-four inches tall, and twenty inches wide.
This will enable you and guests to comfortable sit in front of it, as smoke will be directed far above your heads. The large mouth makes the fire very accessible and ideal for inserting pizza stones or several food items at once.
It does not come with a screen, so this is an accessory you may wish to purchase separately. Fire shouldn't come out of the opening, due to its potbelly directing heat up through the chimney, but embers can sometimes go rogue.
Make sure you keep children and pets away! The open mouth is very convenient and we think it looks cool with the fire openly visible.
Even the chimney stack can be used for reheating food items such as soup: get a second grate and set it across the chimney opening.
Just make sure that the pan or pot you use is smaller than the opening, so that smoke can still get through.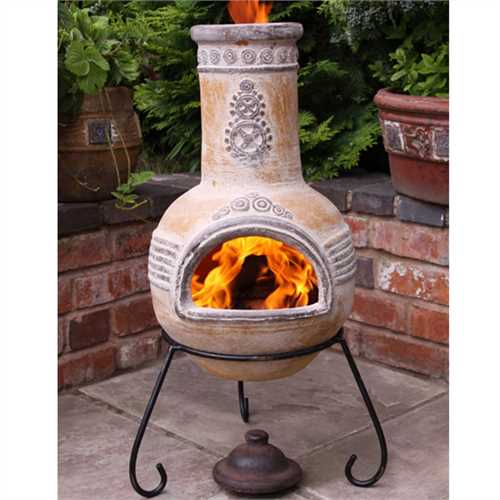 This model is very easy to set up, as it comes with the body, a lid, and the metal stand. However, since it weighs one hundred and ten pounds, we recommend having someone help you get it on its feet.
The convenient lid is great for keeping out the rain and for preventing other debris (such as leaves, or bird droppings) from entering the chiminea when not in use.
This will help cut down on the maintenance required. We also recommend bringing it into the shed or garage before rain and
There are many things you can do with this model of the chiminea, due to its large opening and generously wide chimney stack. You can purchase cooking grates and pizza stones, and we highly recommend you try cooking.
Chimineas can smoke and cook a meal like nothing else. It works like a barbecue in that you want the coals to smoulder before adding your food; sticking it right in the flames will cause it to burn before it even cooks through.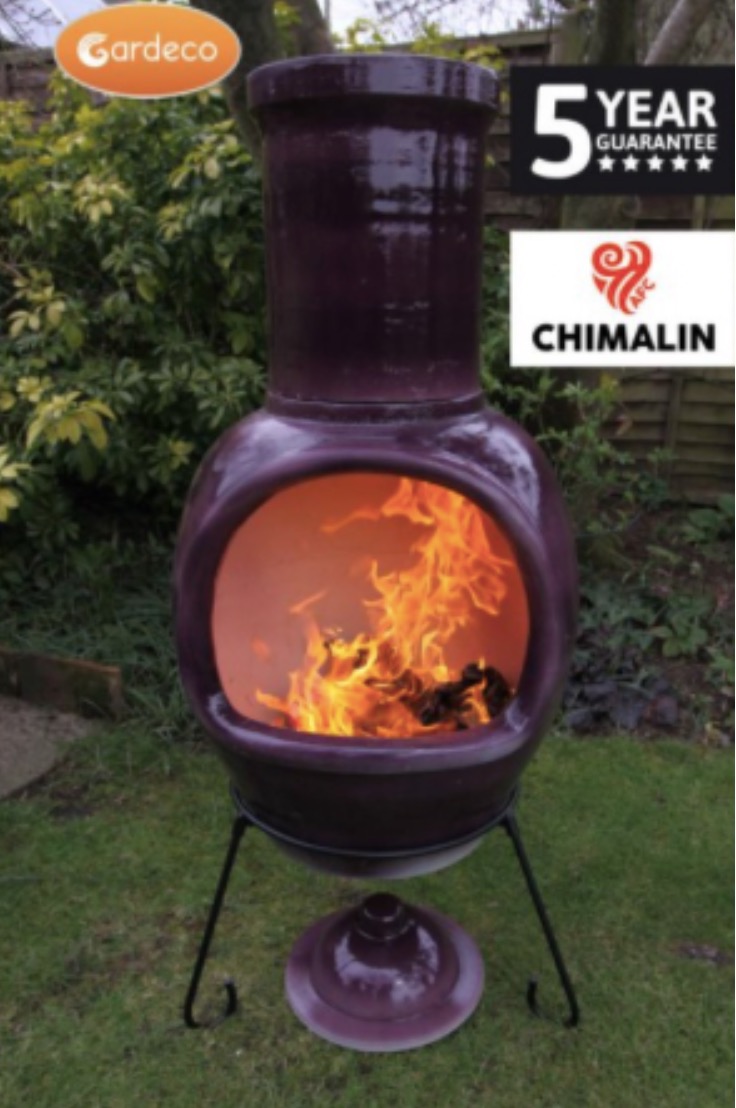 These days, chimineas come in all shapes, sizes, and materials. More and more commonly we see them made of cast iron or aluminum.
While the metal chimineas have the advantage of handling high heats and not cracking, they pose more of a safety hazard, as they conduct heat almost too well and become extremely hot.
Clay chimineas, on the other hand, absorb the heat and act as insulators. This means the heat collects and is redirected up through the chimney stack, instead of spreading throughout the body of the chiminea.
Should you or a pet or a child accidentally touch the chiminea, a clay version will not cause near as bad a burn! However, fire safety precautions are still necessary.
Do not place the chiminea directly upon grass or a wooden surface; instead, place it upon a layer of brick or upon a concrete patio.
Clay chimineas also tend to require less maintenance, as they develop a natural patina over time and look quite beautiful and timeless. To clean, simply shovel out the ash and replace the sand every so often.
The Gardeco chiminea sells for around $350. It includes a metal stand and matching metal lid.
More from our site:
Related posts: