Last Updated on
By: The Backyard Gnome
It's hard not to be entranced when one sees a fire flickering in an authentic-looking clay chiminea.
While there are many designs out there, be they modern or rustic, and a variety of different materials used to make your classic backyard chiminea (cast iron being a popular option for metal-built chimineas), there is just something about the look and feel of a traditional terra cotta chiminea that we can't take our eyes off of.
Top Pick: Sol y Tierra Clay Chiminea Pizza Oven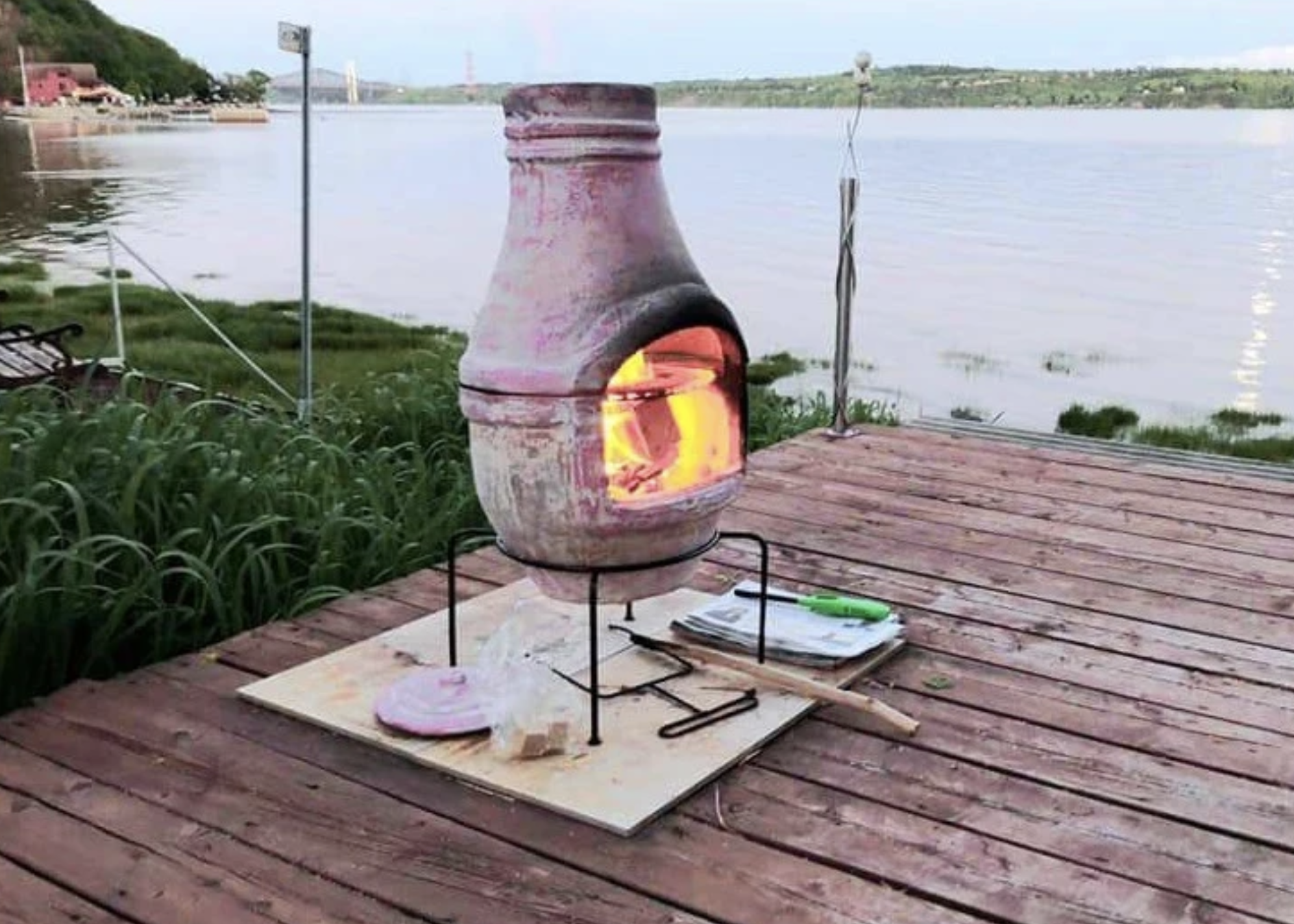 Traditional Latin American look
Handmade with high-quality & natural painted terra cotta clay
Made from durable 2 inch thick clay with a crash tested shipping packaging
Certified for food processing (most often used as a pizza oven)
Comes with added accessories: metal feet, 10″ pizza stone, stainless steel grill, instruction in English, French, and Spanish

Available on Sol y Tierra website

One size currently available: 15 x 15 x 35 inches
Ships anywhere in the continental USA, as well as Hawaii & Puerto Rico
Ships from Quebec to USA in about 5-12 business days, depending on location
The traditional clay chiminea design has been passed on from our most ancient ancestors who learned to control and use fire, up until present day and is still a great patio or backyard accent that very much loved in many peoples' backyards.
The Mexican and Latin American cultures are most often thought of as the ones who have best mastered the artistry of creating the most beautiful of clay chimineas, and people will come from around the world to visit Mexican just to get a hold of an authentic model.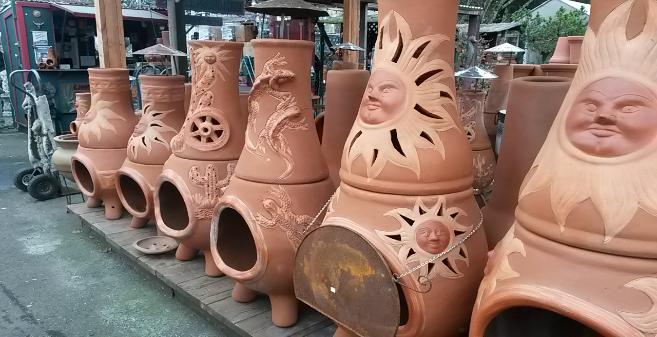 Some people use a chiminea as a fireplace, while other folks like to have a chiminea around just as an aesthetic piece.  It also will depend on the laws in a particular state as to whether you are able to have a controlled fire where you live, so we always suggest you check your local bi-law.
In any case, whether you're getting one purely for decoration, or are looking forward to setting up a cozy fire in your backyard, a clay chiminea will serve you well.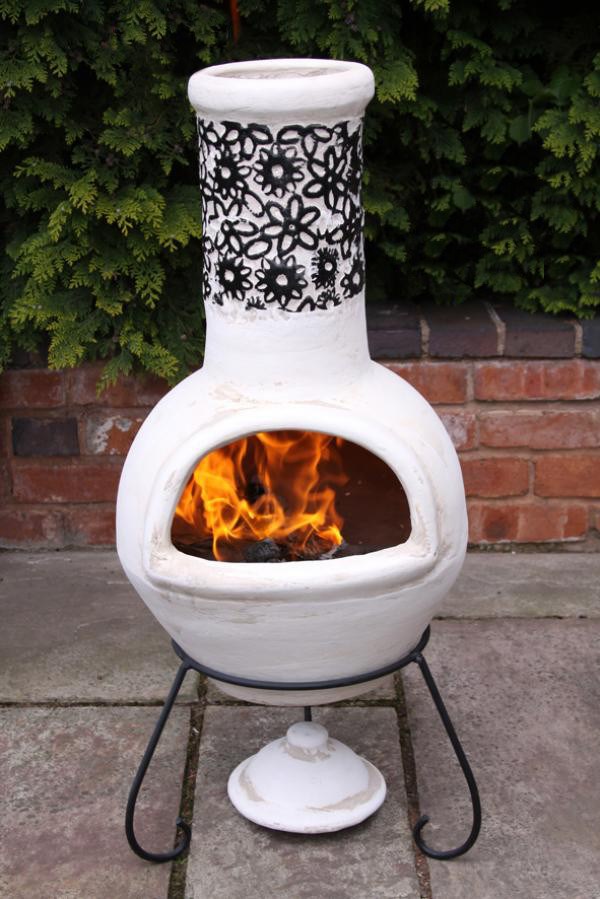 Aside from the look, there are several features that make clay chimineas quite practical.
Why Clay Chimineas Are Better
For one thing, they are safer than their metal counterparts. Clay is naturally an insulator which means the body will heat up less than that of a metal chiminea.
This makes it so that the heat emitted by the chiminea is focused out of the opening in the fire chamber and isn't dissipated throughout the actual body of the chiminea.
This makes it easier to position and manage the flow of the heat, while also making it such that the body of the clay chiminea is less of a risk of burning anything that might touch it.
While that is quite a plus, even with the added safety of clay, proper fire safety measures are still a must no matter what.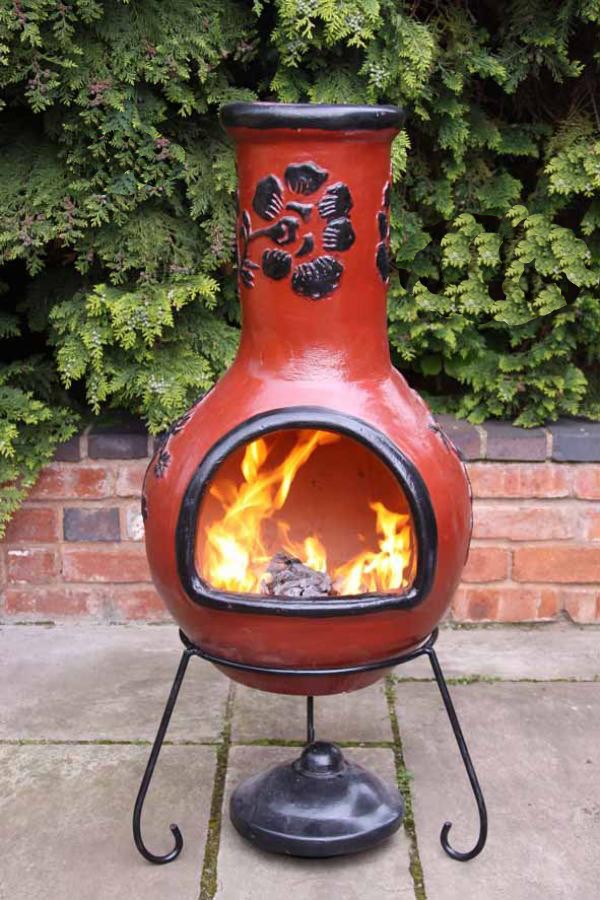 They are also lighter and easier to carry while requiring less maintenance and assembly than the metal versions. It's important to keep in mind that every chiminea will still need some amount of care to be able to live happily on your patio.
Nevertheless, different types of chimineas will also come with different features as well as their associated pros and cons.
Here's what we will be covering in this guide:
Furthermore, if you want to additional information on other kinds of chimineas, you can see our articles on copper and aluminium chimineas, cast iron chimineas, and cooking with chimineas.


Redi-Flame Woodshed Renewables Chiminea Kit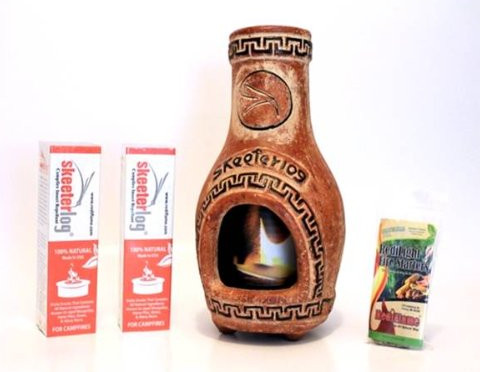 Little Baja Potbelly Chiminea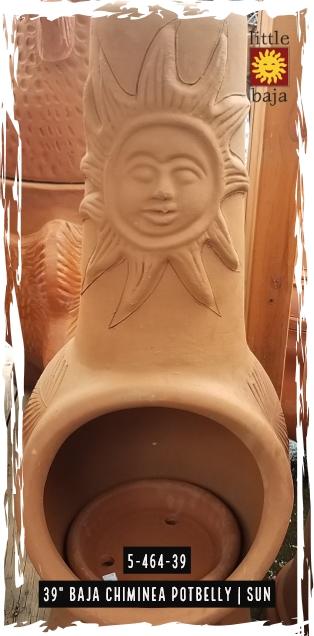 ---
Buyer's Guide to Clay Chimineas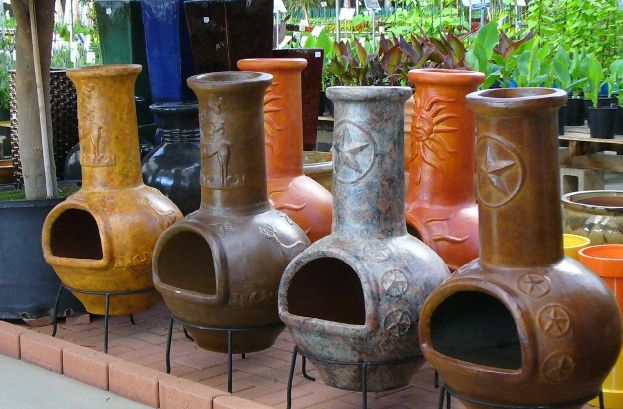 What Do You Need From Your Chiminea? – You should ask yourself what do you want to get out of your chiminea.
Here are a few points to go over when deciding on what kind of chiminea to go for:
What will you be using it for?

Do you want something that will require minimal maintenance or are you ok with a bit of maintenance if it's worth it in the end?

What kind of look are you going for?

What price range are you looking in?
The material that a chiminea is made from decides how it will handle and what advantages it will have. Depending on how you answer the questions above, different chiminea materials may be right for you.
Chimineas can be made from clay, cast iron, aluminum, copper, or steel, each type of material having its own pros and cons. In this guide, we will discuss clay chimineas and everything they have to offer as well as everything they need.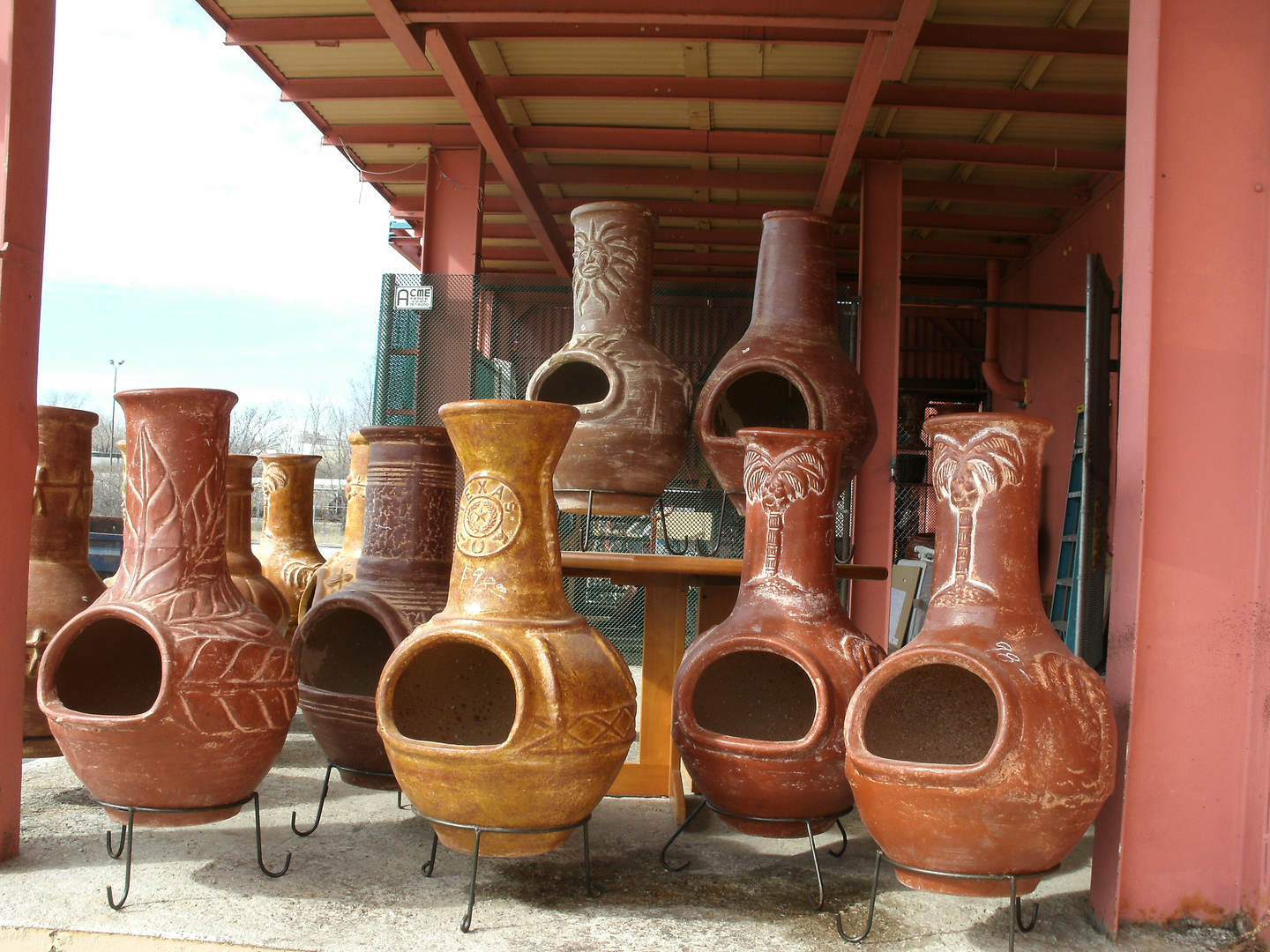 Things to Know About Clay Chimineas – Chimineas were traditionally made from clay, so getting a clay model is staying true to the original design.
The best way to summarize clay chimineas is that they offer a lot, and also come at reasonable prices. The cost to that, however, is the fact that they will require your love and attention.
Clay as a material has a lot of advantages. However, it is also brittle and porous, making it susceptible to certain stressors like physical forces, extreme temperatures, or drastic temperature changes. Proper setup, ongoing care, and proper storage are all crucial for clay chimineas.
If you think that's something you are up for, then a clay chiminea may be a great option for you. Let's take a look at the pros and cons in more detail.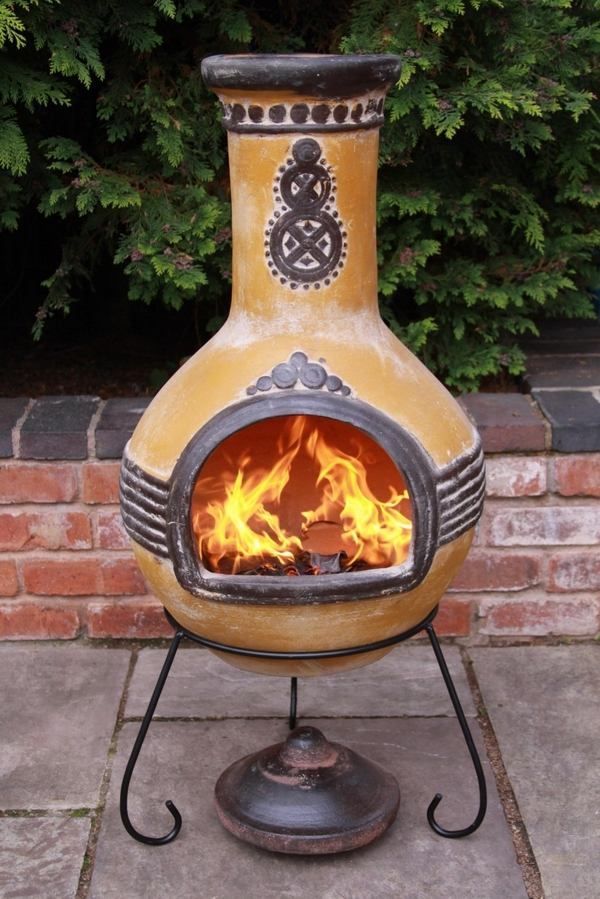 What clay chimineas bring to the table:
You will get more variety in design with clay. Clay chimineas are usually handmade, which means there are lots of different designs and styles to go with. Metal chimineas, on the other hand, are usually built from a template.

A lot of people commend it for the "natural" look of the clay. This, along with the fact that it is easy to paint, also makes it fairly versatile for decorating or mixing it into the landscaping or gardening.

The look does not fade over time or rust like the metal models

Clay chimineas radiate out heat at a slower rate for a longer period of time

Clay is an insulator which means the outer surface doesn't get as hot. This makes it a little bit safer, however it isn't recommended that you try to touch a chiminea while it is lit

Prices for clay chimineas are a lot more affordable than the metal builds
What clay chimineas will need from you:
You have to be careful not to accidentally hit or knock over clay chimineas. They will break easily

Clay chimineas need to be protected from the weather at all times. You can use a lid or a cover for that. In case of particularly stormy weather, you should consider taking your chiminea inside

They also need to be winterized and/or stored away during the winter months

They will require more regular maintenance and cleaning. Cleaning is mostly tending to the firebowl, while the maintenance is mostly protecting it against the elements

The clay will not be able to withstand drastic temperature changes. This means you cannot put out the fire by splashing it with water, nor will you be able to light up a clay chiminea in freezing weather conditions.

The clay chiminea needs to be sealed and cured before use. Luckily, it's a simple process that you only need to do one time.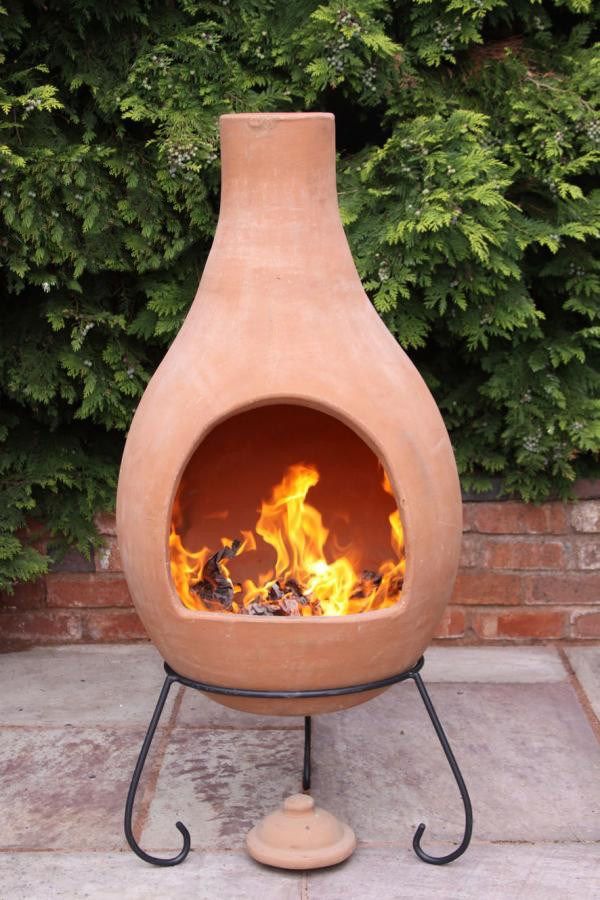 Uses – Clay chimineas are as versatile as they are lovely, and can serve a range of purposes. The obvious one is lighting a fire to add some warmth to your hangout spot or some spark to your evening entertaining guests.
For the foodies out there, a chiminea can come in handy for a lot of things. It is possible to grill, cook, and bake in a clay chiminea. Interestingly, you can also smoke foods and it works quite well. You should always use charcoal if you are making food.
If you want a low maintenance setup that is more about entertaining than providing a source of heat, you can also try lighting candles in the fire bowl.
It looks very soothing, gives you a lot to work with in terms of decor, and is also a lot less hassle than dealing with an actual fire.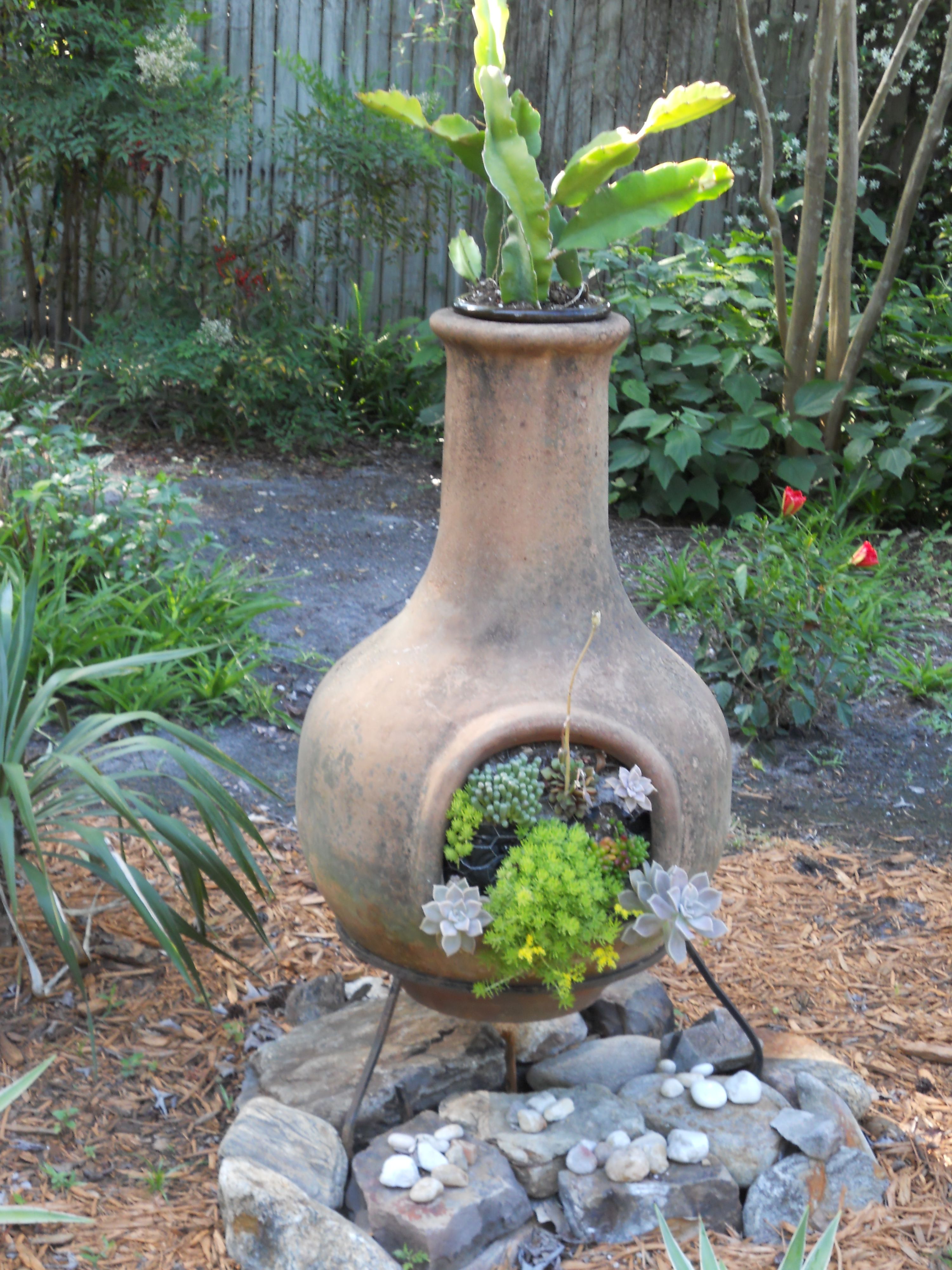 Alternative Uses – Clay chimineas also lend themselves well to many non-fire uses. The main one is being used as decor. Many people arrange them on their patio purely for decorative purposes. You can use one, or even multiple smaller chimineas to decorate and accent your backyard living space.
They are really great for this because they are usually handmade and come in a larger variety of designs. They can also be easily painted which opens up a wide avenue of creativity when it comes to decorating with them.
For those who enjoy gardening, clay chimineas can also be used as planters. The natural look of the clay makes it easy to integrate into any kind of garden setup.
Other non-fire uses involve setting them up as pet beds (size of chiminea and pet permitting).
What Else is There? – While they both function in the same way, metal and clay chimineas are quite different from each other and offer different experiences. If you're thinking that clay might not be the best option, you can also switch over to our article on the best metal chimineas.
Here's an example of one of our cast iron picks:

Oakland Living Antique Bronze Hummingbird Chiminea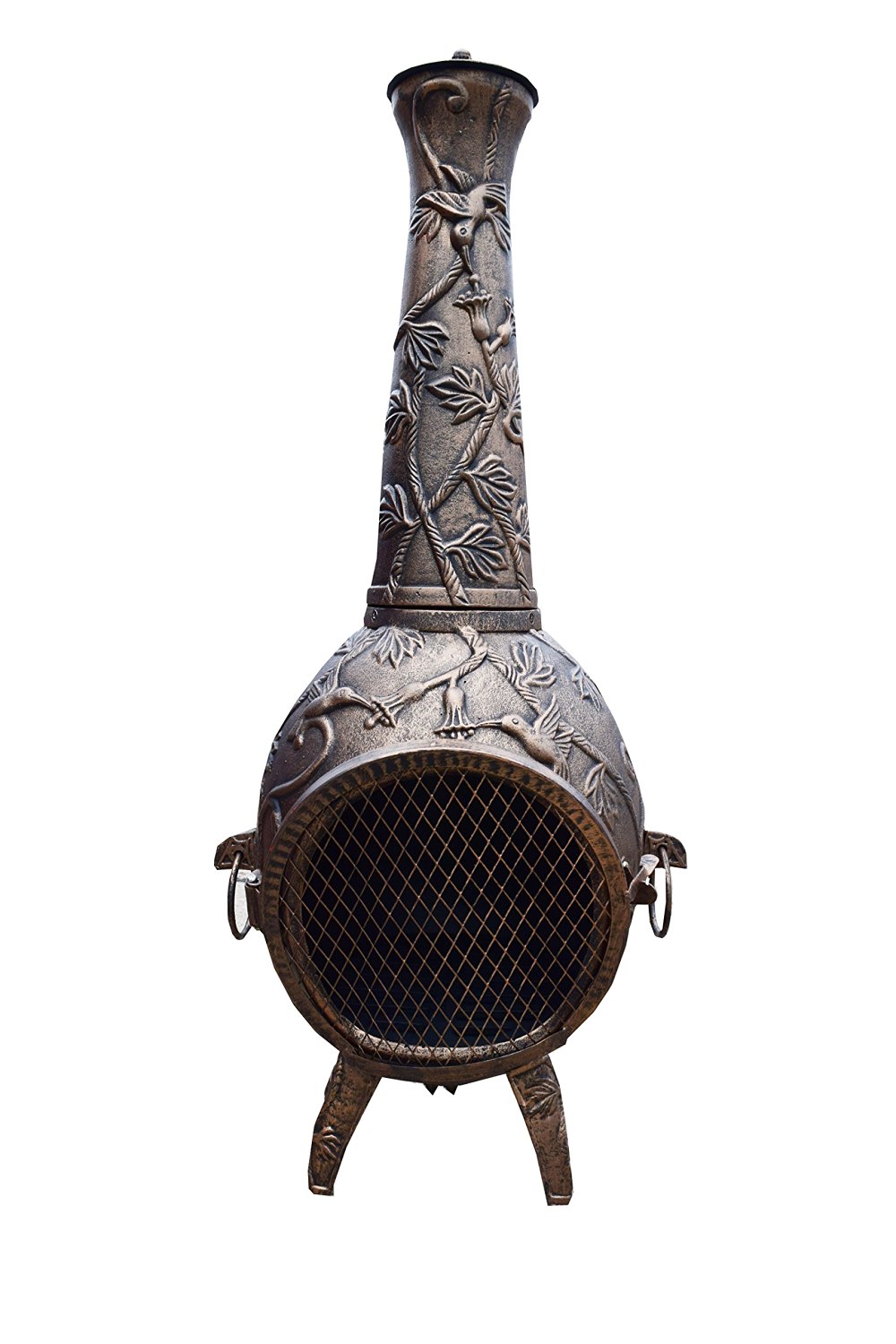 ---
Getting Started: Placement, Sealing, and Curing
Once you get your chiminea, there are a few steps to take to get started. The first thing you need to decide is where to place it.
Placement is very important for fire safety, but you should also figure out how it's placed relative to seating and walking areas.
After that, you will have to seal and cure your clay chiminea. These steps will help protect the clay body and ensure a longer lifespan.
Placement – the first thing to decide on is a good spot to place the chiminea. Always carry clay chimineas by the base and not by the chimney.
They are made from two parts that are glue together, so carrying it by the chimney can cause the base to break off and fall. Not a great spin on your afternoon.
Clay chimineas are not as heavy as cast iron chimineas, but they can still be inconvenient to carry around all the time.
They're also more likely to break or shatter. Because of this, it's a good idea to find a place where you don't have to move it too often (other than into storage for the season or due to weather).
Fire safety should be top priority. Chimineas need a radius of space around them so that they don't accidentally set something on fire.
The great thing about clay models is they mostly channel heat out through the mouth of the chiminea.
This means the safety radius needed around a clay chiminea is smaller than that of a metal chiminea. Nevertheless, you still need some amount of buffer space.
This also applies to anything above or below. The area above should be free of anything that can catch fire like awnings, gazebos, or tree branches.
The surface it's placed on needs to be completely flat and level. Ideally you will want to place it on concrete, stone, bare ground, or on a chiminea pad (more on this later).
Aside from that, consider the flow and layout of your backyard living space when deciding on a location. It should be somewhere where it can distribute heat evenly among all of the sitting spots.
It should also be somewhere away from high traffic areas so people don't accidentally bump into it or knock it over.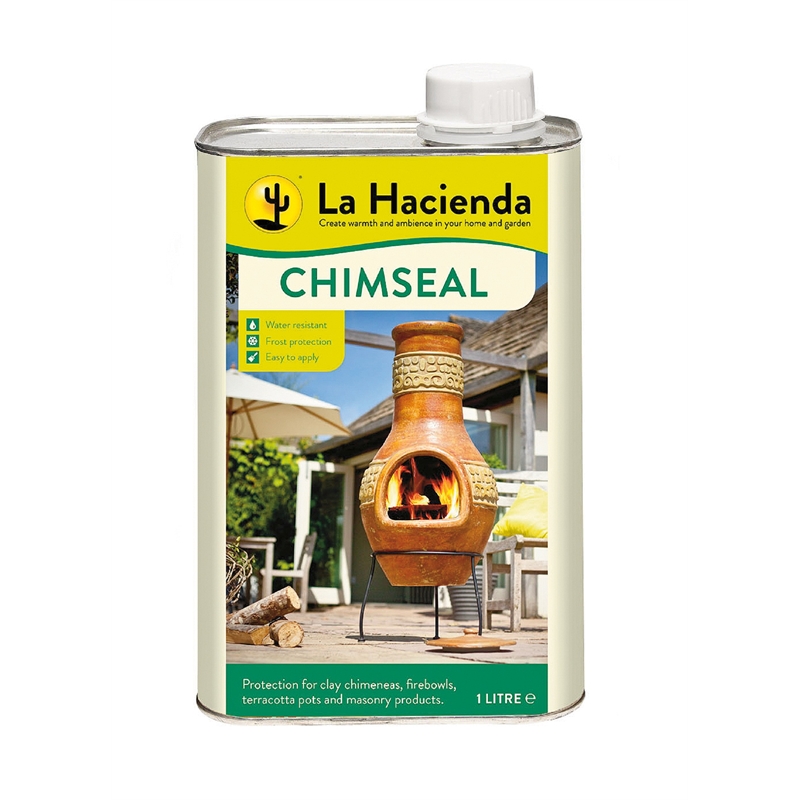 Sealing – once you've found a suitable place for your chiminea, you can tackle the process of sealing it.
Clay is naturally porous which makes it susceptible to the elements. Sealants do exactly as the name suggests, and seal off the clay, protecting it from moisture and temperature changes.
While this helps a great deal, it certainly does not make chimineas invincible against weather. It's still recommended to use a cover or bring them inside during bad weather and especially during the winter.
Here's how sealing works:
First, make sure the outside of the chiminea is dry and clean

Apply sealant of your choice (either spray on or with paintbrush)

Give it some time to set in (see product instructions for specifically how long)

Do not apply any sealant to the inside of the bowl as you do not want to burn off and evaporate the toxic sealant chemicals. Keep it only on the outside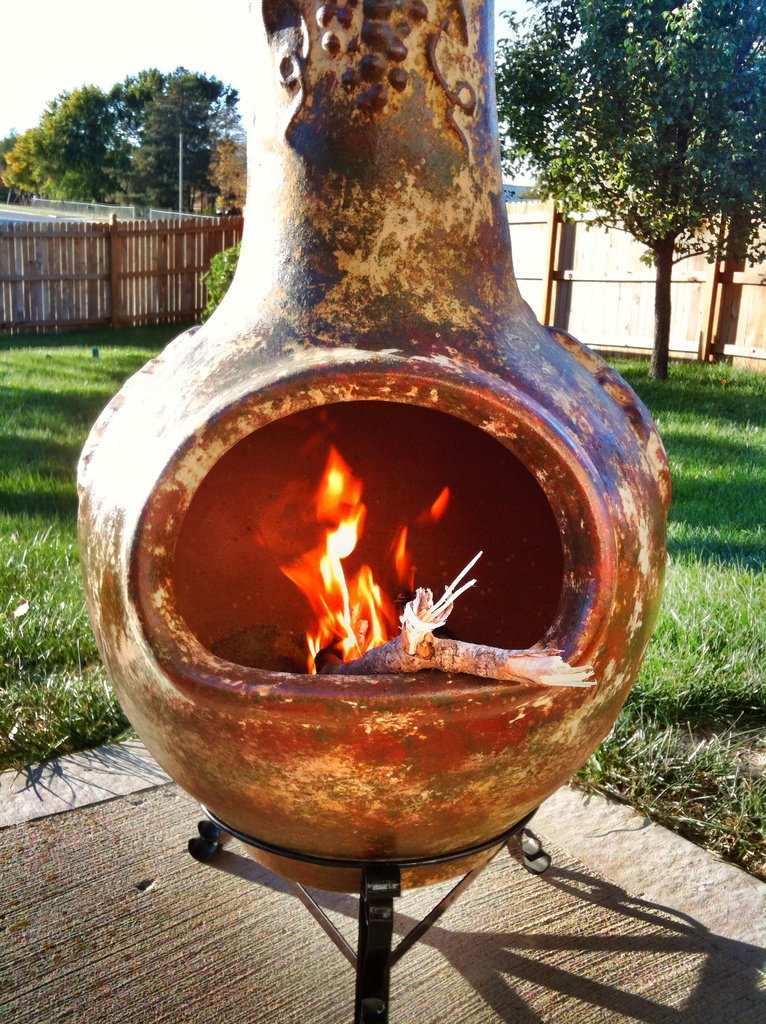 Curing – the last step before you're ready to go is curing. Curing helps strengthen the clay and conditions it to withstand high temperatures for long periods of time. This step is mandatory for ensuring a chiminea can keep doing its job.
Curing instills temperature resistance by starting with a small fire and building up from there. The key to this is the natural cycle of heating up and cooling down, along with the gradual increase in size of the fire.
Here's how to do it:
Start with a few balls of paper in the chiminea. Light them, let them burn out on their own, and allow time for the chiminea to cool naturally

Apply about four inches of soil, gravel, sand, or lava rocks to the base of the bowl

From now on, you will always need to use this layer of protection. Never light fires right on the base of the bowl

Use some kindling to light a second fire that is a little bit larger than the first one

Same as before, let it burn out on its own and wait for the bowl to cool down fully

Repeat this process two or three more times with slightly larger fires each time, allowing them to burn out and cool as before
Now that you have found the best spot for your chiminea, and also sealed and cured it, you're ready to start enjoying it.
---
What Surface Do You Put Chimineas On?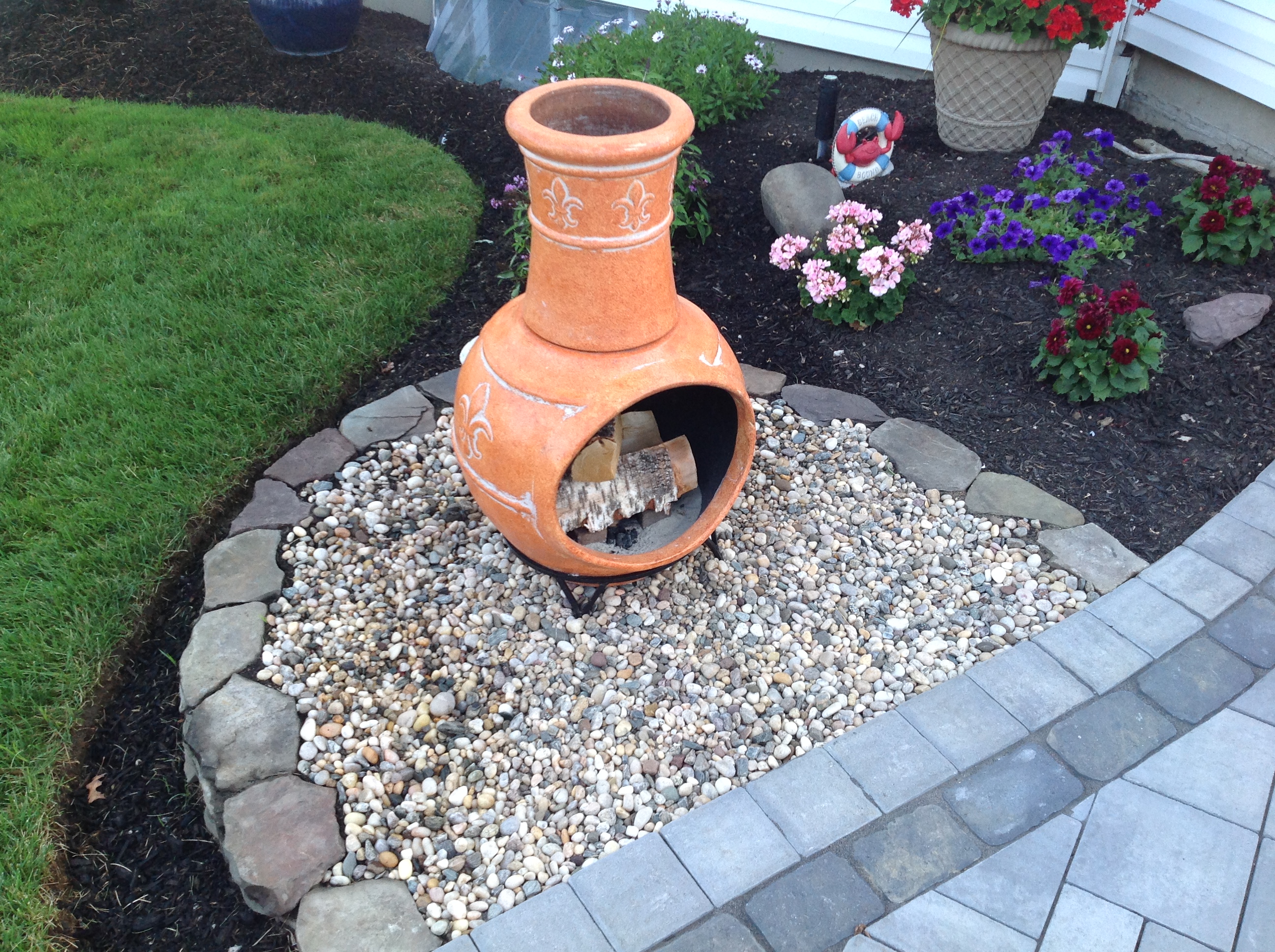 We've talked about how to position your chiminea, but what about the surface you place it on? Most clay chimineas will have a stand which you can place them on to lift them up off the ground.
Why Surfaces Matter – Using a stand to elevate it off the ground is a start, but there are a few more considerations to keep in mind. Chimineas radiate large amounts of heat for extended periods of time. This means that, aside from space around and above your chiminea, you also have to pay attention to what surface you place it on.
First and foremost, the surface needs to be flat and level. Secondly, you need to be careful with what kind of surface it is.
The sustained heat from the chiminea can wilt away grass or any other plants in your backyard, and also damage any wooden surfaces it's placed on. Concrete, stone, or bare ground are the ideal picks because they hold up to the heat.
It's worth noting that clay chimineas are a bit more forgiving than the metal models because they don't radiate as much heat around them. The clay insulates better and channels the heat out through the firebowl opening. This means that you have a little more flexibility on this front, however, you still have to be careful with your placement.
Can You Use a Chiminea On Your Deck? – If you are using a clay chiminea on your deck, you should always make sure it's placed on a stand or a chiminea pad. Never put the firebowl directly on a the deck because that is a recipe for disaster. Most clay models do come with their own stand, so it should be no issue. If your model did not come with a stand, then a pad might be the way to go.
Some clay chimineas also have tiny legs to support themselves, which gives them some height from the ground. You should consult the manual to see if your particular model can get away without a pad. However, as a rule of thumb, we always recommend using a protective surface when placing it on your deck.
Some options also exist for making your own pad or platform, if you are more of a diy-er. All that is needed is a sturdy insulating surface to block the heat from reaching the wood on the deck. Either way, make sure you have some sort of protection set up at the end of the day.
---
Fuel, Lighting, and Extinguishing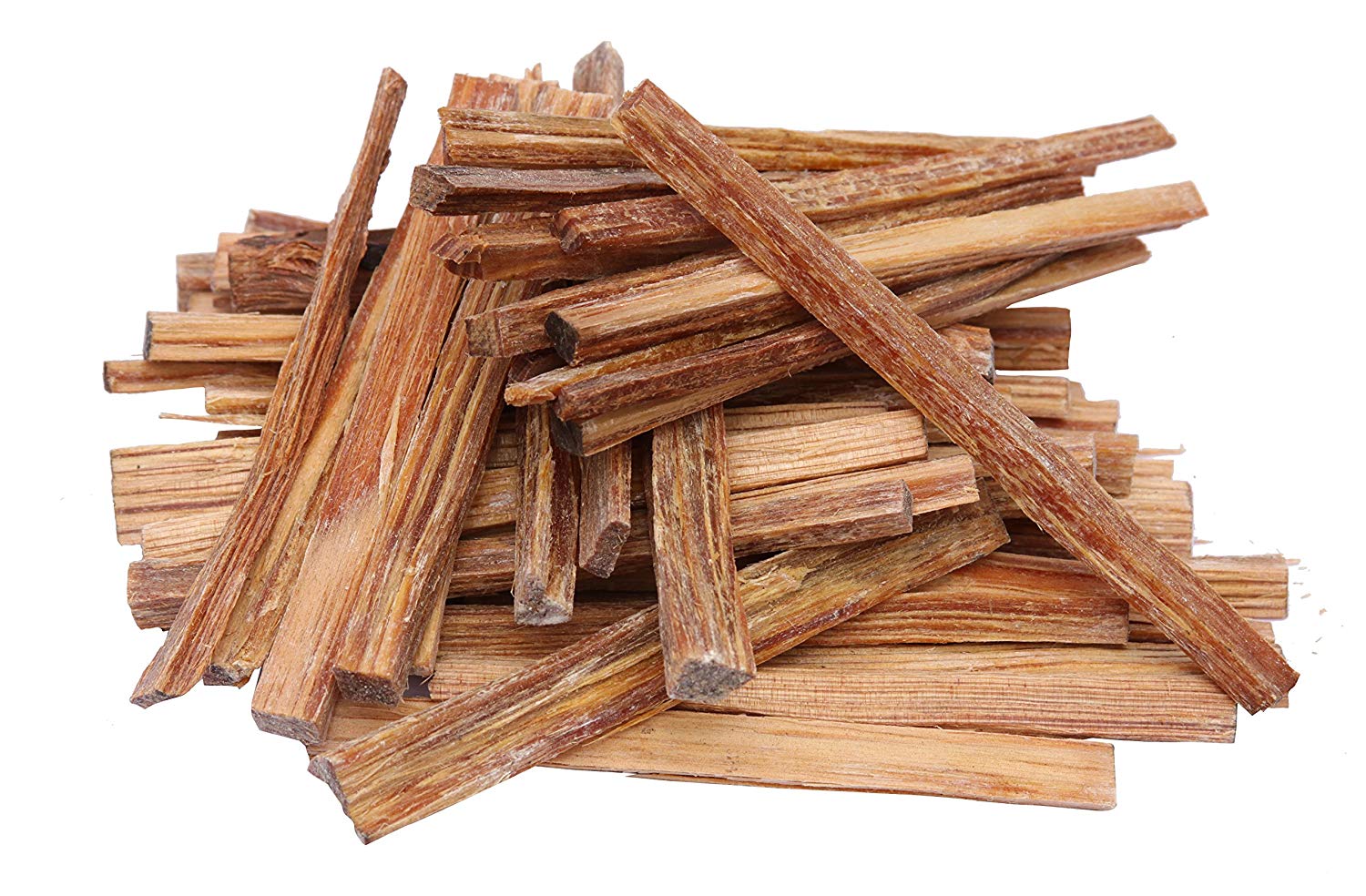 Fire is at the heart of the chiminea. Therefore, how you treat the fire can really make or break your chiminea experience. Let's talk about what fuels to use and how to start and tame a fire.
Fuel – Charcoal or any dry, non-chemically treated wood are the fuels you should be using. Burning woods like applewood, red cedar, and ocote will add a pleasant scent, while woods like Pinion can actually keep the bugs away.
Charcoal is another great option because it's quite straightforward and it's also the go-to for cooking, baking, or smoking.
There are a few big no-no's when it comes to what fuels to use in a chiminea. Never use any petroleum based fuels like gasoline, diesel, lighter fluid and so forth. That would be a recipe for a swift and uncontrollable inferno.
Aside from that, one should definitely avoid materials that produce toxic fumes or excessive amounts of smoke. This includes any kind of chemically treated wood or wood pellets. Green wood is not specifically toxic, but it will produce a lot of smoke while yielding little heat and a very small fire.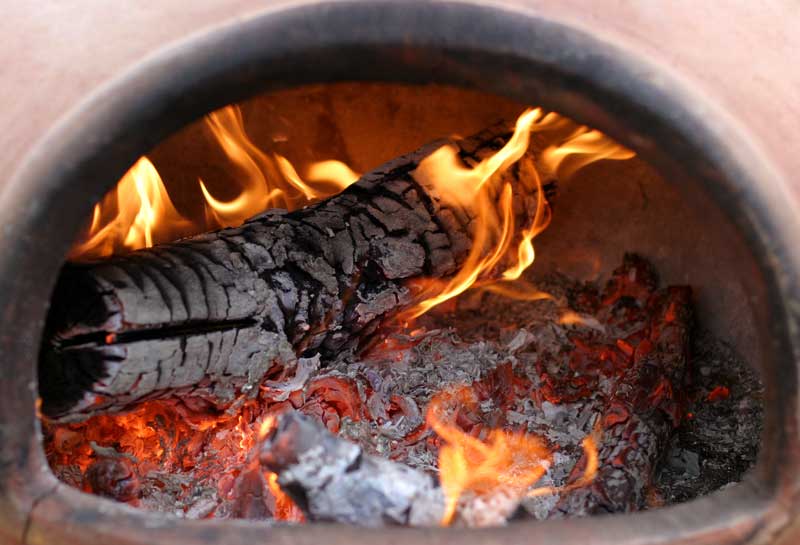 Lighting – Lighting a clay chiminea works the same as any other wood burning stove or fireplace. As always, be sure to keep children and pets away from the fire. Pay attention to the flames and do not leave the fire unattended until it has been fully put out.
Here's what you need to do:
Make sure the chiminea is fully dry (or else it may crack)

Make sure the chiminea itself isn't too cold (same as above, it may crack)

If you haven't already, add 4 inches of sand, soil, gravel, or lava rocks

Add firewood or coal

Add kindling in between. Can be either twigs, sticks, paper, or firelighters

Light the kindling with a long match or a barbecue lighter. The kindling will light everything else on fire
Keep the fire small to medium in size. Large fires can overheat and damage your chiminea. A smaller fire is not only safer, but it also burns fuel more efficiently which means more heat is created and distributed.
The best way to control the size of the fire is by controlling how much fuel you put on. If the fire is getting to the right size, stop feeding it for a while so that it doesn't grow past that point. Refuel later on when the flames are starting to die down.
If needed, you do have the option of adding a bit of extra sand or soil to cover up the flames in order to slow down the fire. However, most people recommend simply managing how much fuel you put into the fire and giving it time to cool down.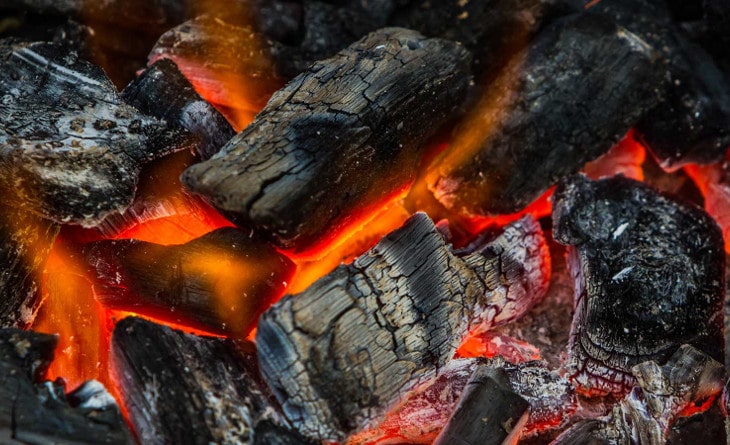 Extinguishing – The best way to put out a fire in a clay chiminea is to stop feeding the fire and to let it burn out on its own. This process can take a few hours, so be sure to anticipate it ahead of time.
Never splash water to put out the fire as it may crack the chiminea. Instead, simply let the fire take its natural course and burn out. Be sure to supervise and pay attention until the fire is fully out. Once it is out, allow up to 6 hours for the chiminea to cool entirely before covering, moving, or lighting it up again.
If you need to put out the fire sooner rather than later, you can add a few handfuls of sand or soil to smother the flames. Same as above, supervise the fire until it's fully out and allow time to cool properly.
It's always a good idea to have a fire extinguisher handy in case of emergencies. Ideally it doesn't come to it, but it's better to be prepared.
---
Maintenance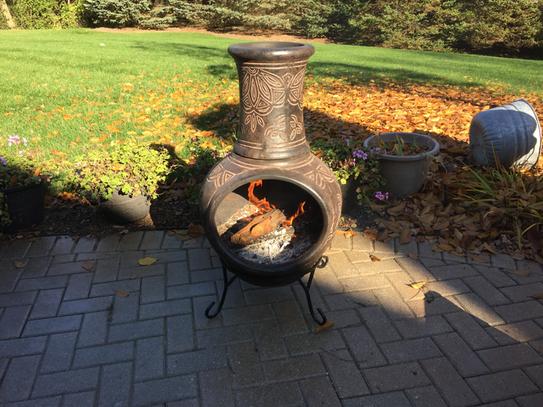 Maintenance – Regular maintenance is important for the health and longevity of your chiminea. Protection from the elements and regular cleaning are essential to keeping your chiminea happy. If you treat it well, it will treat you well also.
Make sure to clean out the ashes regularly and replenish the layer of filler in the bottom of the bowl as needed.
Use a rain lid or cover to protect from rain. Allow up to 6 hours for the chiminea to cool before putting the cover on. During the winter, or in case of stormy weather, you should bring your chiminea inside or put it into storage
Aside from the above, there are a few miscellaneous points to consider. Protect the bowl of the chiminea and don't allow water to pool at the bottom or creatures to climb into it. Make sure it's placed in a safe spot where it's not at risk of falling or being bumped into. Lastly, as mentioned before, make sure the fire isn't too large as a roaring fire can cause cracks.
---
Weather-Proofing & Winterizing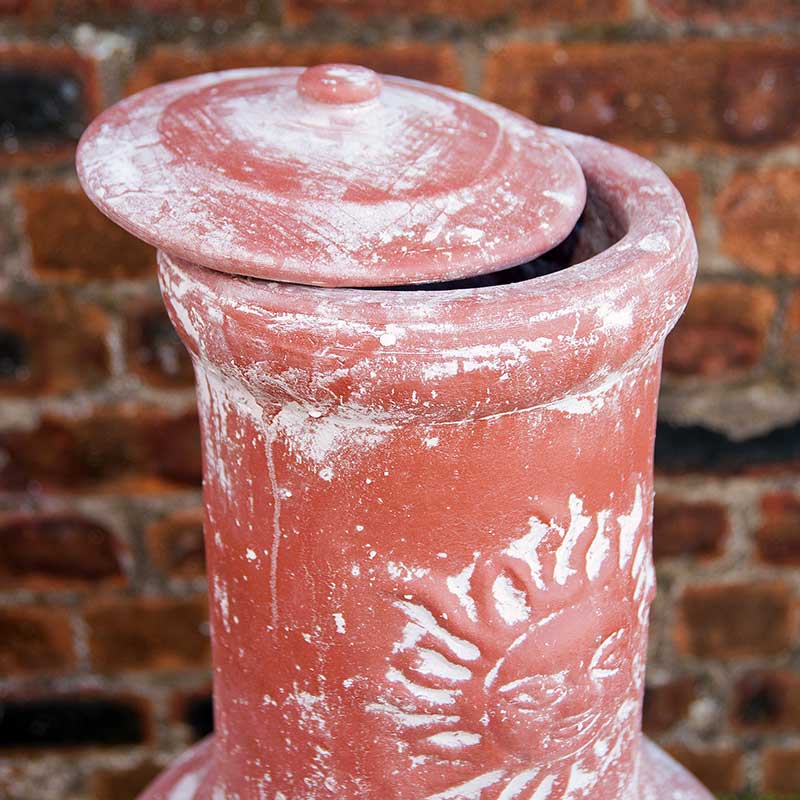 Clay chimineas need protection from the elements as well as the changing seasons. We will go over how to prepare and store your chiminea for the winter, as well as some weather proofing that is ongoing.
Weather-Proofing – Clay has many great properties, but weather resistance is sadly not one of them. After use (and allowing time to cool down), it's a good idea to put on a rain lid or a cover.
If it's looking like stormy weather is incoming, it's recommended to bring clay chimineas inside or into storage temporarily.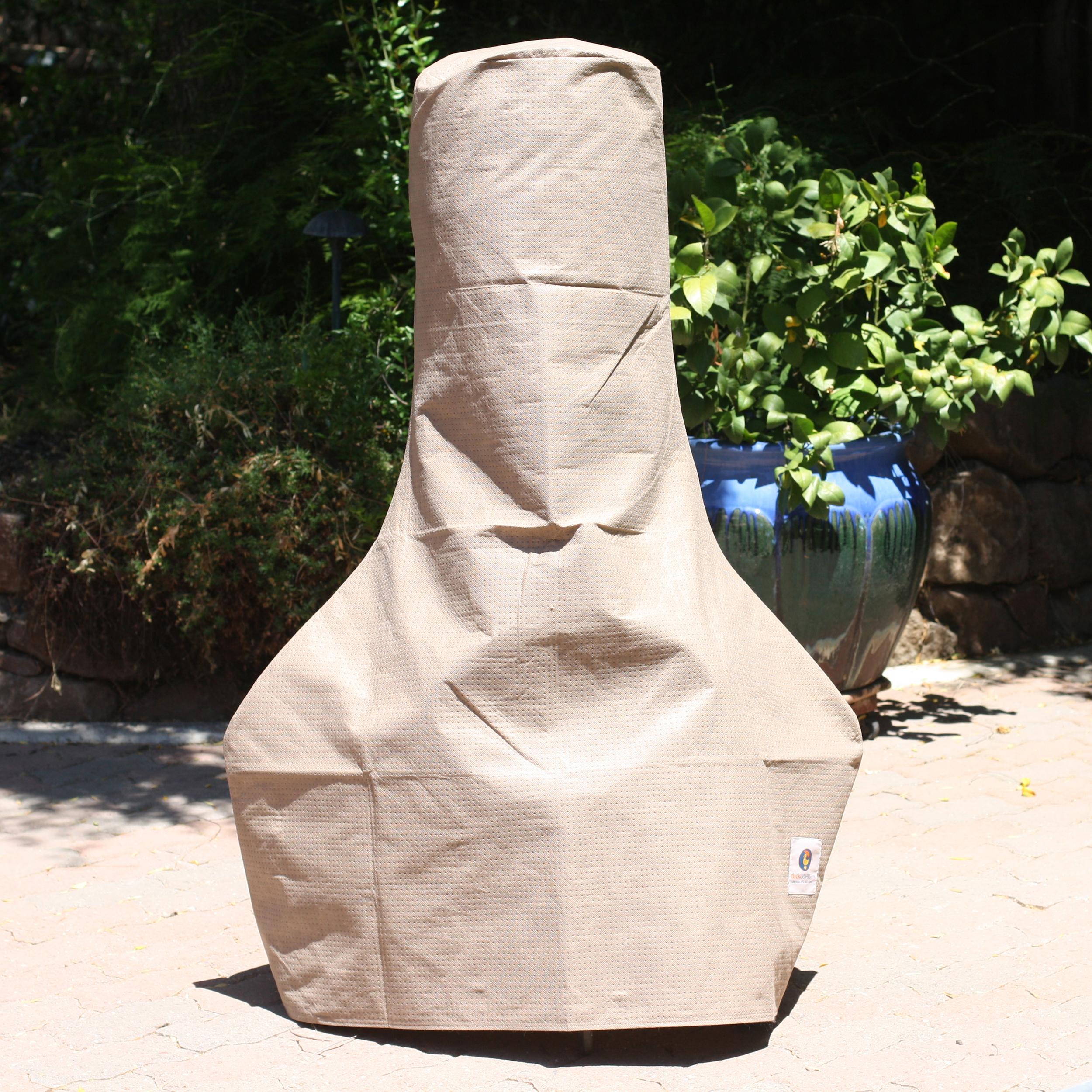 Winterizing – Clay chimineas are sensitive to extreme temperatures or drastic temperature changes. Clay is porous, so moisture can easily infiltrate the body.
When the temperature drops, the trapped moisture will freeze and expand, causing cracks. Because of this, you have to keep your chiminea dry and at a reasonable temperature.
Similarly, clay chimineas cannot be used in the winter as the sudden temperature change will strain and break the clay body.
All in all, the best course of action for the winter is to bring your clay chiminea inside or place it somewhere in storage. Either way, a few rules will apply.
You will need to make sure it's stored somewhere that is dry, not too cold, and has good airflow. Do not store it on its stand, but also not directly on the shed or garage floor either.
Ideally, put it on a piece of wood or cardboard. Using a cover is still a good idea even if it is stored somewhere inside.
If storing it inside is not an option at all, some people use padded covers to protect their chimineas as they brave the winter months outside.
Make sure the chiminea is clean and dry before going into the cover, then make sure it is wrapped up properly so the moisture and cold air don't get in.
---
Clay Chiminea Repair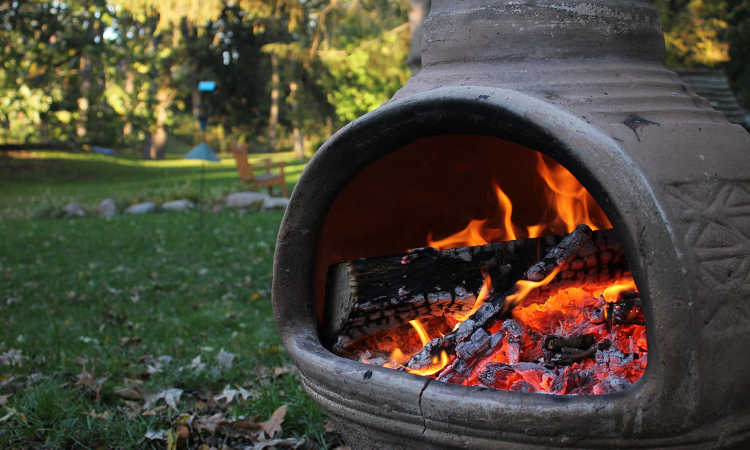 Just like any other pottery, chimineas are prone to cracking or shattering. It's an inherent characteristic of clay. The main causes for cracking are extreme temperatures (either hot or cold), drastic changes in temperature (from very hot to very cold or the other way around), and physical factors like being dropped or hit accidentally.
Shattered – If your chiminea is completely shattered, it might be best to get a new one. It's not recommended to try to rebuild them piece by piece as they will always be at risk of falling apart or shattering again. Aside from that, if your chiminea is just cracked, there are some options for repair.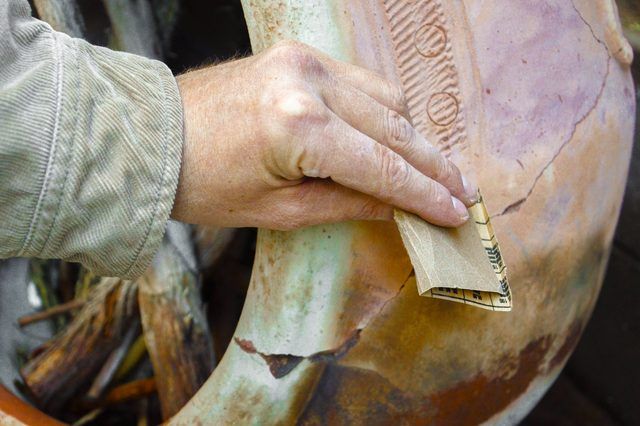 Cracks – First thing to do is look at the size and nature of the crack. If there is a visible gap or if chunks are missing, it may once again be best to buy a new chiminea. Gluing pieces back in is not a viable long-term solution. Otherwise, if it's a regular or hairline crack, then we might be in luck!
For regular, non-hairline cracks, the best way to go about it is to use fire clay or heat resistant epoxy glue to fill it up. Make sure the glue or filler you use is heat resistant and sandable as well.
Before applying, be sure to wipe off any dust or dirt from your chiminea. You will also have to make sure the chiminea is fully dry before proceeding.
Once you have all of that figured out, all you have to do is fill in the crack. After that, let it dry and come back to sand it down until it's smooth. Lastly, you can paint over the spot with any kind of water-based paint.
Hairline Cracks – There is another option which is most useful for hairline cracks (although it works with regular cracks as well). You will need a drill and some copper wire. The first thing to do is check the crack and find out where it ends.
Drill a hole at the very "tip" of the crack. This will prevent it from extending and getting worse. After that, drill a hole on each side of the crack, a few inches apart, about halfway along its length.
Bend the copper wire into a U-shape and run it through the holes. Take the tips on the other side and twist them together.
This will tighten the wire and will bring the two sides of the crack back together. The tying, along with the stop drill at the tip of the crack, will contain it and prevent it from getting worse.
---
Redi-Flame Woodshed Renewables Chiminea Kit
Redi-Flame Woodshed Renewables Chiminea Kit
Here we have a very quaint and well rounded chiminea kit by Redi-Flame. The 14" handmade clay chiminea comes with everything you need to get going as it includes fire starters and even an all natural insect repellant.
The first thing you will notice about this one is that it is particularly small compared to most chimineas that can be several feet tall.
This not only makes it extra portable, but also allows it to be much more versatile in terms of how it meshes with the rest of your backyard.
It goes without saying that these features, along with the accessory kit and the affordable price, qualify it to be one of the best options for anyone looking to get started in owning a chiminea.
It's a safe and small investment that goes a long way and lets you try out the joy of having a fire placement in your backyard without it being too much of a hassle.
One interesting note for the chiminea buffs out there, however, is that the size and price of this kit also lend themselves to purchasing several.
As an alternative to having one big chiminea, there is always the option of having several smaller ones arranged tactfully throughout your backyard.
The smaller fires scattered around, along with the traditional hand made clay design are sure to create a magical mood for yourself and your guests.
---
Little Baja Potbelly Chiminea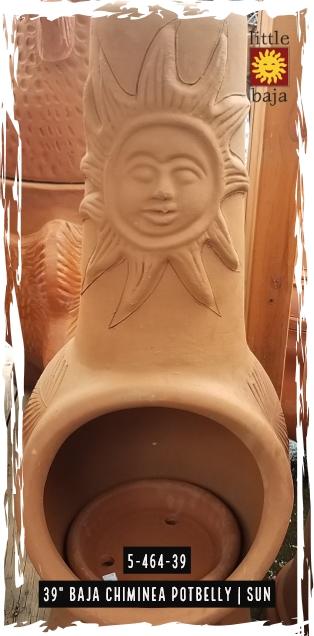 The Potbelly chiminea from Little Baja is a great example of the classic chiminea design. It comes in two sizes and a variety of clay designs.
What's really cool about this model is the fact that it has a large opening for the firebowl and a particularly wide stack.
This makes it so that airflow is optimized and you get as much heat as possible, while also diverting smoke away from you and your guests.
The large opening also helps a lot when it comes to loading and cleaning, while also offering quite a nice view when the fire is going.
It comes with built in legs to lift it up from the ground. The legs are made to have air pockets which adds extra insulation. As mentioned above, do read the instructions carefully when it comes to placement, especially on a deck.
The insulated legs help protect the surface your chiminea is on, however, we still recommend taking additional safety precautions (such as keeping it on bare ground, stone or conrete, or using a protective pad if it's on your deck).
---
RUNNER UP: Gardeco X-Large Clay Chiminea
Gardeco Afc-C51.00 X-Large Natural Clay Chiminea
While there are many varieties of clay chimineas available out there, few are quite as captivating as this model by Gardeco.
It is a well sized chiminea at 4 feet tall with a 1.6 foot radius for the chamber, however it does not compromise on portability as it is still fairly light.
Each Gardeco chiminea is hand made and hand painted for the best quality and to achieve that perfect rustic feel.
The cool thing we've found about them is that every single hand made chiminea is unique, carrying slight differences that set it apart from the rest.
This does mean that the measurements seen here may vary but only by very small amounts.
The Gardeco requires very little set up as it comes with simply an iron stand and a clay lid. No complicated install required! All you need to do is set it up on the stand and light your fire.
The lid provides protection from some of the elements, however it is always a good idea to bring it into your garage or shed during heavy storms or winters to avoid damage to the clay body.
If this is your first chiminea you should take a look at our article regarding chiminea maintenance which details fuels that can be used as well as what to do before first usage.
---
These are two wonderful choices for your backyard patio or deck. They'll distribute heat evenly without becoming too blazing hot. They can be tucked out of the way when they're not being used since they're lightweight.
We definitely recommend one of these clay chimineas for your limited space since they're compact and portable. It's great for people that don't have huge spaces.
Save