Danish design company Cane-line has always lived by the motto of making life easier and more comfortable, with both indoor and outdoor furniture collections that are at once visually appealing, light and cozy, not to mention exceptionally durable.
Popular lines such as Sense, Aspect, Ember, Horizon, among many others, each express a unique facet of the company's desire to please their customer base by way of a multitude of products including dining tables, sofas, loungers, daybeds, parasols, folding chairs, bar stools, benches, and much more.
In addition to being a brand that focuses on comfort like no other, another thing about Cane-line that we feel must be said is that they never stop innovating.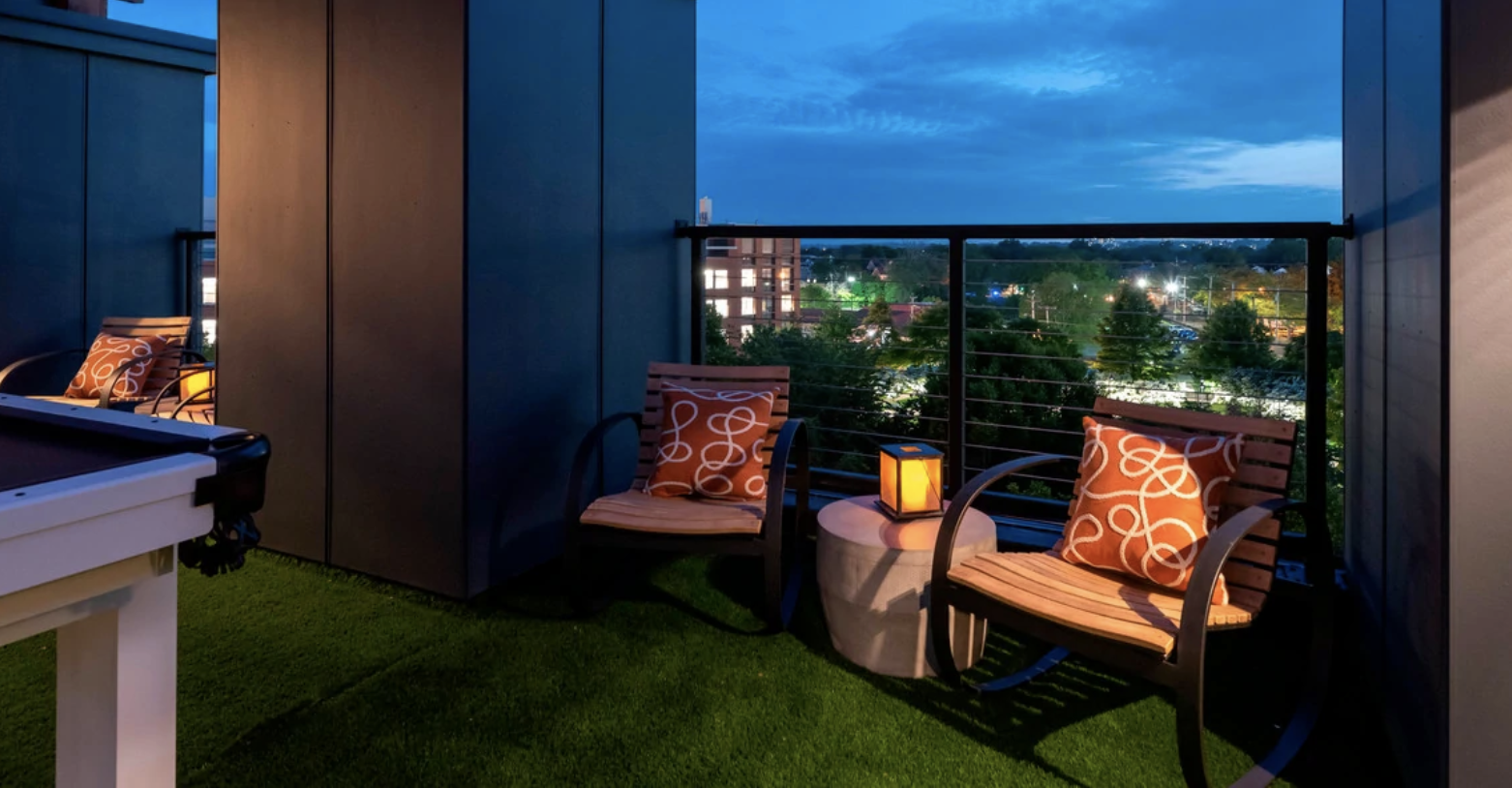 Each year, Cane-line uses a combination of valuable customer feedback and intrepid research into the art of fine furniture design, seeking to improve existing lines, while also introducing new and exciting products, many of which go on to become big hits with customers around the world.
With the help of renowned designers like Foersom & Hiort-Lorenzen MDD, Søren Rose Studio, and the Cane-line in-house design team, new customers are typically blown away by the fact that seemingly every hard angle or organic curve of every piece of Cane-line furniture has been examined with the passionate eye of artist, and the precise calculation of a top notch furniture architect.
2022 is a particularly special year for Cane-line, as it introduces several products to its repertoire that we are quite excited about, as The Backyard Gnome was given backstage access to what's new for this year.
That said, we are very happy to share with you what you will soon be available to the public in the days and weeks ahead!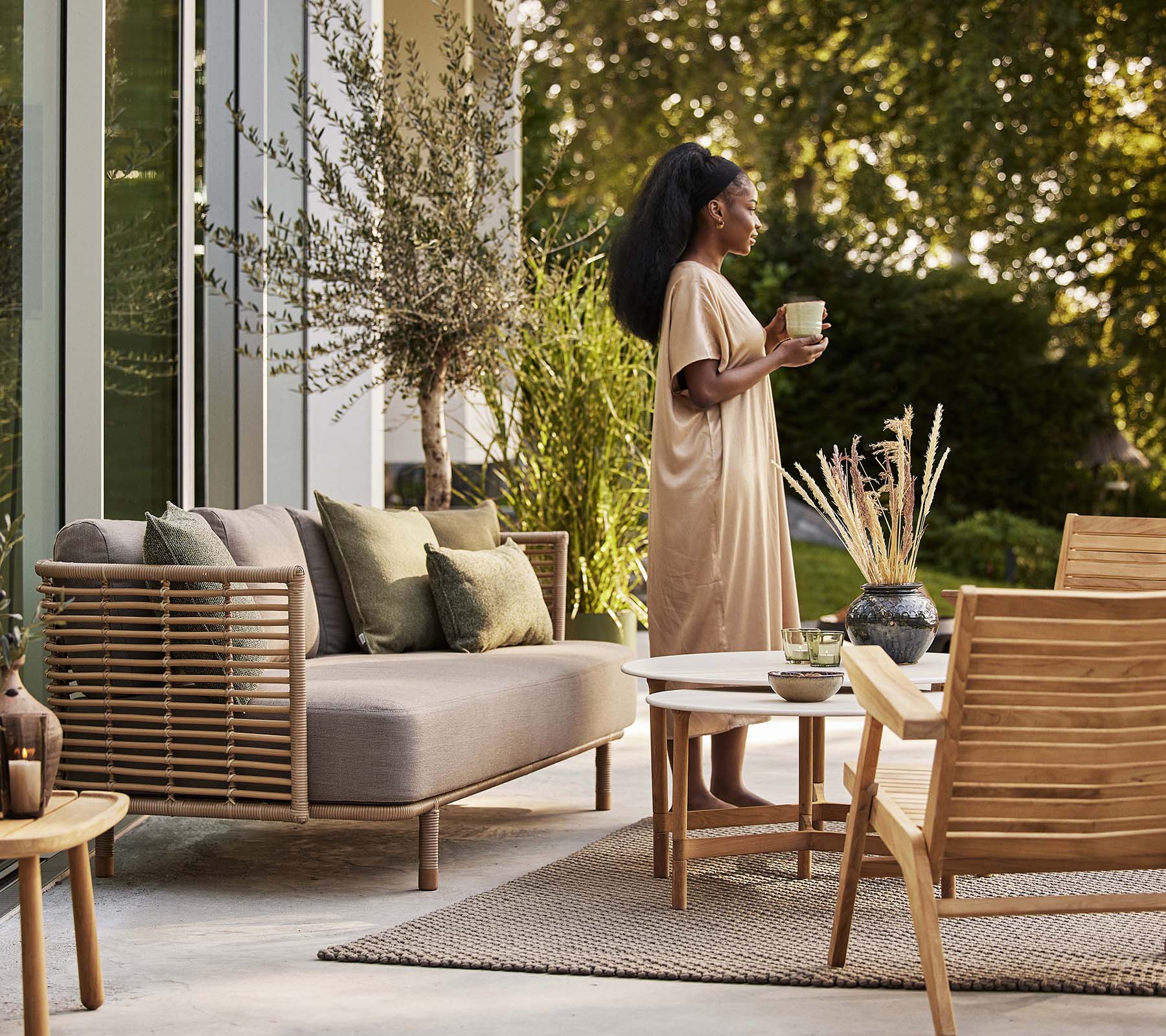 Sense
Scandinavian design duo, Johannes Foersom and Peter Hiort-Lorenzen (MDD), are the creative force behind the new Sense line, which features both a new indoor and outdoor 3-seater sofa, as well as both indoor and outdoor lounge chairs.
One the first things one would notice about the 3-seater sofa is the gracious amount of space it provides, allowing 3 people to easily make themselves comfortable. It can even be used as a bed, due to its length. In other words, this sofa is a napper's paradise!
Based on its transparent, natural look, and made with patented Cane-line weave, you might not expect how durable the Sense 3-seater sofa is, but, that is one of the main advantages of Cane-line products – which is to say, they look stylish, but they have been factory-tested to be tough as nails.
Also, with the help of its QuickDry & Airflow system, even a rain storm will pass easily through these sofa cushions, leaving them dry after just an hour. This is what the QuickDry & Airflow system was made for – not holding moisture – and that's one major reason that the Sense line the perfect outdoor accent for any roomy patio or deck.
Shop the Sense Collection on TBYG Store
Free Shipping anywhere in the USA
The companion piece to the Sense 3-seater sofa is the Sense Lounge Chair, which also features the gorgeous Cane-line Weave, a beautiful and uniquely rounded back.
The Sense Lounge Chair is also extremely roomy, 3′ in height, with anthracite or taupe Quick-Dry cushions (like the 3-seater sofa) that can accommodate a person with a larger frame quite comfortably, and support a fair bit of weight as well – again, thanks to extensive factory tests of its high-grade aluminum frame that make Cane-line products highly durable.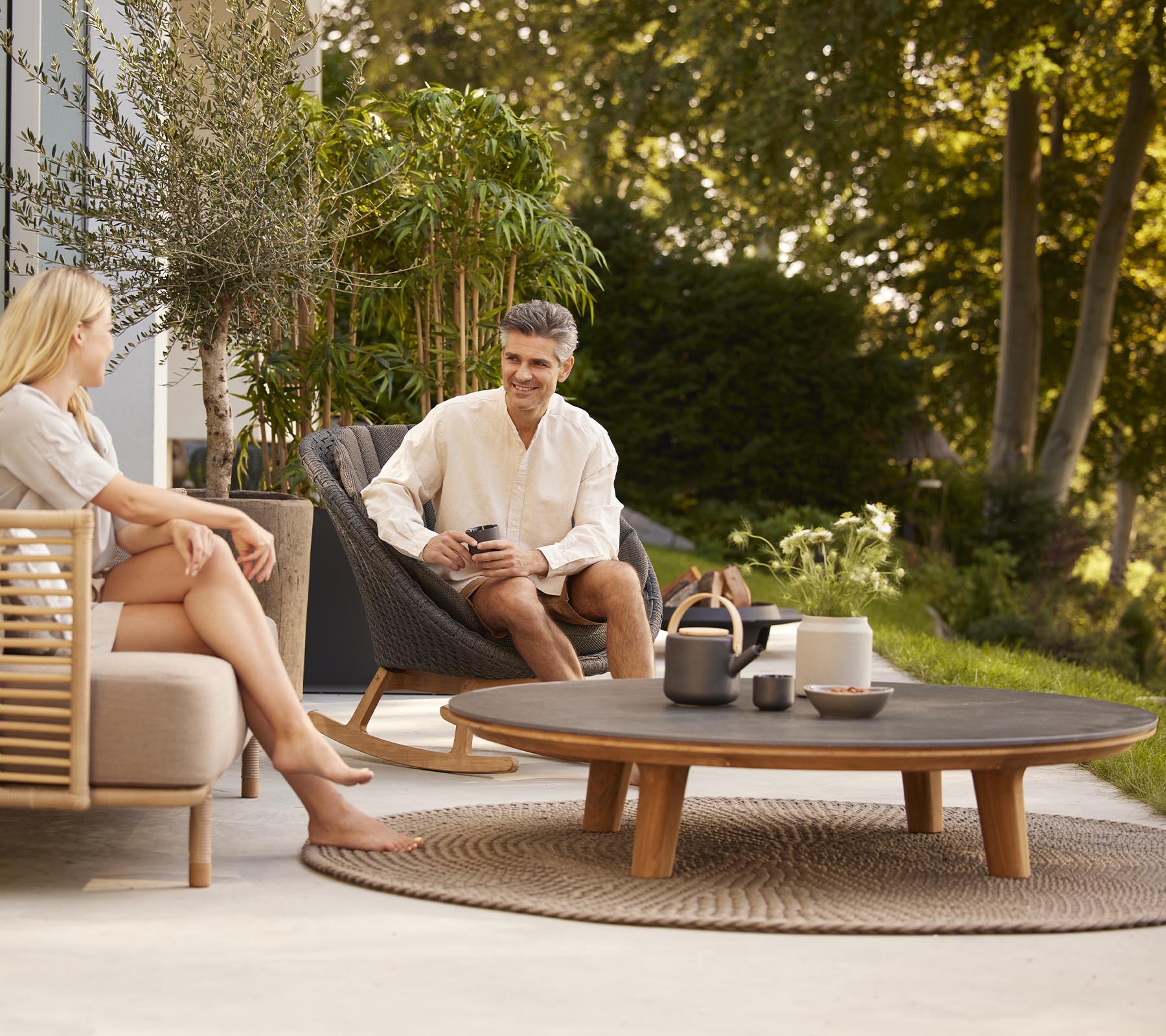 Aspect
Aspect is one of Cane-line's more established lines, which focuses on a combination of both durable and elegant materials.
Aspect furniture is exclusively designed by the Cane-line design team, focusing on creating a unique range of tables that can match the growing collection of high-end chairs for the outdoor space.
For example, the renowned Aspect Dining Table combines both teak and ceramics, which is a beautiful contrast of teak's organic warmth, with ceramics' clean, smooth precision.
Aspect Teak Outdoor Dining Set
Free Shipping anywhere in the USA
The Aspect Dining Table is made with a teak frame, a solid aluminium core and a stylish ceramic table top. Cane-line teak is approved and cultivated according to SVLK certification system.
The mix between the wood and the ceramic gives an exclusive and refined expression that can set the frame for a fantastic outdoor dining area.
Aspect also has a new lowered height, teak framed "sofa table", which features three color options – travertine, gray, and black. Although the tabletop looks soft and supple, it is not, as you can't scratch it with dishes.
Ember Small Fire Pit
Ember
The Ember line, by Cane-line, features the stunning cast iron Strand+Hvass-designed Ember Fire Pit, which is a modern statement in fire pits with a true Scandinavian flair.
Its freestanding, yet low-to-the-ground, circular shape gives you full view of the fire and wood, while having a distinctive and inviting look that no other fire pit has.
Coming in two sizes, large and small, the Ember is the perfect compliment to a starry evening with friends.
While it is a thing of beauty, to be sure, the Ember has many highly practical features, such as drainage gaps and a purposeful design that lets any rain or moisture filter down to the ground, rather than collecting in the pit.
Available also is a matching grilling grate, for those with a culinary bent.
Cane-line Ember Fire Pit
Free Shipping anywhere in the USA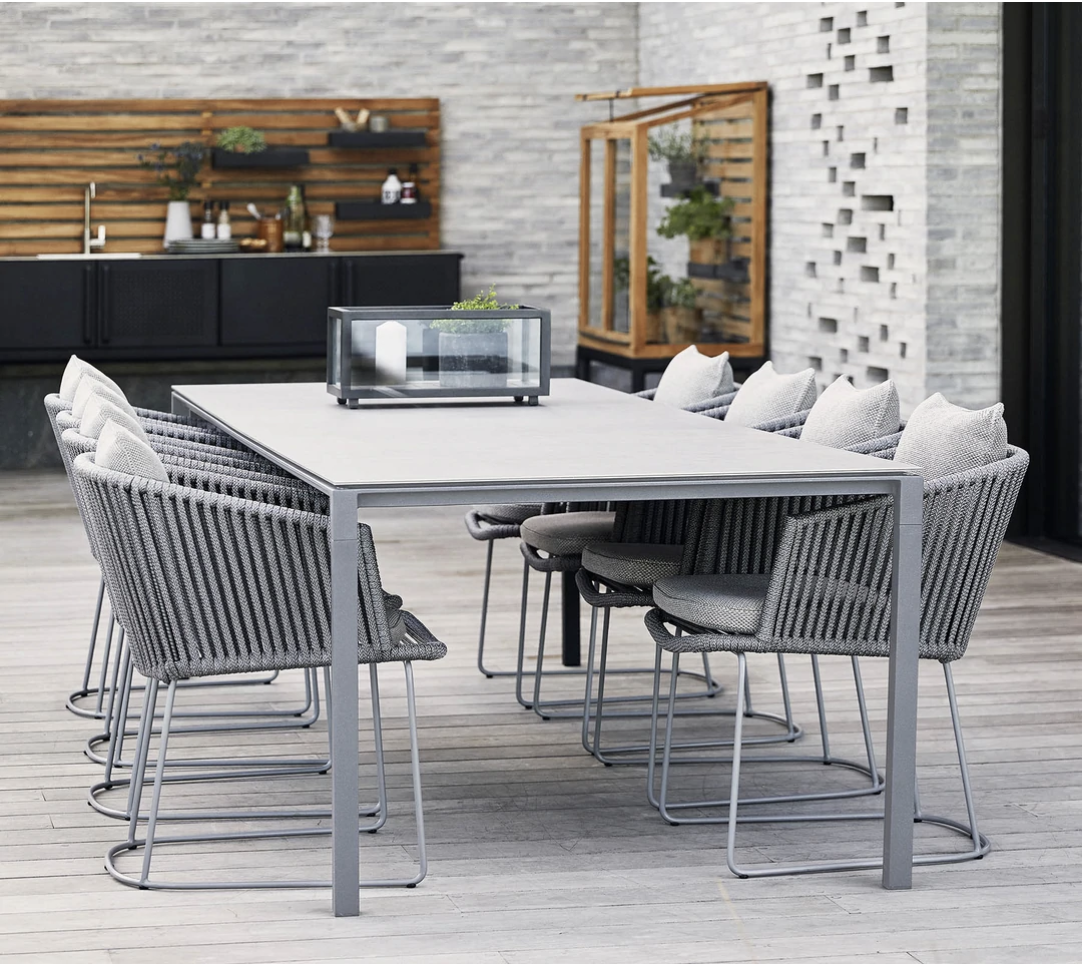 Pure
One of Cane-line's biggest strengths is their ability to design elegant dining tables that can withstand the rigours of being outdoors all season, while still maintaining a perfect look.
This is due to the incredibly high durability of their products, combined with the design ingenuity of designers like Foersom & Hiort-Lorenzen MDD, who are responsible for the new Pure Outdoor Dining Table, a minimalist masterpiece!
This dining table, available in 4 sizes from relatively compact, to long and suitable for many guests, is both scratch and UV-resistant, making it a low maintenance table that can be wiped clean and have it looking brand new with simply a few swipes from a damp cloth.
With a beautiful basalt ceramic table top, the Pure Outdoor Dining Table comes with a number of colour options for the base.
Sleek and imbued with a modern style, we think that this table is truly unsurpassed when it comes to grace and quality.
Pure Outdoor Dining Table
Free Shipping anywhere in the USA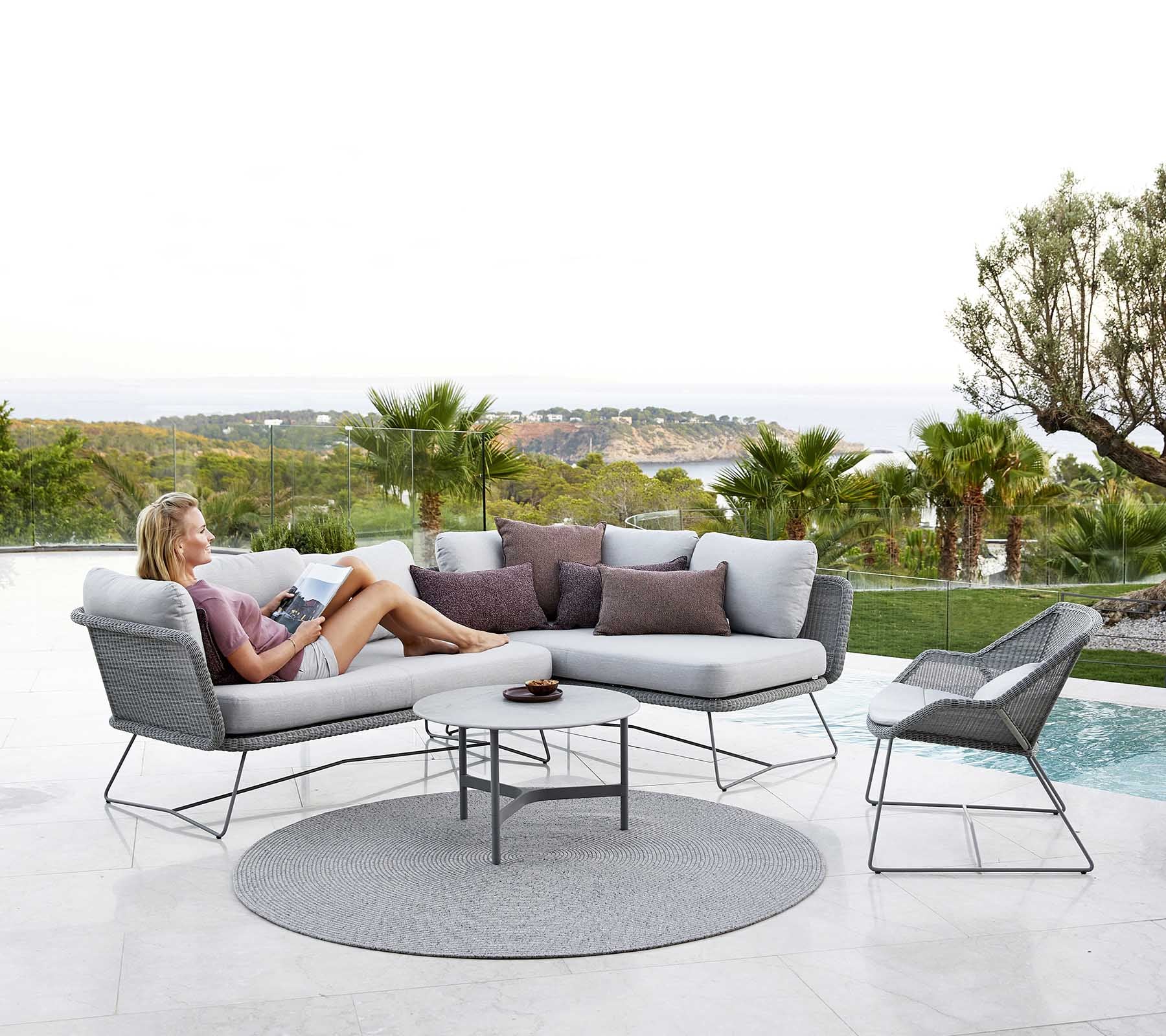 Horizon
The Horizon line, designed by the Cane-line design team, is made to be minimal, lightweight, and free of superfluous parts. This is to say that it is in the long tradition of great Scandinavian furniture.
Overall, Horizon furniture is made to be very sleek, with thin frames. It's the frames that help it take up less space, while still maintaining a strict and tested durability. From a distance, the cleverly made frames make Horizon furniture to appear to look somewhat like it's floating on air.
Made of weather-resistant Cane-line Weave®, the generously wide seat surfaces give you plenty of space to relax comfortably.
This aesthetic goes for anything from that particular line, such as the Horizon Daybed, and the Horizon Lounge Sofa, which come complete with Cane-line QuickDry & AirFlow system cushions that provide excellent comfort and dry quickly after a downpour.
Horizon Daybed
Free Shipping anywhere in the USA
Due to its lightweight nature, it's extremely easy to move around and position where ever and however you like.
Overall, it has been another exciting year for Cane-line, as they have once again outdone themselves by making some of the most beautiful outdoor patio furniture we've ever seen.
Not only that, but all of it delivers in terms of not only the artistry behind each and every piece they make, but the considered practicality of all of their furniture means that you will want to use it again and again.
We can't wait to see what Cane-line produces next year. It's always a pleasure to see what they come up with next.
Related posts: