Today we review the 7-piece sectional patio furniture set by Modenzi, in espresso brown rattan with red cushions.
This carefully engineered set will propel you to your new favourite oasis, a sanctuary right in your own backyard with a full relaxing outdoor lounging experience.
This seven-piece set consist of a corner sofa, two middle sofas and one coffee table with a tempered glass top. The cushions are a stark red that immediately elevate you to VIP status while inviting you to relax back into them in style. The cushions allow for comfortable seating and the covers have zippers for quick and easy washing.
The metal frame is actually durable, powder-coated aluminum. The frame is rustproof. The cushions sit upon espresso brown wicker rattan made of polyurethane resin. The frame offers a modular design making it easy for flexibility with numerous options for arrangement.
Wicker is a long-favoured outdoor patio furniture material as it provides a comfortable weave to sit upon. The woven nature also offers breathability for air to get in and out.
One of the main reasons people and manufacturers use wicker for patio furniture is that it is very durable and lightweight, so it is easy to move around. This is especially important for this particular sectional set, since you will want to move some pieces around until you get it just right.
The sleek profile, with low back, makes for a very contemporary furniture design that won't be too cumbersome as an addition to your patio, while providing a comfortable spot where you can go to relax to fully enjoy the patio.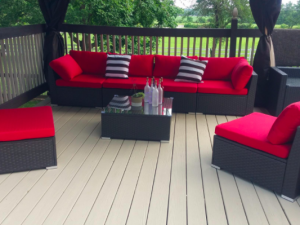 Sectional seating arrangements offer a wide variety of possibilities that can conform to your available space, or different entertainment needs.
For example, one weekend you may want to arrange everyone in an intimate semi-circle so they can enjoy intimate conversation and everyone gets heard clearly, or you might want to separate the pieces so everyone gets their own little space around the patio.
Dimensions are as follows:
Corner chair: 31.5" length by 31.5" width by 24.5" height
Middle chair: 31.5" length by 27.5" width by 24.5" height
Coffee table: 31.5" length by 31.5" width by 13.4" height
Seating height with seat cushion: 17"
The set does not include the throw pillows seen in the photo, just the wicker rattan frame and red cushions.
There is some assembly required upon receiving the item. You will need an extra set of hands to help. We recommend laying out all pieces with according hardware before you begin assembly.
Make sure everything is in place before proceeding. This will make it easier as you go along, for you will already have figured out where each piece goes.
It will save a lot of time and stress while building the furniture. It is best to lay everything out on a tarp. All in all the process should take about two hours, so you can start off the day without any patio furniture, and be lounging in it by the end of the day to enjoy a relaxing drink and watch the sunset.
When you receive the boxed set, you will notice each box includes instructions and hardware and allen wrenches. It can be daunting to have to assemble it yourself, but even with the instructions, the assembly is rather intuitive and simple. You will get the hang of it quickly and have it set up in no time.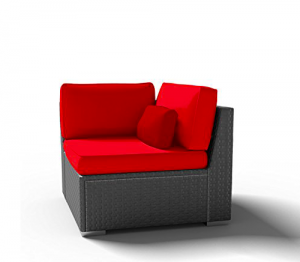 When not in use, you may want to store the cushions out of the weather. Due to the nature of the fabric the colour may fade if left in the blazing sun all summer long.
Additionally, you will not want to leave them out in the rain to sustain water damage. The back cushions are about 4" thick and the seat cushions are 3" thick. It is recommended you wash the cushion covers in cold water to stop the water running.
You can absolutely store this patio furniture next to the pool for a nice lounging area post-swim. The wicker will hold up to water quite easily.
Another question you may have is: What is the weight limit to the seats? The answer is a 250-300 pound person can sit on it no problem, but over 300 will start to push it.
As with any furniture, do not jump around or stand on it. The trick is to keep the weight evenly dispersed.
If you want to keep the sectional together in one piece, for a large sofa on which to sit comfortably or lie down with your favourite book, you can purchase clips separately that will keep the pieces together.
Tempered glass means the tabletop is more durable than regular glass. It will make for a nice setting around which to enjoy cocktails with friends or afternoon hors d'oeuvres.
Related posts: