Throwing a party for toddlers is easy. The trick is to keep them occupied while providing interactive activities or games. Anything colourful, happy, artistic, and fun. Once you have a theme, you can easily build on that. Take into consideration your child's interests or go on a general theme.
If you are stuck for theme ideas, try anything that appeals to kids fun with a sense of magic. Try unicorns, bubbles, or bugs. Try not to gender the party too much. It's likely you'll have more than one gender at the party, and most parents aren't into gender-specific stuff these days. Toddlers are kids ages 3-5 years of age. A good number of guests would be 8-10 kids. Ideally the party will be two hours in length and take place earlier in the day, like 11am-1pm, when parents and kids alike have energy.
Best Backyard Party Ideas for Toddlers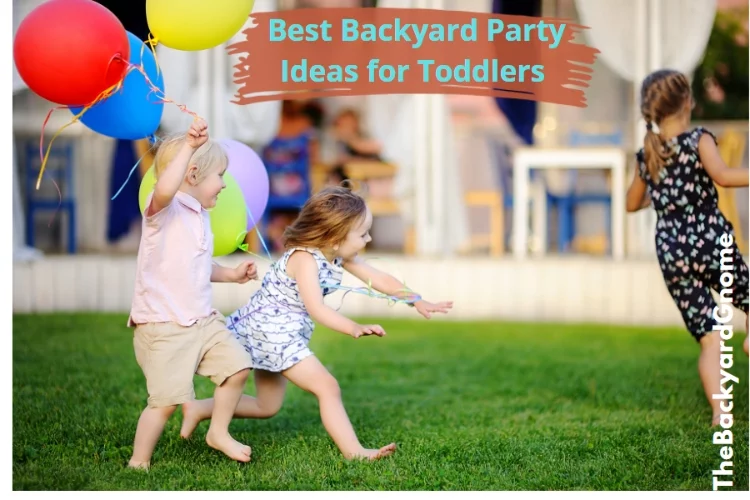 Have a Water Balloon Fight
One great way to keep toddlers entertained at a backyard party is to have a water balloon fight. You can either have the kids team up and throw balloons at each other, or you can have them all throw balloons at you! Either way, it's sure to be a hit with the little ones. Just make sure that you have plenty of water balloons filled and ready to go before the party starts. And, if you're going to be the one getting pelted with water balloons, be sure to wear some old clothes that you don't mind getting wet!
Set up a Slip-And-Slide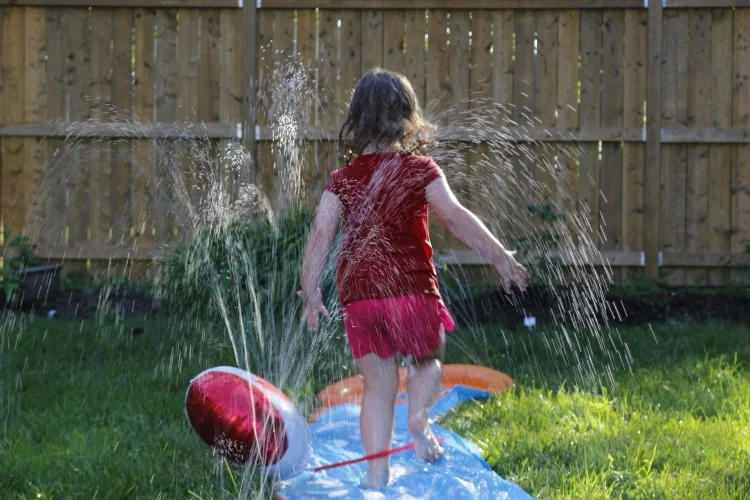 Setting up a Slip-And-Slide is a great party idea for toddlers! It's an easy way to keep them entertained and cooled off during those hot summer days. Plus, it's a lot of fun for the adults too! Here's what you'll need:

A long plastic sheet (at least 20 feet long)
A hose with a spray nozzle attachment
Soapy water (optional)
Chalk (optional)
To set up the Slip-And-Slide, start by unfolding the plastic sheet and laying it out on your lawn. If you're using chalk, draw some fun designs or shapes on the sheet to add an extra element of fun for the kids. Next, attach the hose to the spray nozzle and turn it on to a medium setting. Slowly and evenly run the water over the plastic sheet until it's completely wet. If you're using soap, add a few squirts of dish soap to the water before wetting the sheet. Once the sheet is wet, it's ready to use! Just make sure there are no sharp objects or stones in the area where the kids will be sliding.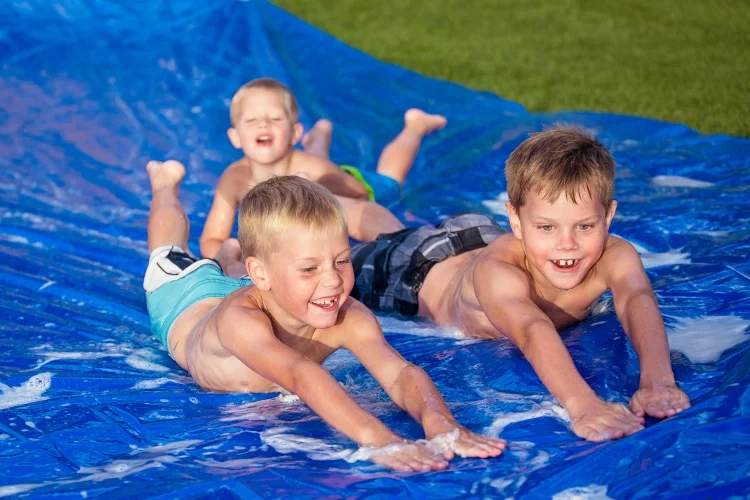 Make a Mud Kitchen
If you're looking for a fun and unique party idea for your toddler, why not make a mud kitchen? This is a great activity that will keep the little ones entertained for hours. Plus, it's a great way to get them outside and exploring nature.
Here's what you'll need to make your own mud kitchen:
A large plastic bin or container
A selection of small pots, pans, and utensils
Some dirt or sand
Water
To set up your mud kitchen, simply fill the bin or container with the dirt or sand. Then, add some water and stir everything together until it's nice and muddy. Finally, add the pots, pans, and utensils.

Now it's time to play! Let the toddlers experiment with the mud, and see what they can create. They might make mud pies, or mud soup, or even just try to make a big mess! Whatever they do, they're sure to have a blast.

When they're done playing, simply hose off the mud kitchen and store it away until next time. It's that easy! So if you're looking for a fun party idea for your toddler, consider making a mud kitchen. They'll love getting dirty and exploring all the possibilities.

Build a Sandcastle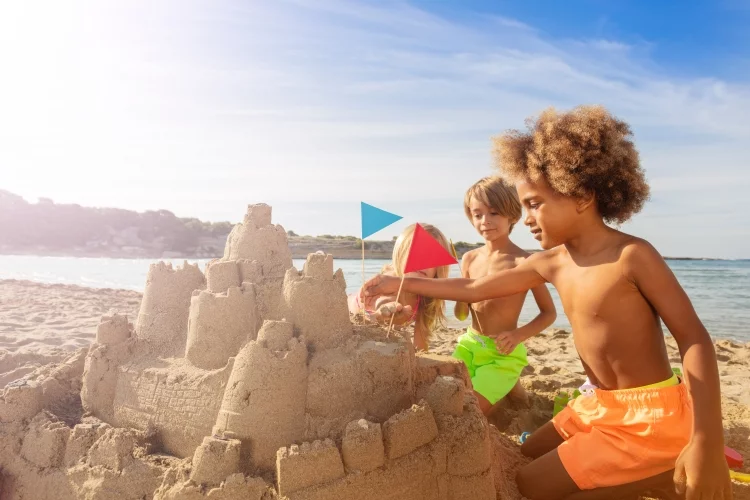 Building a sandcastle is a great party idea for toddlers! Not only is it a fun activity, but it's also a great way to teach them about shapes and colors. Plus, they'll have a blast playing in the sand afterwards!

Here's what you'll need:

A bucket or two of sand
A few small toys or shells to decorate the castle with
A little bit of water
A piece of cardboard or another flat surface to build on
To make the sandcastle, simply mix some sand and water together until it's wet enough to mold. Then, form it into whatever shape you like on the cardboard or other flat surface. Once you're done shaping it, decorate it with the toys or shells.
And that's it! Your toddler will have a blast building and playing with their very own sandcastle. Just make sure to supervise them while they're playing in the sand so they don't get too dirty or eat any sand!
Play Catch or Frisbee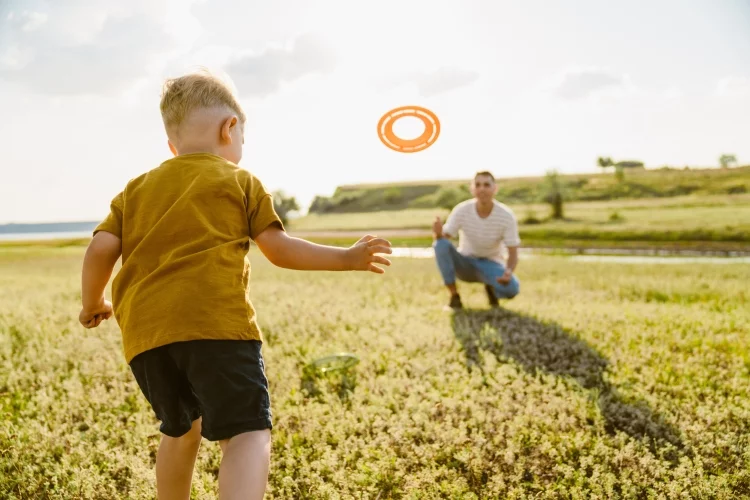 One of the best things about backyard parties is that they can be as simple or complex as you want them to be. If you're looking for some party ideas that are sure to please the littlest guests, consider incorporating some outdoor games into the festivities. Catch or frisbee are both great options for active toddlers. Set up a few targets or goals and let them have at it. It's sure to be a hit with all the little ones (and maybe even some of the bigger kids, too)!
Unicorn Theme
Ok, the picture above might be going a bit overboard. Well, maybe. 🙂 To make it a bit more low key, you can just get some silver tinsel and hang it as a skirt around a table. Get a bunch of party hats that kids can decorate themselves and wear on their foreheads. Be sure to include lots of glitter and rainbow paraphernalia. You can even find costumes and magic wands at party or dollar stores. Give unicorn bracelets or unicorn-shaped cookies as party favours. You can get pink, blue and silver (or gold) ribbon to make unicorn tails and string them in a line. Use pastel colours. Set up a photobooth with clouds made of cotton and hang tinsel from them. Don't forget the unicorn cake!
Bubbles
Who doesn't like blowing bubbles? This will be fun for kids and parents alike, and make for some really great photos! Fill the yard with balloons and provide all kinds of bubble solution and wand sizes. You can even make your own bubble solution like this: Measure 6 cups of water into one container, then pour 1 cup of dish soap into the water and slowly stir it until the soap is mixed in. Measure 1 tablespoon of glycerin or 1/4 cup of corn syrup and add it to the container. Stir the solution. Make your own bubble garland by cutting out circles from pastel or metallic papers and string them around the party.
Princess Party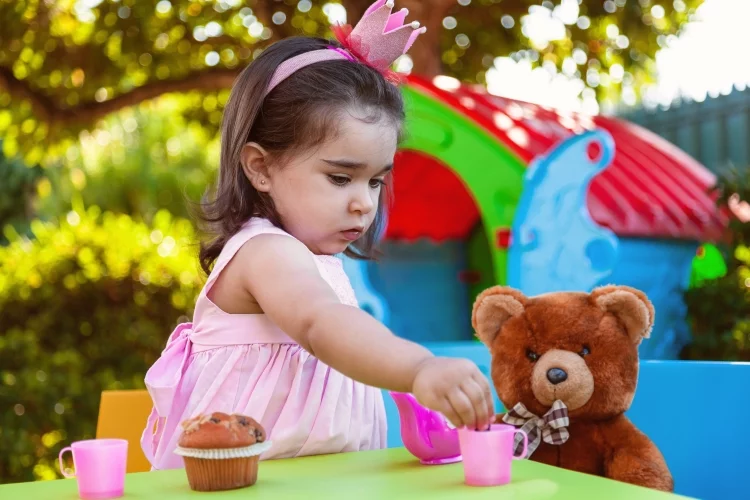 Can't say no to a princess theme. Throw on a princess movie on an inflatable outdoor screen. For decoration, string balloons to pairs of princess shoes. Get some crowns from the dollar store for each guest to wear and take home. You can also find foam crowns and get kids to make and glue their own jewels (using paper, or stickers or real gems from the dollar store).
Puppet Party
You can provide felt and popsicle sticks so kids can make their own puppets and put on a show at the end of it. You can easily build a little stage out of cardboard boxes make curtains out of excess material you have lying around.
Musical Hoops
Grab some hula hoops from the dollar store and lay them on the ground. Instead of musical chairs, use hoops. Kids will get a kick out of running and jumping around. Then they can hula hoop as an activity and take them home as party favors!
Treasure Hunt
Kids love to hunt and be rewarded. Since this is geared toward toddlers, you can provide visual clues on where to find the items (for example, a picture of the tree that an item is hidden around).
Dunkin Anything
Kids love food and they love finding hidden treats. Try a fun idea like hiding a smartie in a pile of whipped cream and let them dig for it!
Animal Theme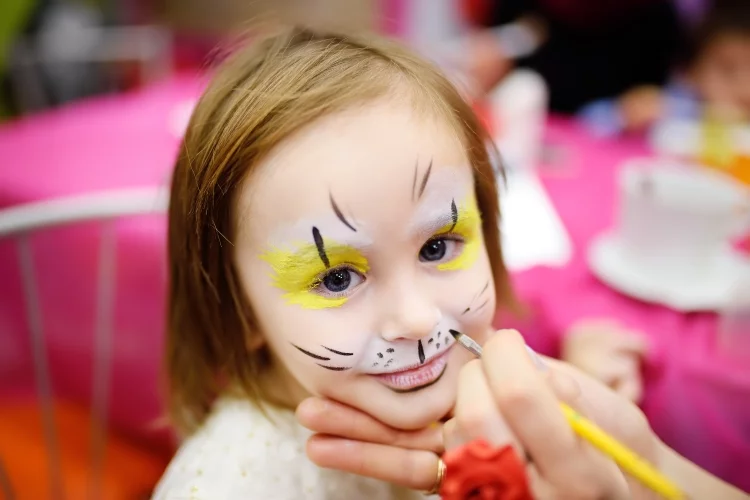 Kids love animals. Don't take them to the zoo or a place of captivity: just theme the party around different animals! What is your child's favorite animal? Select color scheme and snacks based on this. You can find plastic animals at dollar stores to give as party favors. You can even get kids to dress up as their favorite animal and they can play pin-the-tail-on-the_______. You can also provide animal shaped hats.
Why Throwing Parties for Toddlers ?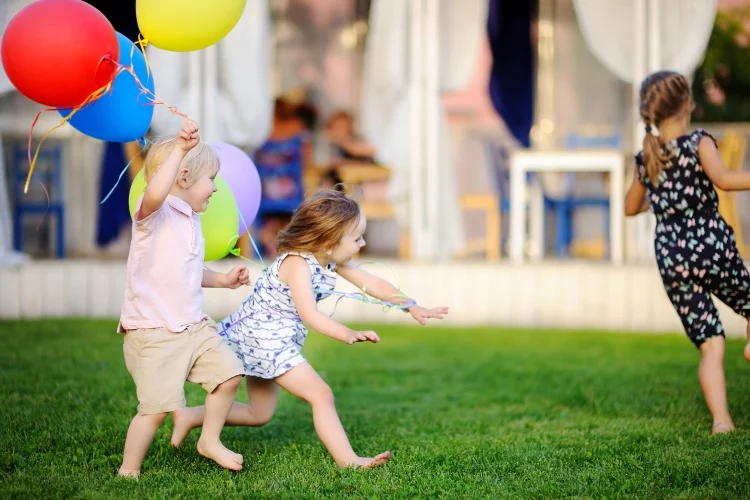 Throwing parties for toddlers can be a great way to celebrate special occasions, such as birthdays or holidays. But parties can also be a lot of work. If you're considering throwing a party for your toddler, there are a few things you should keep in mind.

Consider the Guest List
First, consider the guest list. If you invite too many guests, the party may become overwhelming for your toddler. Try to keep the guest list to a manageable size.
The Location of the Party
Next, think about the location of the party. If you're planning to have the party at your home, make sure there's enough space for everyone to move around comfortably. If you're renting a space for the party, such as a hall or park pavilion, be sure to check with the rental company about their policies regarding parties for toddlers.

Fun Activities
Finally, decide on some fun activities that will keep your toddler and his or her guests entertained. Some popular options include arts and crafts projects, games, and sing-alongs. With a little planning, throwing a party for your toddler can be a fun and memorable experience for everyone involved.

Conclusion for Backyard Party Ideas for Toddlers
Be sure to offer familiar foods like sandwich triangles, veggies or crackers with dip, juice boxes, and of course, cake. Kids will gravitate to what is familiar and tasty to them. You can set up a yard-wide picnic with sheets/blankets, or borrow a bunch of little picnic tables from the neighbours. Kids love candy. Be sure to provide lots of gummy things for them to chew on, like gummy worms.
Kids also really like ice cream, so be sure to dole out some scoops with the cake! For gift opening, draw names from a hat. Try to give one larger party favour instead of a bunch of little things. Sidewalk chalk or take-home items (like hula hoops mentioned, for example) are best, and kids are more likely to get use of them. Bubbles are also a great party favour.