Arguably, the 1950s is the decade of picnics. We might picture a little family packing up their sedan and driving to a park with a basket full of goodies. It is also the decade of the diner with milkshakes and hamburgers. With the right fashions, snacks, and décor, you can easily throw together a 1950s theme party. We will look at the trends of the decades, inventions, fashions and music to get an idea of what things to incorporate.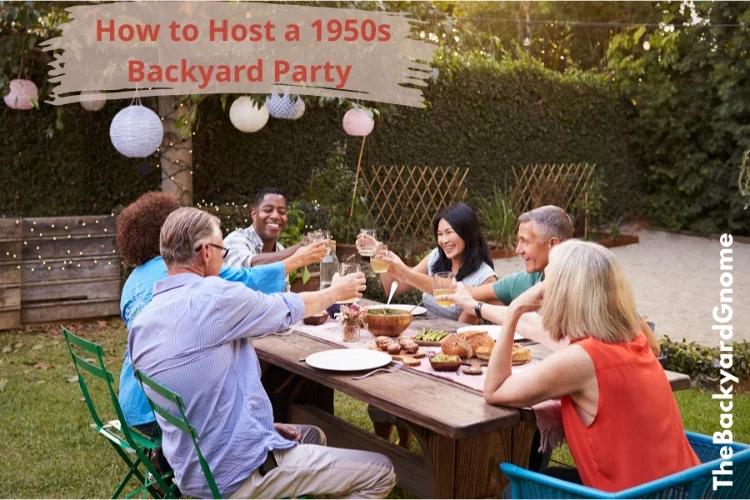 Set Up Your Backyard for the 1950s Themed Party
To get your backyard ready for a 1950s themed party, you'll need to set the stage with some key elements. First, add some greenery to create a charming and inviting space. Then, set up a picnic table or two for guests to enjoy their food and drinks. Finally, don't forget to add some fun 1950s-themed props, like vintage cars or old-fashioned games. With these elements in place, your backyard will be ready to transport guests back in time!

If you want to go all out, you can also set up a 1950s-style photo booth. This can be as simple as hanging some old-fashioned curtains or sheets around a corner, or you can get more creative with props and backdrops. Either way, guests will love being able to snap some fun photos in their party outfits. And of course, don't forget the music! Create a playlist of 1950s classics to set the perfect mood for your party. With these elements in place, you're sure to have a blast hosting a 1950s backyard party!

The Drive-In Theatre
The drive-in theatre peaked in its popularity during the 1950s, largely because it enabled parents with new babies to enjoy a date while being able to care for their infant. It was also very popular amongst teenagers. We recently reviewed some of the best portable movie screens. This could be a very unique party feature and surely enjoyed by all! Simply set it up in an area of the yard with a movie from the era or one portraying the 1950s for the perfect backdrop.
Music
Music of the era carried the swing influence from the 1940s, with a bit more of a raw sound that would eventually turn into rock n roll. The blues were popular during this era. Elvis Presley is an obvious and widely beloved musical icon of the 1950s. Rock music began as a synthesis of rhythm and blues with a country influence. The combination of prominent percussion with the guitar-central country music led us to what we know today as rock music. Some example performers include Chuck Berry whose guitar solos and performances would become the foundation of future rock performers. Du-wop was also quite popular. Swing music of the 1940s focused more on the instrumental orchestration of a song, while the post-war music of the early 1950s focused more on the singer and what story they were telling. Connie Francis was a popular female singer of the time. You can easily find a compilation of the best 1950s hits at a secondhand record or CD shop. Buddy Holly and Nat King Cole were popular musicians of the time.
The 1950s were rather a decade of soft rebellion, during which the enduring image of a teenager was born. Disobeying the parents by sneaking out at night, listening to rock music, and dancing a lot. A jukebox would be the perfect addition to a 1950s party if you can find one!
Decorate With 1950S-Inspired Decorations
Tiki was popular in the 1950s. You can find a string of tiki lights, get some wicker furniture, and serve tropical fruits and cocktails. Guests can wear Hawaiian shirts, or anything tropical- or jungle-inspired. Birds, big green plants and flowers. You can find reproduction Easter Island heads that you may want to set up along a fence, under a string of lights. That would be the perfect party dancefloor! As for a table centerpiece, you can set out a bowl of fruit, surrounded by pineapples. The 1950s was all about the kitsch, so be sure to get some inflatable palm trees and retro salt and pepper shakers for the table display.
A red gingham tablecloth is essential. Some modern brands make party stationery and supplies, like Anne Taintor. You can get martini glasses, shotglasses, napkins and melmac trays with images of 1950s women and men. The brand makes fun of outdated sexist views of the time, and is sure to get some laughter from your guests.
The sock hop is another recognizable theme from the 1950s. the sock hop was a dance where teenagers would go to hang out and have a good time. Fashions included circle skirts, poodle skirts, ankle socks, saddle shoes, cardigans and slacks.
It may be fun to tell your guests it is a generalized 1950s party, so that you can incorporate many of these fantastic elements into one grand party. Additionally, it will be interesting to see what pieces of the era are chosen by guests! Aprons, pearl necklaces, and bowling shirts are all great choices.
Serve Food and Drinks
The 1950s was the decade of the idealized housewife. Many household items and food products were now being mass-produced as a way to ease the workload at home. Some popular cocktails from the era include white Russians, whiskey sours, Manhattans, or piña coladas. Classic 1950s food to serve at a backyard party would be hot dogs or hamburgers, French fries (diner food), milkshakes, deviled eggs, jello molds, or angel foodcake. Casserole is also a classic 1950s dish. As a focal point, you could set up a make-your-own-float table.
When hosting a 1950s backyard party, you'll want to serve up some traditional fare. Think burgers and hot dogs off the grill, potato salad, macaroni salad, and maybe even some Jell-O molds. For drinks, stick with classics like lemonade, iced tea, and beer. And don't forget the root beer floats!
If you really want to get into the spirit of the 1950s, you can even set up a soda fountain with all your favorite retro sodas. Your guests will love it!

Whatever you do, just make sure there's plenty of food and drink for everyone to enjoy. A 1950s backyard party just wouldn't be the same without it.

So there you have it! These are just a few tips for hosting a 1950s backyard party. With a little planning and effort, you can throw an event that your guests will be talking about for years to come. So get to it! And have fun!

Fun games and activities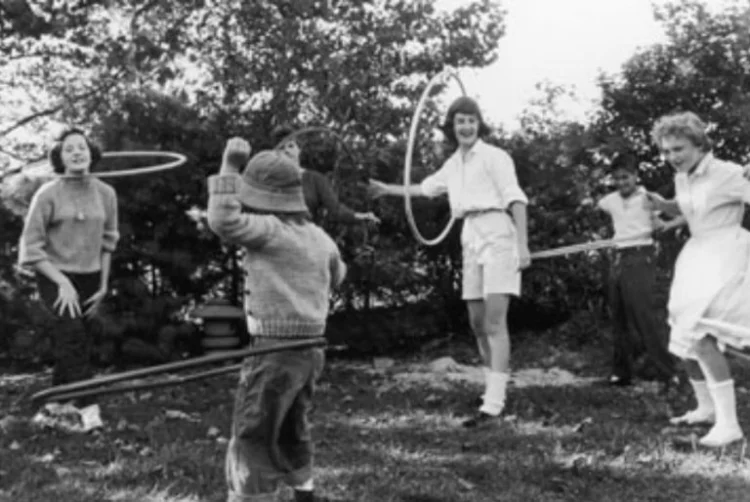 Apart from mingling and twirling round to show the volume of your crinoline, some games can be an easy way to get guests involved with one another and ensure everyone has a good time while solidifying the party's theme. Fun things like a hula-hooping contest, bubble gum blowing contest, trivia, or limbo are great choices.
Do you want to take a trip back in time and host a 1950s backyard party? It can be a lot of fun to plan and execute such an event. Here are some great ideas for games and activities that will get your guests into the spirit of the decade:
Set up a croquet course in your backyard. This classic lawn game is the perfect activity for a summer party.
Create a makeshift dance floor by clearing away any furniture or obstacles from your yard. Put on some 50s tunes and have a blast dancing the night away under the stars.
Play some classic party games like Piñata Whack-A-Mole or Pin The Tail On The Donkey.
Serve up some delicious 50s-style snacks like pimento cheese sandwiches, deviled eggs, or cherry cola floats.
Decorate your yard with some fun 50s-themed decorations like vintage posters or twinkling lights.
By following these tips, you're sure to throw a successful 1950s backyard party that your guests will never forget!