Planning a birthday party for a tween can be pretty stressful. Tweens are a demographic of people between childhood and teenage years. They are not young enough to be a child, but not old enough to be on their own.
And they are well aware of this, and it can cause some awkwardness for them. Have pity. The hormones are starting. Tweens are getting their first sense of responsibility and taste of adulthood. They will crave freedom from authority. They will need to look cool in front of their social group.
As a parent, it's crucial you let your tween do their thing, express themselves, explore their interests. Different kids will have different interests, so it's important to choose a theme that appeals to most if not all of the group: especially the birthday kid. However, as a parent you will still need and want to protect your child. Fear not! You can easily strike a happy medium.
We've put together this guide to ten backyard party ideas for tweens so parent and child can relax and have fun!
Top 10 Backyard Party Ideas For Tweens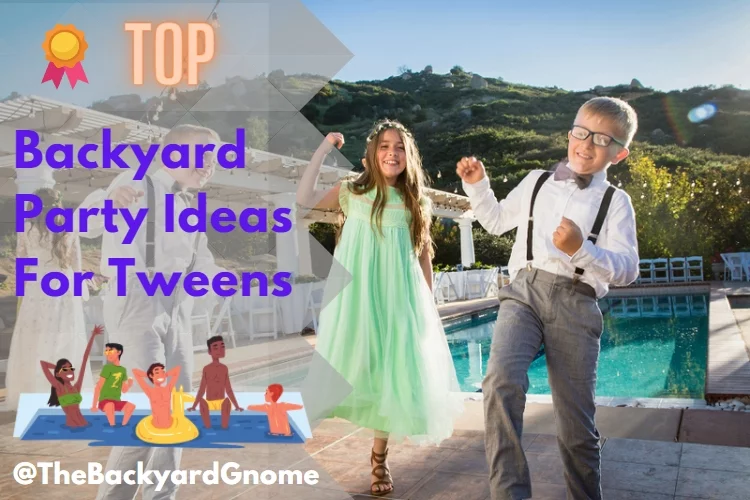 1. Ice Cream Sundae Party
Anything surrounding food is always a safe bet. Keep an eye on the attendees: this can be a time when eating disorders develop due to body image. This theme is pretty easy to pull off: just choose a million toppings, set them out, and let guests build their own. Conversation and fun will naturally build around this.
2. Makeover Party
When I was 13, my best friend threw a makeover party and it was, to this day, one of the most special birthday parties I can remember. Her mother's friend was a beauty consultant for a big makeup company, and she volunteered to give all the girls makeovers. This can be a fun introduction to makeup, if your kid is into that. There are a few ways to go about this:
Get a makeup artist to come in and do everyone's makeup. Take photos and have fun.
Find a recipe for do-it-yourself face masks and make this the main feature of the party. The guests can make the masks and then apply them to their faces. You may also want to collect a basket of nail polish and they can take turns painting their nails.
3. Pool Party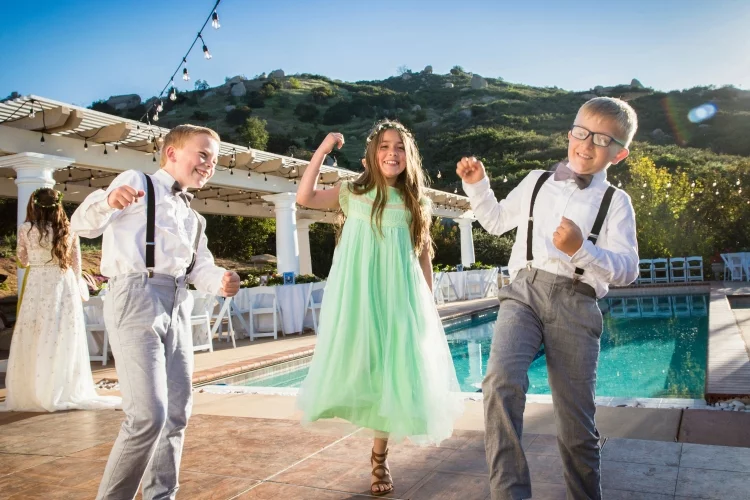 Nothing like a good old-fashioned pool party! However, we believe it's important to make sure every guest is comfortable and that a body-positive attitude is encouraged and emphasized. Tweens often feel awkward about their bodies and it's crucial that everyone feels safe and fabulous. A pool party should consist of inflatable pool toys, lots of pop and snacks, and maybe even a barbecue.
4. Favourite TV Show
All kids love television. That's just a fact. It's very likely they share a favourite with their peer group. So go ahead and plan a party around their favourite TV show! The theme will depend on the host's favourite show. You can invent a game based on the show's theme. Encourage guests to dress up. If they love Walking Dead, let them dress up like zombies and get a bunch of body part-shaped candy, and maybe a cake with strawberry jam.
5. Nachos and Piñata Party
You can't really go wrong with nachos and a piñata. Set out a huge bar of beans, cheese, salsa, lettuce, and other nacho toppings with a bunch of chips and individual plates. Tweens will want to stay in touch with their peer groups over the summer, so allowing them to host a party will make them love you a lot, as well as put them in good standing with their peers. This sounds silly to us adults, but we remember and know very well that this is an important time for shaping the rest of their lives. If you don't have a pool, fill a bunch of balloons with water and suspend them. Get the kids to bash the water balloons. This will keep them cool, get their aggression out, and will be lots of fun! We recommend getting a plastic bat.
6. S'mores Party
Not that every party must centre around food, but who doesn't love food? A food-themed party is a good idea that will allow you to include people of all genders and interests. S'mores add a little something-something because they have to be cooked over fire. A campfire is always a solid party feature, because most humans like to gather around a fire. It is comforting, warming, fun to watch, and dynamic. Plus, you can sit all together in a circle and sing songs and make s'mores!
Set up a table inside with all the fixings: graham crackers, chocolate pieces, marshmallows. If you're feeling fancy add some chopped fruit (not that tweens will eat it). Be sure to provide napkins, paper plates, and cups. Get each guest to bring their own lawn chair to ensure a spot for everyone. We have reviewed many of the best chimineas and firepits on the market, feel free to browse the lists if you do not have a firepit in your backyard. A firepit can greatly improve your overall summer experience in the backyard. you wont need any other entertainment, other than maybe a music player.
7. Personal Drive-In Theatre
We've reviewed some awesome inflatable outdoor movie screens. Set up a screen in the backyard and provide popcorn, licorice, and other traditional theatre treats! Lay down some sheets for kids to sit on, as well as floor pillows.
8. Art party
If you're dealing with a particularly creative set of kids, encourage them to bring art supplies of choice. Alternatively you can set up a bunch of canvases of the same size - one to each guest - and provide paints and brushes and other media. Creative decorations include strings of paintbrushes, rainbow colours, and maybe some paint spatter! This is the perfect backyard party idea for you need worry not about the mess. Make your own invites: shape them like palettes and add the information in differently coloured circles on the palette. You may also want to provide aprons.
9. Balloon Decorating
What could be better than balloon decorating? It's festive and interactive. Provide glitter, confetti, paint colours for dipping inflating balloons into, different coloured ribbon, and any other decorations you can think of. Each guest will take home their own creation at the end of the party!
10. Rock Star Party
Send invites as VIP passes. Feature a guitar-shaped piñata, in addition to singing, and temporary tattoos! Send kids home with sunglasses and candy microphones.
As we mentioned off the top, tweens can be very sensitive due to hormones, so when you're planning a birthday party for them, its good to communicate with them to make sure the theme or concept is something that they actually will like. You haven't had a truly bad day until you throw a birthday party for a group of 11 year olds with a theme that they either dislike or don't care about. If the party is a surprise, you'll have to trust that you know your tween's interests in order to confidently pull off the surprise. In any case, we have faith in you! Throwing a successful party for your tween, if you do it right, will go down in their memory as one of the greatest events in the history of the world, so we say to you this - good luck and have fun!
Benefits of Having Backyard Parties For Tweens
There are many benefits to having backyard parties for tweens. For one, it gives them a chance to socialize with their friends in a relaxed setting. It also allows them to get some fresh air and exercise, which is important for their health. And finally, it gives them a chance to show off their creative side by decorating the party area and preparing food and drinks.
One of the best things about backyard parties for tweens is that they can be as simple or as elaborate as you want them to be. If you're on a budget, you can keep things low-key by just having a few games and activities set up in the backyard. Or, if you're feeling more ambitious, you can go all out and transform your backyard into an ultimate party destination complete with a dance floor, music system, and buffet table. No matter what route you decide to take, your goal should be to ensure that your child and their friends have a great time.

When it comes to games and activities, there are plenty of options to choose from. One popular option is to set up a giant Twister board or an inflatable pool and have the kids play in it. Other games that are sure to be a hit include water balloon tosses, relays, and tag. For activities, you can't go wrong with face painting, arts and crafts, or even a treasure hunt.

As far as food and drinks are concerned, backyard parties for tweens don't have to be expensive either. You can easily set up a buffet table with simple snacks like chips and dip, veggies and dip, pretzels, and popcorn. As for drinks, you can serve up some fun punch recipes or even make your own snow cones. Just remember to keep the sugar content in mind when serving these items to young children.

Things to Watch out Having Backyard Parties for Tweens
As your tween gets older, they may want to start having parties in the backyard with their friends. While this can be a great way for them to socialize and have fun, there are a few things you'll need to keep in mind to ensure the party goes off without a hitch.

One of the most important things to remember is that tweens can be very self-conscious at this age. So, while you may want to set up some fun games or activities, be sure to ask your child first if they're okay with it. If not, it's perfectly fine to just let them hang out and chat with their friends.

It's also important to make sure that there's plenty of food and drinks for everyone. Tweens can get hangry (hungry + angry) very easily, so you don't want anyone to go home hungry or thirsty.

Finally, be sure to supervise the party closely. While tweens are generally well-behaved, things can sometimes get out of hand when a group of them gets together. By staying close by, you can nip any potential problems in the bud.

Conclusion for Tween Backyard Party Ideas
With these tween backyard party ideas, you're sure to create an unforgettable event that your child and their friends will love! Just remember to keep the guest list small, focus on fun activities, and have plenty of food and drinks on hand. With a little planning, you can throw a backyard bash that everyone will be talking about for weeks to come!