Balloons are a necessity for any celebration, adding fun movement, something for people to play with, and all-around festive fun. But the same old plain balloon thing gets old, you know? We'd like to share something new and cool that we've found: glitter-dipped balloons.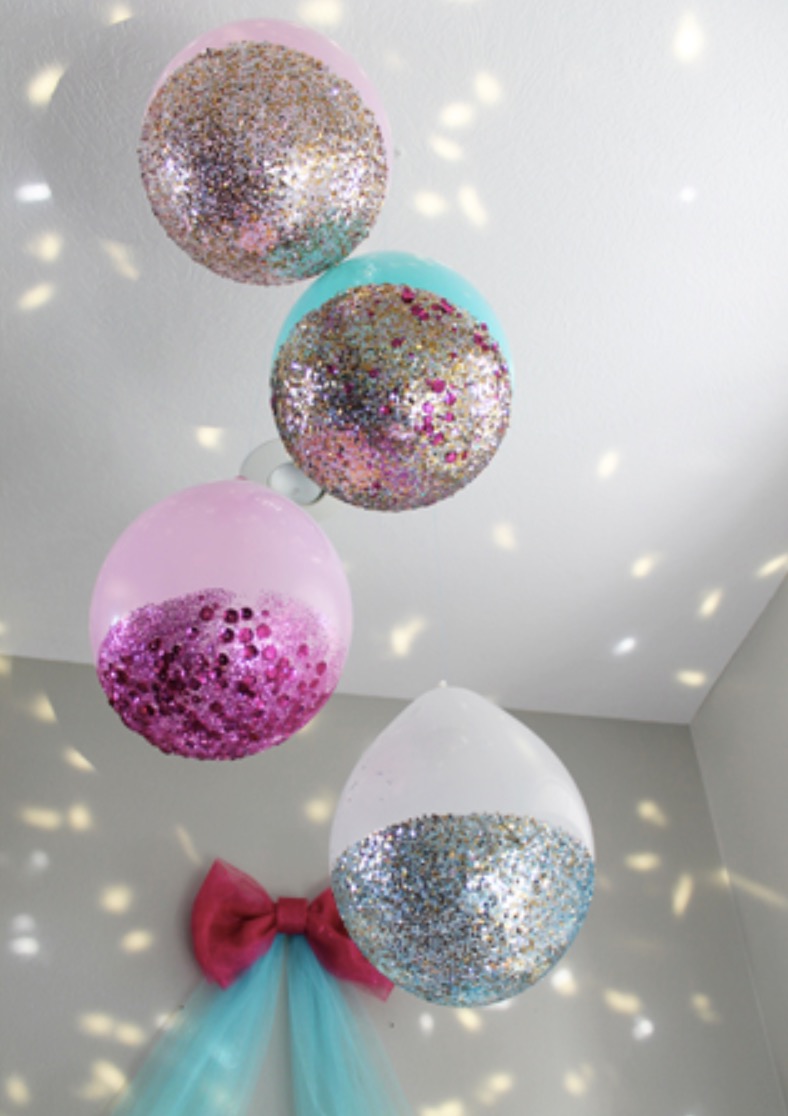 Sparkly Glitter Dipped Balloon Fun!
Say hello to the new party decoration standard: we're looking at balloons, a chandelier, and disco ball all in one pretty sparkling package. They give a sophisticated, grown-up look but can be used for any age at any event that requires a celebration.
This is a great craft for anyone looking to add a DIY element to their event. Each project turns out differently, so yours will truly be one of a kind!

For this project, you will need:
Confetti or glitter of your choosing. Some people like good old glitter while others opt for metallic foil or differently shaped confetti.
Balloons
Paint brush. We recommend a synthetic bristle, as natural bristle tends to fall out of the brush and get stuck in the glue or paint you're using.
Adhesive for the glitter. For this you can use either collage glue or real paint. Wouldn't it be fun to have two-toned balloons that sparkle?
Balloon pump
Large plate or bowl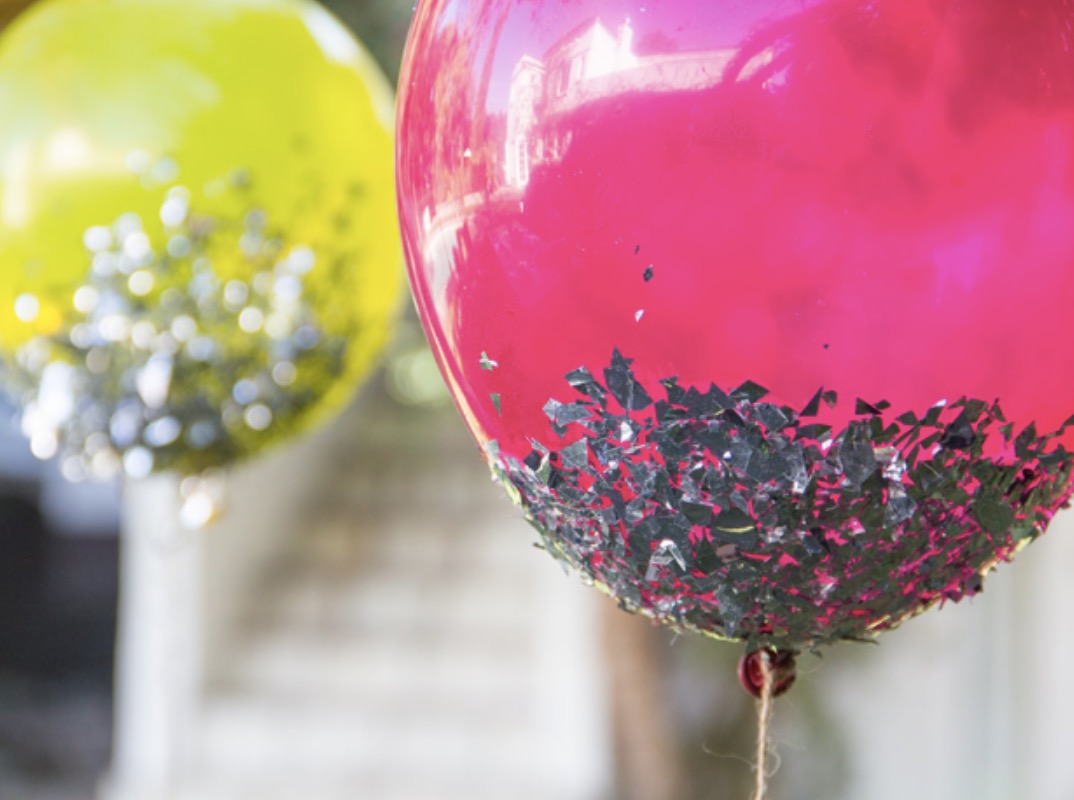 Step One: Function or purpose of the balloons
First, consider the function of your balloons. Will they litter the floor, or be filled with helium so they can float? If you're using helium, remember that the confetti will add weight to the balloon, so be careful not to add too much glitter that the thing can't fly. We recommend trying a tester balloon for this purpose before you convert your entire balloon supply.
Lay out all of your supplies. Fill a bowl or plate with glitter (depending how deep you need to dip/roll the balloons). Either lay a few garbage bags or cardboard down as a work surface, or have your vacuum handy, because this might get messy.
Step Two: preparing the little sacks for magical transformation
Second, you will have to inflate all of your balloons. This step needs to happen the night before the party or the morning of. Remember that regular air-filled balloons will last a day or two at maximum capacity before deflating. This is where the balloon pump will come in handy.
Your arm may get tired, but you won't get all lightheaded from filling them with your own lungs. Short on time? Most places that sell balloons offer an inflation service for a small fee. Order ahead of time to have the balloons ready for pick-up and save yourself a bunch of hassle the day of your event. Helium will last about a day, or 12-20 hours, and has to be done with a specific machine.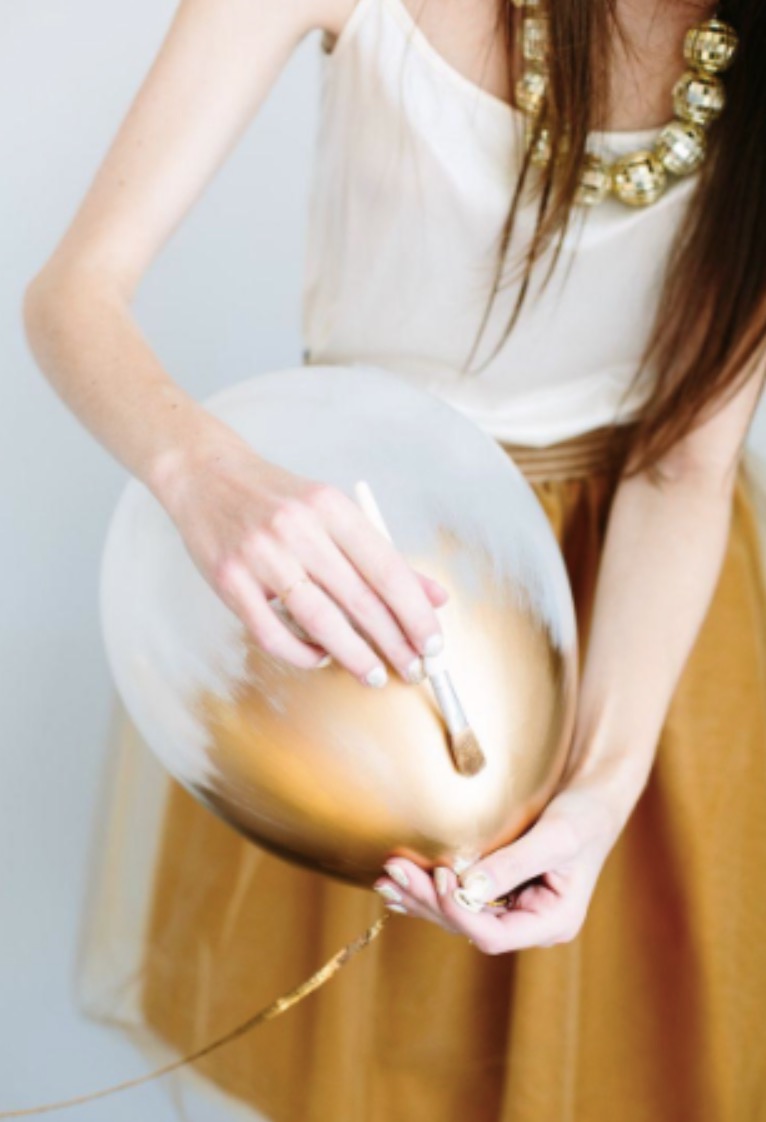 Step Three: Enter party mode!
Third, dip the brush in the glue and paint a thin, even layer onto the balloon. You may want to dip the top or bottom (or both!) in glitter, so apply the glue as necessary. You can do either a straight line all the way around, random and rough, or shapes (zig-zag, for example). Then stick the balloon into the bowl of glitter. Adversely, you can apply the glitter with your hands by sprinkling it over the glue. When you have the desired amount, simply shake off the excess. You have the option of sealing in the confetti with an extra layer of glue, which will dry clear.
Some choose foil for its different shapes, which can add interest. We say it's up to you! Glitter balloons are interesting no matter how you dip them. The more ambitious might first dip the balloons in one kind of glitter, and then add a larger shape or different colour on top. The possibilities are endless! And why stop at dipping? Once you get the hang of this technique, try adding fun shapes all over the balloons, like polka dots or stars.
Glitter-dipped balloons create an atmosphere of magical fun! You and your guests will love the way they catch the light and bring glitz and glamour to any corner of the room. They can be tied in bunches, one in each table centerpiece, or left to float to the ceiling.
These balloons are the perfect accessory for birthdays and New Year's Eve, or even a company Christmas party. They will add that little punch of pizazz to make the event memorable and fun. Heck, making the balloons can be a party of its own! This is relatively inexpensive craft, and has been proven to be enjoyed by people of all ages.
Related posts: