Today we review the Hudson Bay spas for 2, 4, 5 and 6 people. The addition of a hot tub turns your backyard into paradise, with a jet spa at your fingertips. Maybe you want a big hot tub to yourself, or you like to entertain.
Multi-person hot tubs are a real treat any time you want to have some people over for a relaxing time. Nothing says leisure and relaxation like your own personal spa with jets.
Get in to the hot water, and let the jets massage your sore muscles. They will hit you in all the right places. You will be relaxed and warm to the core.

All four models of the hot tub come wrapped in heavy plastic with cardboard and foam for protection. To get it to the backyard from curbside delivery, you can lay down some rugs and slid the tub on its shipping side to its permanent location.

You will need two or three other people (especially with the five- and six-person models) to tilt it onto a 2×4 board, and then lift it up.

Buying Considerations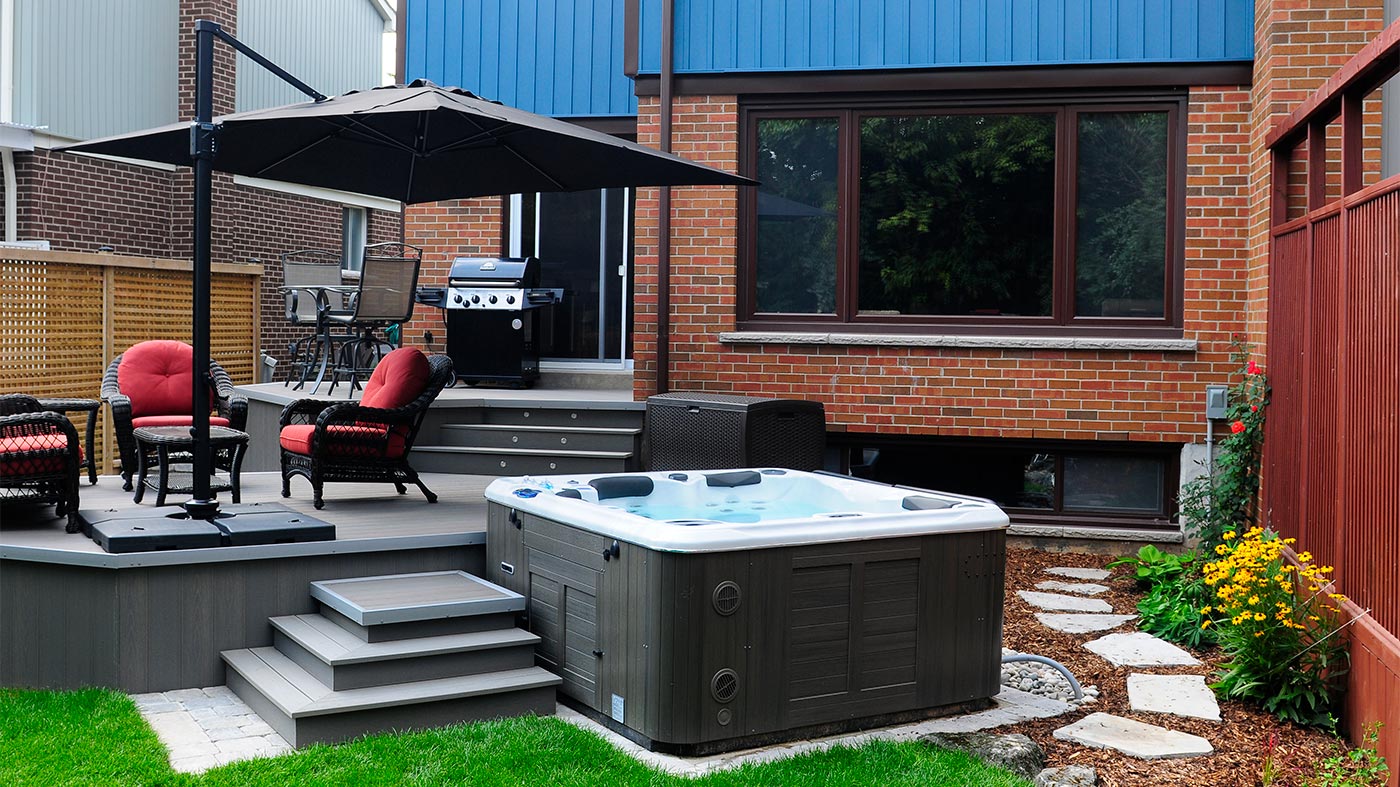 Buying a hot tub is a big decision. It can be quite a hefty investment, and you will need to be committed to the cause. In this section, we'll go over a few key considerations when buying a hot tub or spa.
Use – The first thing to take into account is what do you want to use it for. Is it a hot tub for relaxing in, or do you need some hydrotherapy? Is it just for a small number of people or do you like to entertain?
The use you want to get out of it will decide the type of hot tub and the features you will want to go for. We'll get into features and usages later in this guide.
Anticipated Number of People – At the same time, you will have to take into account the number of people you are planning to have use it. For example, if you have a large family or if you have guests over, it's a good idea to have a hot tub that can fit everybody.
Think of having a four person tub, but there are a total of five people that want to go for a dip. Would you seriously leave out one of your friends while you and the rest of them have all the fun? That would be quite rude.
Therefore, you should plan for the number of people using it in order to get the most out of your tub.

Bylaws and Regulations – Your city or state may have specific rules for installing hot tubs either indoors or outdoors. Depending on what is required, you might have to get a building permit to set up your hot tub. Some communities might also require the hot tub to be fenced if it's placed outdoors.
Price and Ongoing Costs – The third point to keep in mind is the total cost. A lot of people will agree that a hot tub is a great investment, but it does have to be an investment you're committed to. Hot tubs can be a sizeable cost upfront, and they also require ongoing maintenance and expenses.
The upfront costs you should anticipate are the price of the tub itself and costs associated with installation. Examples of ongoing costs include electricity consumption, water consumption, and water treatment chemicals.
Installation and Ongoing Maintenance – Hot tubs require a bit of effort upfront when you are first installing them. Deliveries typically drop them off on your property. After that, it's up to you to be prepared to move it into the right spot and set it up for use.
They also need ongoing care in order to keep functioning the way they are intended to. Examples of maintenance involve cleaning the tub and tending to the water quality.
Options – Generally speaking, there are two realms of hot tubs. Regular hot tubs (as we will cover in this guide) offer a lot, but they require a strong commitment from your part as well. The alternative would be going for an inflatable hot tub. Quite the opposite in character, inflatable hot tubs are a lot simpler and not as durable. However, they are advantageous in terms of price, ease of set up and use, ease of maintenance, as well as portability and storage.
Usage & Features of Hudson Bay Spa

An interesting note to discuss, is the fact that this article's picks, the Hudson Bay Spa hot tubs bring to the table strengths from both sides.
Cost – One thing to commend the manufacturer on is the price. It's a lot friendlier than what most hot tub owners (or soon to be owners) usually see.
Plug & Play – Beyond that, it's built to be a lot more self contained and straightforward than other models. A big help is the 110v/20 amp power source. A lot of tubs need specialized connections to 220v/50 amp connections, however the Hudson Bay Spas can plug into any standard wall socket.
The 220v set ups require a licensed electrician to come and wire the tub. Using a 110v power source takes a huge chunk out of upfront expenses and effort.
This also makes it a lot more portable because it is easy to unplug. The hot tub still weighs around 600 lbs, so don't underestimate the task. That being said, however, it's great if you have one less thing to worry about when relocating something that weighs 600 lbs.
Features – It has a range of nifty features:
Comes in a range of sizes
Fully made and assembled in the US
Digital display and control panel
Multiple jets
LED mood lights
Has a waterfall feature
Surprisingly high powered, despite the fact that it has a smaller power source
Doesn't generate a lot of noise
Comes with a cover
Accessories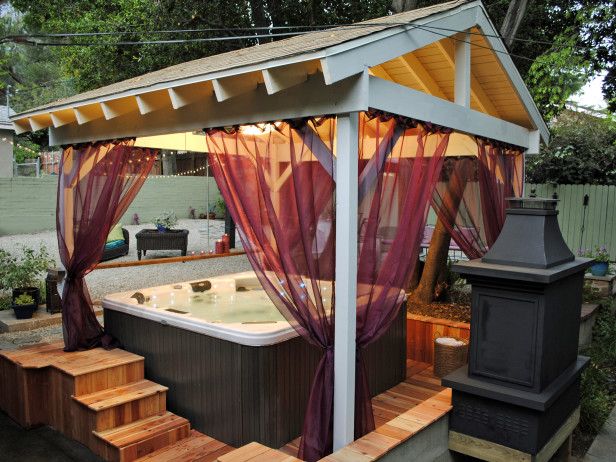 Stairs – Hot tub steps are always a great accessory to start with. It's great when you can enter and exit more gracefully and with less splashes.
Covers – Covers are an important item to get. You need to protect your tub from debris as well as the elements. This is especially valid during the winter months, whether you plan on using it or shutting it down for the season. The Hudson models come with a cover included.
Lights – Who doesn't enjoy mood lights? There are multiple options out there for submersible LED mood lights which you can add to and arrange for any hot tub out there. The Hudson Spa tubs come with their own lights, but there is nothing stopping you from adding more
Gazebos or Umbrellas – Some thought needs to go into the placement of a hot tub. It needs to be sheltered from the elements as well as from debris that can fall into the water. It's also a good idea to avoid overexposure to the sun.
A great spot to place your tub can be under a gazebo or an umbrella. It offers some protection and privacy, without taking away from the outdoor aspect.
The List Goes On – These are just a few examples. There are more options to explore as far as accessories go.
Getting Ready for Delivery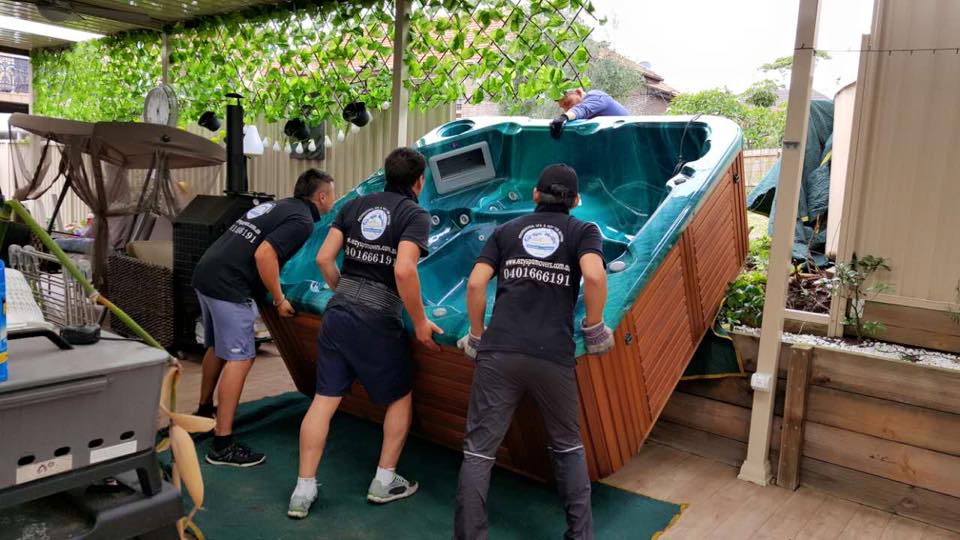 The thing to keep in mind is that hot tubs are really bulky and heavy. For all tubs, placement is very important. This means that you have to have a proper spot figured out if you are expecting a hot tub delivery. That being said, you ideally want to have it planned out in advance so you don't have to scramble on delivery day.
So, the plan is that you have to carry this large, 600 lbs item from your driveway to somewhere in your house or backyard. Delivery people will drop it off on your property, but will not carry, unwrap, or install it for you.
You will first have to get a few people to help (either friends and family, or you can hire professionals).
After that has been figured out, you will need to find a spot for your tub. We will discuss placement requirements in the next section.
You will need to secure a path from where it has been dropped off, all the way to its destination. This means figuring out if doorways or paths are wide and tall enough to pass through. Once again, having all of this planned in advance will save you a great deal of headache.
Last but not least, as mentioned earlier, you should consult your local bylaws to see if there are any permits you need to get or any requirements you need to meet.
Placement & Installation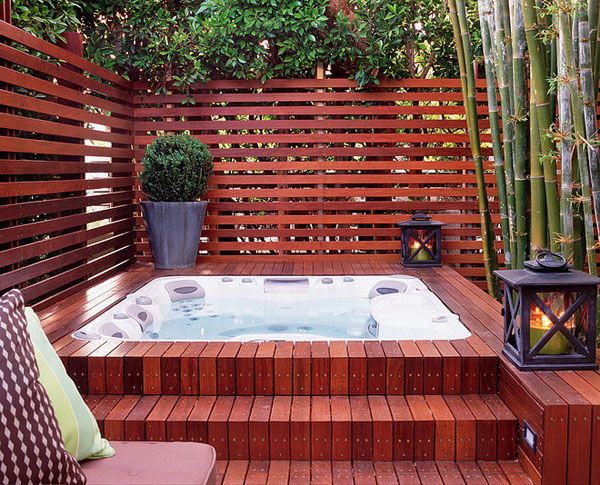 Assembly – Hot tubs in general don't need much assembly, however there are two hurdles you need to clear: placement and installation. Let's quickly run over some basics that apply to all models.
The manual and power cord are tucked under the control panel
Make sure you read the manual before setting up, and be sure to use a screwdriver rather than power tools to take the panels off
Make sure the two slice valves are in default locked position before plugging in the tub
Wait until the power cord is plugged in before filling the tub
Colours can be set to only show one colour rather than all seven
You will have to purchase spa chemicals separately.
The install typically involves hooking up the electricity and (if applicable) the plumbing. This also comes with the responsibility to get the proper permits to have that work done.
The Hudson Bay Spas – run on a 110v power source which allows them to be plugged into any standard outlet. This makes it a lot easier to hook up to power.
At the same time, they are also more self contained and do not require any plumbing to be done. All that being said, bylaw regulations and permit requirements may still apply even in the case of plug and play hot tubs.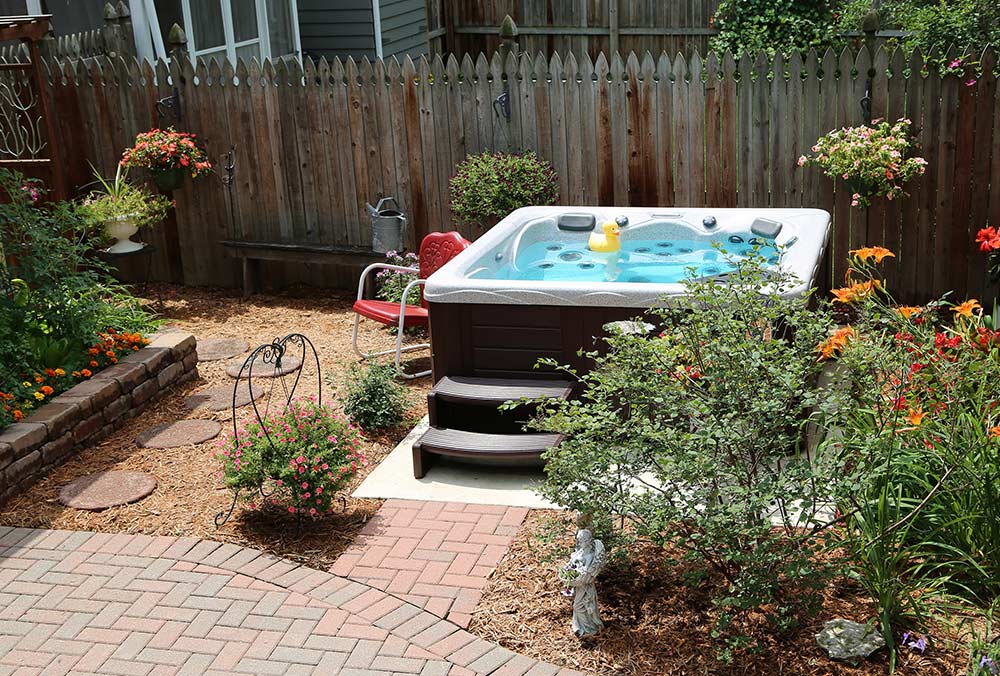 Placement Checklist – Regardless if you are placing your hot tub inside or outside, there will be a few points you always need to hit.
It will need a sturdy, level surface, strong enough to withhold the weight (remember, it's around 600 lbs). The surface will also have to be elevated so water drains and doesn't pool at the base of the tub.
Having an even surface is critical. Uneven surfaces focus the weight of the tub into specific very points, which will cause it to break. There is a lot of weight to work with, so you definitely need it to be distributed evenly.
It needs a minimum of 125 lbs per square foot support, regardless of what surface it's on.
Allow 4-5 feet of radius around it as you will be splashing around, you can't avoid it and you don't want to get water on stuff that can get damaged.
Position it so you have access to the controls as well as a spot to enter from.
Keep electronics and power sources away from the tub.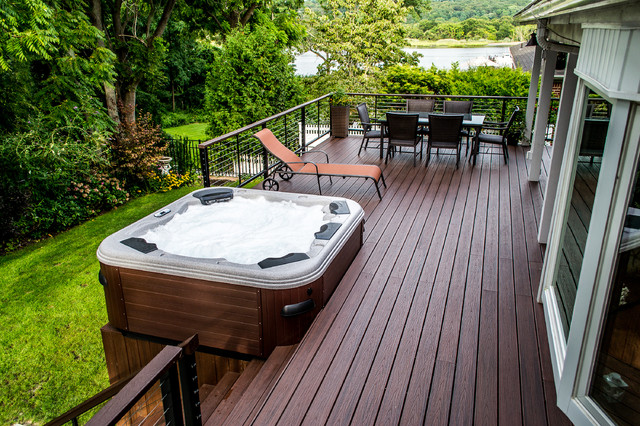 For Outdoor Placement – Here is what you should keep in mind if you are placing your hot tub outdoors.
Ideal surface would be concrete patios that are at least 4" deep with reinforced wire. Other options include pads or bases, which can either be purchased or made the diy route.
You can also set it up on your deck. If you're going with the deck option, decks should have 2 x 10 " floor joists and 4X4 or 6X6 supports. It's recommended you consult a professional for this (like a contractor or structural engineer).
Do not go with pavers or shims because they don't distribute the weight evenly. The slightest variations in weight distribution can put a lot of pressure on specific points on the tub and cause it to break over time.
Bricks, gravel, bare ground, or stone should also be avoided because they are uneven.
Make sure you have a clear and clean path from your house to the tub. You don't want to drag debris and dirt into your water.
Make sure you are away from any overhead power or telephone lines. You should be 12 feet away at the very least.
It's a good idea to have some distance from tree branches because twigs, leaves, and debris may fall into your tub (not to mention bird poop…yikes!).
You ideally also want to shelter your tub from too much sunlight as well as the elements in general. Umbrellas and gazebos are usually a big help with that.
Reinforcing the cover with straps is a good idea during bad weather or windy conditions.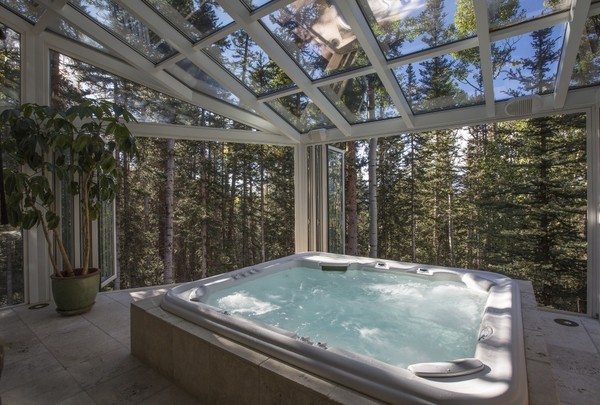 For Indoor Placement – And lastly, here is what you should keep in mind for indoor placement. Make sure your floors have enough support and are code compliant
Regardless where you place it indoors, you will have to make sure it has adequate floor supports. This includes basement as well as sunrooms or additions.
Indoor hot tubs need ventilation. Hot tubs produce a lot of humidity while they are in use, which can damage walls, ceilings, and carpeting. It also creates a great risk for mold and mildew.
You should get a ventilation fan that has enough CFM to properly vent out the room your hot tub is in. CFM means cubic feet per minute. One CFM is required to air out one cubic foot in one minute. You will need a fan which can air out your entire room in 3 minutes.
To find out how much that is, you need to get the dimensions of your room and multiply them together to get the total cubic feet of your room.
You need the room ventilated in three minutes, so you can get the CFM by dividing total cubic feet by 3. The best place for a fan is near and above the tub.
Do not place the tub on carpeted areas. Instead, place it on ceramic tile or water resistant floor material. Be sure the surface area creates a radius of about 2 feet all the way around the tub.
Safety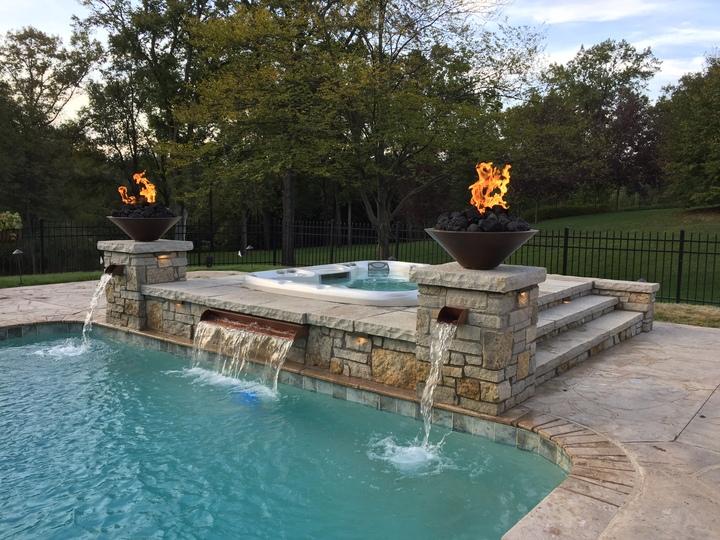 There will be some safety precautions to keep in mind when owning any hot tub. Let's look over them.
General Water Safety – Most obvious one is to practice general water safety. Water is lots of fun, but it does need to be treated with respect or else it can become hazardous.
Always mind children and pets. They are especially at risk if they accidentally end up in a hot tub. Because of this, some places actually require outdoor hot tubs to be fenced off.
Keep in mind that there will always be splashing around the tub (it's pretty unavoidable) and surfaces can get slippery. At the same time, don't leave hot tub unattended or uncovered while it is full of water.
Keep electronics away from the hot tub at all times. Avoid using any electronics while you're using the hot tub. You're there to relax anyway, you can definitely take a break from your phone while you do that.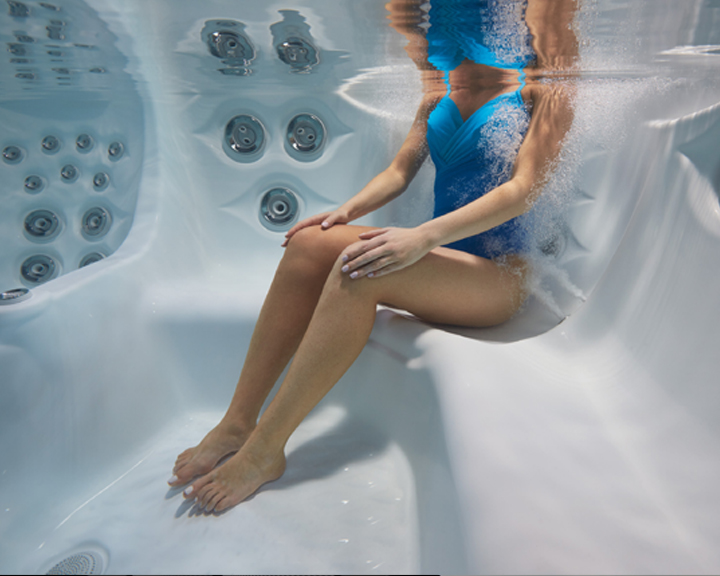 Health Effects – Hot tubs are great for hydrotherapy and can bring about positive health effects. However, the high temperatures can be detrimental or even dangerous for people with certain health conditions.
Similarly, hot tub use can have negative interactions with certain medications, or can worsen medication side effects. It's also known to worsen intoxication with alcohol use.
Lastly, hot tubs are not recommended for pregnant women.
Because of all of the above, you need to make sure that a hot tub is something your body can handle or enjoy. Otherwise, it won't be a fun time at all. If you are unsure about any medication or health condition, you can always speak with a doctor.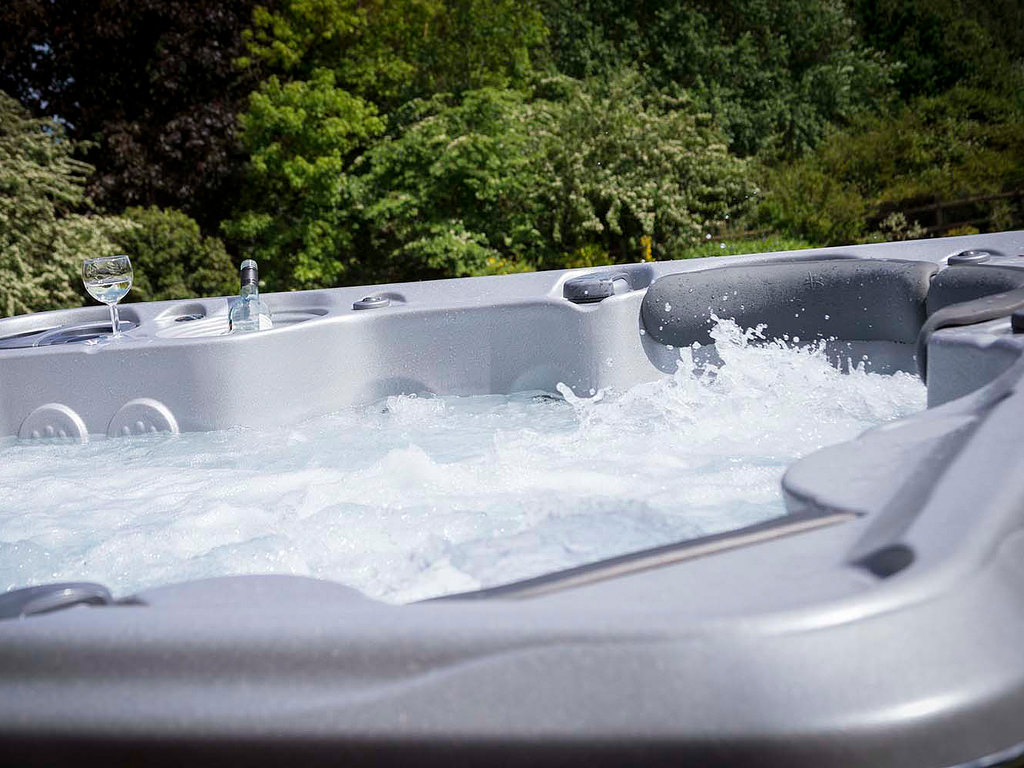 Heat – Aside from common water safety practices, you need to keep in mind that hot tubs get…well…pretty hot.
The heat is great, and it's part of what makes hot tubs so pleasing, but there definitely can be too much of a good thing. Overheating is a valid danger when it comes to using a hot tub.
For a healthy adult, a good temperature would be 100 to 104 degrees Fahrenheit. Hot tubs do retain heat very well, though. This means that, if you are persistent enough, you might exceed the 104 degrees. This is especially the case during the summer if it's very hot or if the sun in shining right on the tub itself.
Even if the settings are set to 104, external conditions can still put you over, which can be hazardous to your health. Because of that, it's advised to keep the temperature to a maximum of 102 if it's very hot or sunny outside.
Installation and Placement Requirements – As covered earlier, hot tubs have specific placement requirements. Abiding by these rules is as important for safety as it is for functionality.
Filling, Draining & Treating Water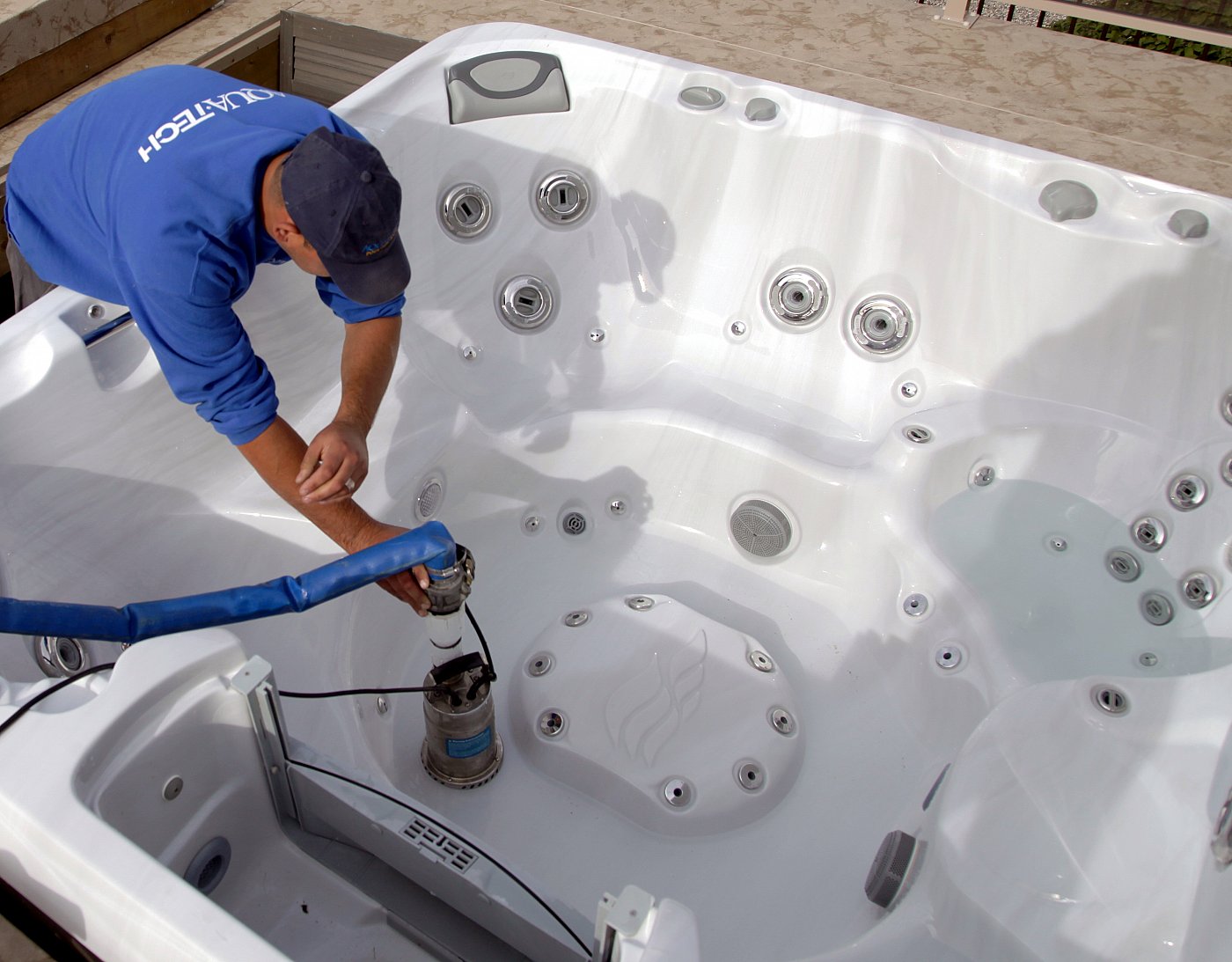 When it comes to treatment and water quality, there are lots of points to go over. Water treatment is a fairly involved topic which is a little outside of the scope of this guide. That being said, we will still cover the basics of water treatment and water quality so you can get an idea. Beyond that, we will also discuss how to fill and drain your tub.
Filling – First and foremost make sure it's unplugged. Similarly, never plug in an empty tub as it will get air in the system which is very likely to permanently damage it.
It's always good to a quick check for any damage before filling. Check the shell as well as the cabinets and look for loose wires or broken pipes.
Set up the filters and place a garden hose from a water source into the filter basket. Fill up until one inch above the jets (keep in mind water levels change depending on number and size of people in the tub – keep it 4 inches below the controls and 1 inch above the jets). Do not fill the tub with hot water, water that has been through a softener, or water from a well.
You need to be careful with both the jets as well as the controls. The jets aren't allowed to be above water because they risk sucking in air and damaging the pump system. Conversely, the digital display should be well above water level to prevent water damage.
Once it's full, shut off the water and remove the hose. Check for any leaks (now that water has been added) and then plug it in if it looks like you're in the clear. Hudson Bay Spas will go through a startup process that takes about 30 minutes.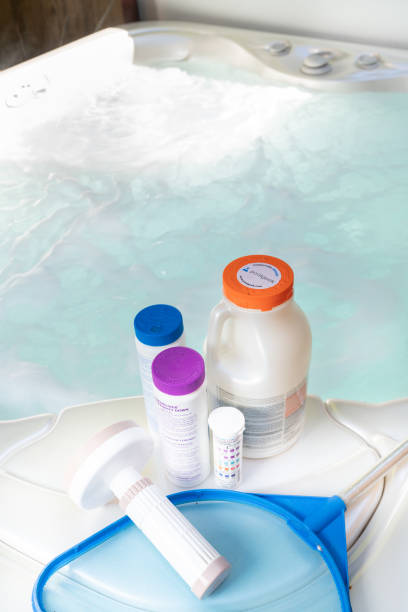 Water Treatment and Quality – You will need to maintain water quality and chemical balances as part of routine maintenance. Water quality plays a huge role in user health and safety, as well as equipment longevity. That is to say, poorly maintained water is bad both for your health as well as the health of your hot tub.
There are two sides to maintaining water quality, sanitation and filtration. You should not get them mixed up. They are two different processes, each with its own importance, and they are both mandatory.
Sanitation has to do with removing organic components like bacteria, viruses, algae, or fungi. The warm water can be a fertile breeding ground for many unwanted life forms if it isn't treated properly.
Filtration has to do with avoiding debris and buildup. When water is added, regardless of the source, it will always have some amount of dissolved compounds in it.
These compounds are added to the hot tub with the water as you fill it. When water evaporates from the hot tub, it leaves behind all of the compounds. As water evaporates and is replenished, more and more of these compounds get added.
If the concentration passes certain thresholds, it will start building up on the jets and inner systems of the hot tub. In order to prevent this, you need to balance out the chemistry of your water.
This involves testing of the source water and adding chemicals to alter the balance of the water. It's an ongoing process as the water's chemistry is constantly changing with use, water addition or evaporation, and external conditions.
As mentioned, there's quite a bit that goes into it, but as an outline, here are the parameters you should aim for in your water's chemical makeup:
pH: 7.2 to 7.6
Free Chlorine: 3.0 to 4.0 ppm
Free Bromine: 2.0 to 4.0 ppm
Total Alkalinity: 80 to 120 ppm
Calcium Hardness: 150 to 250 ppm
Water chemistry also varies greatly depending on where you are and where your water is coming from. Because of that, there is no one recipe that works for everybody. You will have to figure out what are the characteristics of your local water source, and what you need to do to get it balanced out as required.
If you are unsure, or if it's giving you trouble, you can always hire a professional to test the water to see what it contains and what treatments are needed.
Sometimes, depending on the state of your hot tub and how long it's been, you might have to do a deep clean. That is when you drain the tub entirely, clean it out, and refill with fresh water. Water should be changed every 4 to 6 months depending on intensity of use.
When it comes to chemicals, always follow proper chemical safety procedures. Never premix chemicals even if they are intended to be used together. Also worth noting is that more is certainly not better. It's all about obtaining the right balance.
If you over treat the water, it will have adverse effects on your health as well as the hot tub's inner systems. Should you find that you've gone overboard with the chemicals, the best thing to do is to drain out the tub and try again.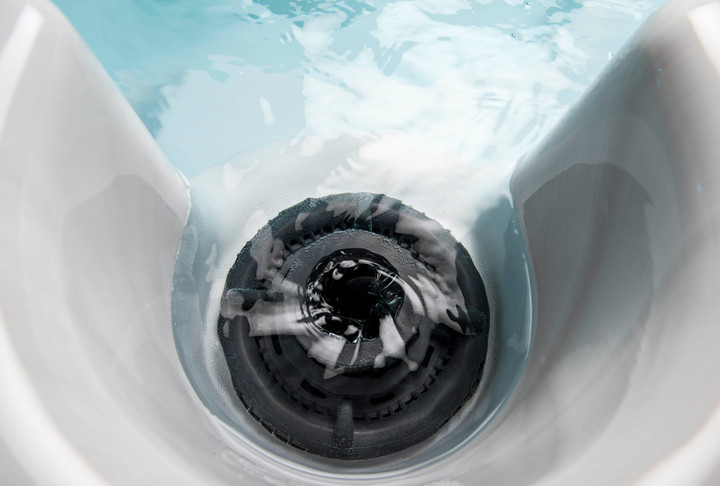 Draining Your Hot Tub – Before proceeding to drain your tub, you need to check your local bylaws to see if there are any rules to follow.
Check your surroundings and make sure the water isn't likely to cause flooding, erosion, or property damage to anything in your backyard or your neighbors' yards.
Be cautious with overly treated water as it can be bad for the plants in your yard, or it might even be damaging to the local environment. Your local county most likely has provisions for how chemically treated water should be disposed of.
Water that has been treated properly and routinely is easiest to dispose of.
To drain the tub itself, you simply connect a garden hose to the main drainage valve and open it up. Be sure to unplug before draining any water at all.
Hot Tub Maintenance & Cleaning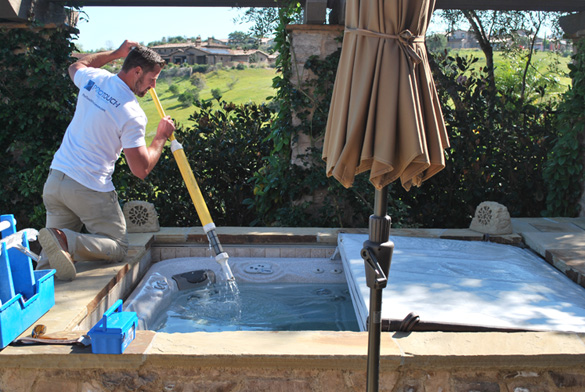 Cleaning procedures apply whether the hot tub is full or drained. Every now and then, it's helpful to drain your hot tub and do a deeper, more involved cleaning.
Shell – You can wipe the shell surface with warm water and a clean cloth. That's about all that is needed for the shell. Aside from that, there is a list of stuff to avoid. Never chemical cleaners or soaps as they might have negative effects on the acrylic. Stay away from abrasive cleaning tools, chlorine or ammonia.
Cabinetry – The cabinetry for the Hudson Bay Spa is made to be fairly weather resistant. It doesn't need much maintenance beyond wiping dirt off as needed. For any stubborn spots, you can use a garden hose on medium pressure.
Lights – Lens covers can be cleaned with the same solution and cloth you would use for your glasses.
You can access the back sides of the lights by opening up the paneling, if you need to clean the other side of the lens or if you need to replace the bulb.
Do not try to remove the viewing lens.
Jets – Jets should be cleaned every time you drain your hot tub, or if they become difficult to rotate.
The jets can be removed by draining the tub and unscrewing them. As always, be sure to unplug the tub before draining the water and exposing the jets to air.
Once you have them out, just leave them in a bucket of white vinegar overnight. The next day, rinse them out with warm water and put them back in.
For any persistent buildup, you can use a soft bristle brush to work it off. Don't go for anything more abrasive than as soft brush as it will damage the jets.
If needed, the Hudson Bay Spa's jets can be replaced with any generic jet model of the same size.
Winter Use or Storage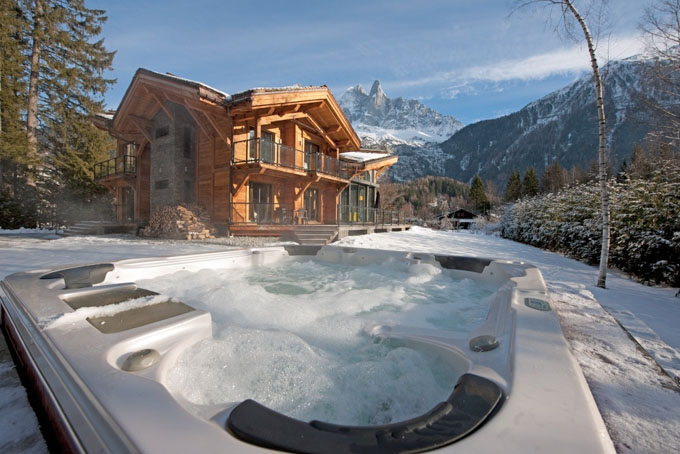 During the winter months, you have two choices. You can keep your hot tub running, or you can shut down for the winter.
Keeping It Running – It's awesome to relax in a steaming hot spa while the world is frozen around you. There's definitely some magic in that. This is why a lot of people opt to keep their hot tub running throughout the winter.
Hot tubs are able to maintain themselves throughout the winter and prevent their inner systems from freezing.
However, in order for your tub to be able to do that, you have to take care of a few things. Make sure the hot tub doesn't get unplugged. If it loses power, it will cool down and freeze.
Similarly, make sure the water level stays above the jets. If the jets get exposed to air, it risks stopping the hot tub, which will also let it cool down and freeze.
Water in the plumbing cooling and freezing is one of the biggest dangers in the winter. When water freezes, it expands, which can cause a great deal of damage.
Aside from that, simply cover the hot tub and keep reasonable eye on it.
You should be aware that keeping a hot tub running in the winter comes with increased electricity bills over those months. Many people swear it's worth it, but it should be noted either way.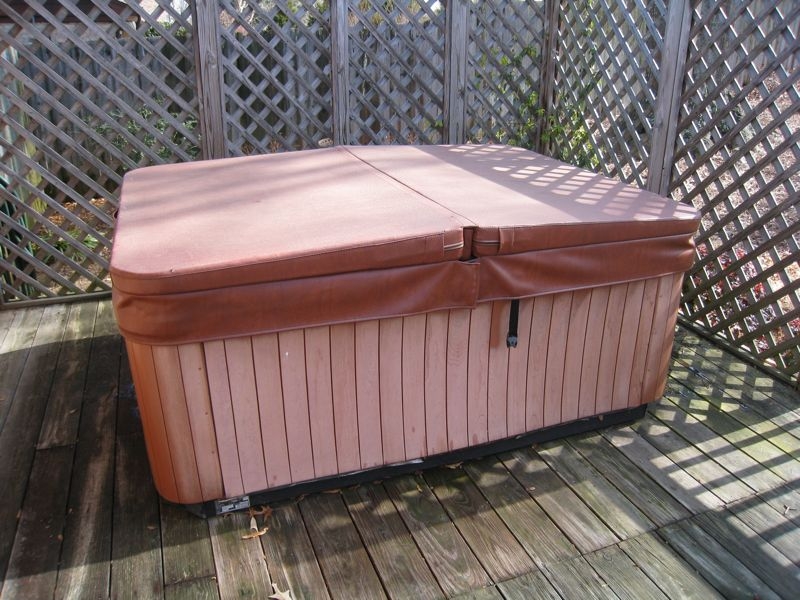 Shutting Down – The other option is packing up for the winter. If that's what you're going to do, you need to thoroughly drain and flush it (which is much more thorough process than a normal draining).
You can't afford to have any water left in the plumbing. Same as above, if it freezes and expands, it will break the plumbing.
Once you've fully flushed it, you can go ahead and remove filters, loosen fittings, and use a shop vac to blow air through the jets.
Give it a final wipe and mop up any water around it.
Lastly, put a cover on it and store as needed. Always store it upright, never upside down or on its side.
Hot Tub Removal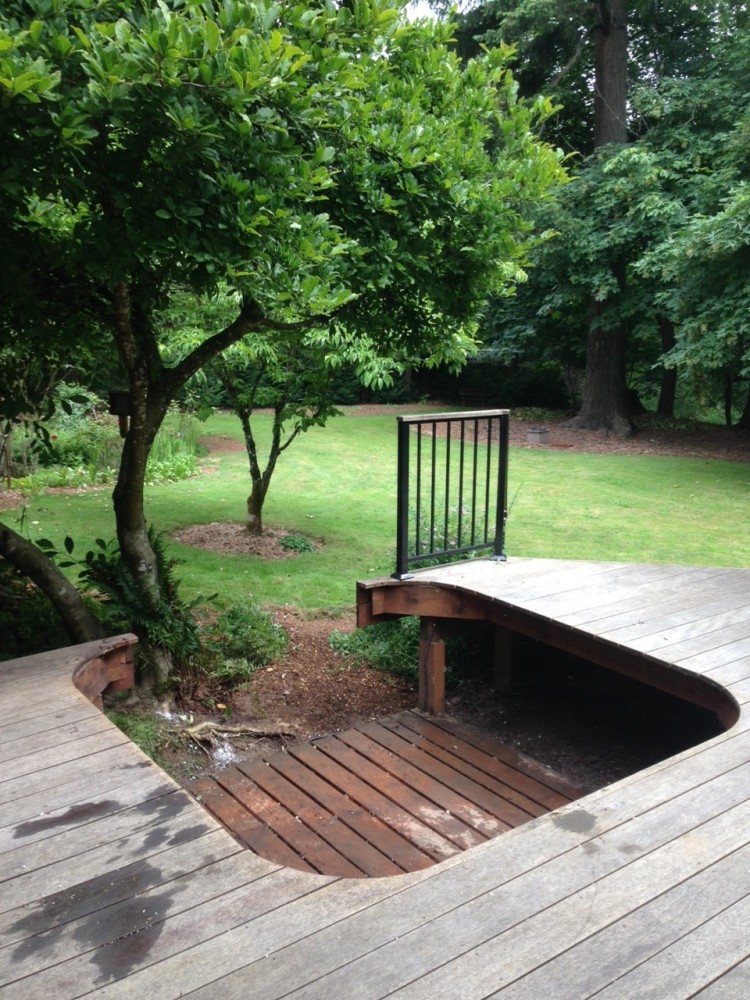 There may come a time when you want to part with your hot tub. The Hudson Bay models lend themselves to an easy teardown.
They are fairly self contained, so all you need to do is unplug, then drain and flush thoroughly. As with storage, drain the plumbing fully and make sure there is no water left.
Relocate as needed after that. If you are getting rid of your hot tub completely, you can see the bylaws in your region for taking it to the curb. Alternatively, you can hire a professional junk collection company.
Hudson Bay Spa 2-Person
electrical, with dedicated 110v/20 amp. Comes with a 10 foot ground fault-protected cord and plugs into a standard 110 volt outlet
works by digital controls
uses an Energy Rite pump, using low energy while giving high performance
has a white shell with mocha cabinets
highly durable
made of slip-resistant Lucite acrylic and reinforced with multi-layer fiberglass
insulated with high density spray foam
comes with deluxe lockable safety cover
has underwater LED light feature in seven colours
has a built-in waterfall
plumbed with anti-fungicide tubing
The three person hot tub measures 30x72x72 inches, and is triangular in shape.
The jets are stainless steel and are designed to comfort all areas of the body with therapeutic comfort in mind.
Hudson Bay spas have maintenance-free synthetic cabinetry, with a pressure treated base frame to ensure durability.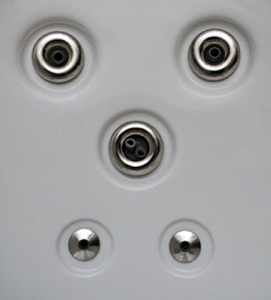 While it seats three people, one of the seats is elevated should you want a break from the heat.
No major assembly is required but you will want to take a look at Hudson Bay's website for videos. You will have to remove a panel to retrieve the power cord and instructions.
It is a very heavy unit as it comes prebuilt, so you will need two to four people to move it from the place of delivery (the driveway) to the backyard.
There is spray foam insulation for the tub, but you may want to stuff more insulation in between the tub and outer wall.
It comes with an insulated cover to keep it warm while not in use and sells for around $2200.

Hudson Bay Spa 4-Person
this is an electrical tub with dedicated 110 volt/20 amp. It comes with a 10 foot-long ground fault protected cord. It plugs into a standard 110 volt outlet.
Digital controls
Energy efficient. This hot tub consumes a low amount of energy but gives high performance
The shell is white; cabinets are mocha.
It is made of durable, slip-resistant Lucite acrylic, with multi-layer fiberglass reinforcement. This sturdy construction ensures you'll never have to worry about a thing. Just sit back and relax
It comes with a deluxe lockable safety cover
Underwater LED lights give off seven different colours
Plumbed with anti-fungicide tubing
The four-person Hudson Bay spa has 14 jets, which breaks down to over 3 jets per person. The jets are made of stainless steel. You can enjoy an underwater experience while getting a nice massage and enjoying the company of friends all at once.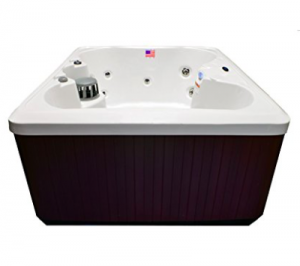 Its cabinets are made of synthetic mahogany water capacity is 225 gallons. The water temperature should stay around 102, but with the addition of summer sunlight it may go up to 105. The tub will warn you if the water is overheated: for example, 107 will be too hot.
The heater itself is 1000/1500 watts, and will take about 8 hours to get the water to 98 degrees. It has three settings: low and high speed and econo heat that you can set from 1-10 hours.
The LED light feature sets it apart from other hot tubs. The lights are controlled by remote.
This model measures 66x36x76 inches. It weighs 550 pounds. It's best to leave access to the back panel as this is where the filter is located. It works fine in outside termpatures and can be used through the winter, but it will use more power and cool off faster.
We recommend building this atop wooden pallets rather than placing it flat on the grass, due to the weight of it. The spa has a 1KW heater and runs on a filtration cycle that you can set from F1- F6 (e.g. F1 means it will filtrate once a day for one hour).
It comes with everything you will need, including shell, filter, pump, hosing etc., but you will need to purchase spa chemicals separately. The manual is on a disc.
It does not require assembly; it comes prebuilt but you will need 2 to 4 people to move it. For a six foot-tall person, when seated the water will come to mid-chest. Four adults will fit in this tub, when seated. If you'd like to stretch out, it is a very comfortable fit for two people.
The four-person spa sells for around $2400.

Hudson Bay Spa 5-Person
The five-person Hudson Bay spa is oval in shape and comfortably fits five people for a therapeutic jet massage experience. It sells for around $2100.
electrical, comes with a 10 foot ground fault-protected cord and plugs into a standard 110 volt outlet
runs by digital controls
uses one Energy Rite pump, which uses low energy while giving high performance
has a white shell with mocha cabinets
made of durable Lucite acrylic and reinforced with multi-layer fiberglass
comes with a deluxe lockable safety cover
features a seven colour underwater LED light
insulated with high density spray foam
comes with a built-in waterfall
plumbed wit anti-fungicide tubing
This hot tub has 14 jets made of stainless steel that hit you in all the right places. The five person spa measures 71x64x30 inches.
It has a maximum water temperature of 104 degrees to ensure you don't get burned or suffer other health problems. It holds 225 gallons of water. The heater has different settings. For example, you can set it to Economy Mode, which will only heat the water when the filter cycle is running. All models come with a sleep mode so you can keep your energy bill down.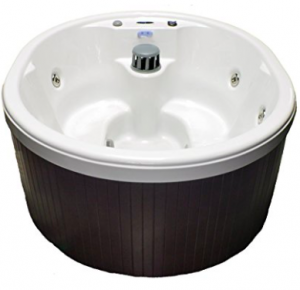 It does a good job of keeping its temperature, but if it is cold outside or you are using it, you can expect it to go down maybe 1-2 degrees. The digital controls including LCD display may get wet, but will stay dry and work just fine.
It comes with the filter and pump and everything you will need to run it, except the spa chemicals, which you will have to purchase separately. The cover is dark brown and will retain its colour long after having sat in the sun.
You will have to drill a small hole in the cabinet to fit the cord through. No other assembly is required; it comes prebuilt, but it will take a few people to move it from point of delivery (driveway) to the backyard.
It will take some time to warm up the water. If you set up the hot tub on a hot day, you can expect the water to take 8-12 hours to reach full temperature.
The tub itself has a beautiful finish, very smooth and shiny. These tubs are made in the USA so you can be assured of quality. They are simple in design, making them easy to fix and keep running for a long time.
The foam insulation will keep the warmth in, and the lockable cover will be a great feature especially if you have kids or nosy dogs.

Hudson Bay Spa 6-Person
electrical hot tub includes 10 foot long ground fault-protected cord, plugs into a standard 110 volt outlet
has digital Balboa controls
uses an Energy Rite pump for low energy consumption but high performance
white shell with mocha cabinets
made of slip-resistant Lucite acrylic, reinforced with multi-layer fiberglass
insulated by high density spray foam
includes deluxe locking cover
has a cool seven colour underwear LED light feature
built-in waterfall
plumbed with anti-fungicide tubing
f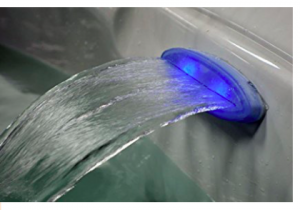 The six-person model measures 34x76x76 inches. This tub is bigger than the other models, and will take a bit longer to heat up. From the time of setup you can expect to wait a day and a half for it to reach full temperature (102 degrees).
It will be delivered curbside on a pallet, and you will need a few friends to help get it to the backyard. With the cover and pallet the shipping weight is 645 pounds.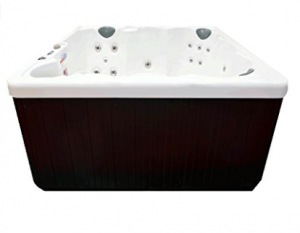 As it is larger, it has 19 jets whereas the other models have 14. The jets are made of stainless steel and have a lot of power. This hot tub offers a nice way to relax and work out the knots in your back, or enjoy therapeutic massage with friends.
It will comfortably fit a family or four large adults. Six people can squeeze in, but there will be some arms touching arms and the like.
Related posts: