Chimineas (or 'chimeneas' as they're spelled in some cases) are certainly a component to your backyard you don't want to miss out on. They are small, portable fireplaces, which are immediately recognizable due to their typical 'lightbulb' shape.
Top Pick: Sol y Tierra Clay Chiminea Pizza Oven
Traditional Latin American look
Handmade with high-quality & natural painted terra cotta clay
Made from durable 2 inch thick clay with a crash tested shipping packaging
Certified for food processing (most often used as a pizza oven)
Comes with added accessories: metal feet, 10″ pizza stone, stainless steel grill, instruction in English, French, and Spanish
Size: 15 x 15 x 35 inches
Ships anywhere in Canada and the USA, as well as Hawaii & Puerto Rico
Ships from Quebec Canada in about 5-12 business days, depending on location
Lakeside Collection Outdoor Wood Burning Clay Chimenea with Metal Stand

Redi-Flame Chiminea Kit with Mosquito Repellent Log

If you've never seen or heard of them, here is a video with YouTuber Cameron Switzer that shows you what a chiminea looks like, and why you might want to sit by a chiminea from time to time.
So that, friends, was a cast iron chiminea shown above. There are many types of chiminea, and over the centuries, this concept of an outdoor fireplace has come a long way, and yet remains much the same as it ever was.
The chiminea known and loved today originated in Mexico where they were used as indoor cooking stoves. This is fairly similar in concept to the cast-iron pot bellied stoves historically used in many European countries. Differing from their European counterparts however, Mexican chimineas were typically made from clay, which was ideal given the warm and dry climate. While clay chimineas are still iconic today, they also come in a variety of alternate materials such as steel or cast iron which are more suited for varying uses and climates.
Despite their beginnings as indoor stoves, they are predominantly used nowadays in an outdoor setting as a focal piece for patios and backyards, mostly intended for warmth and entertainment as opposed to cooking. Of course, cooking with a chiminea is still very much an option! As we will see throughout this section, they are a must-have, yet quite accessible luxury for anyone wanting to lounge by a cozy fire in their backyard….be it by themselves or with company.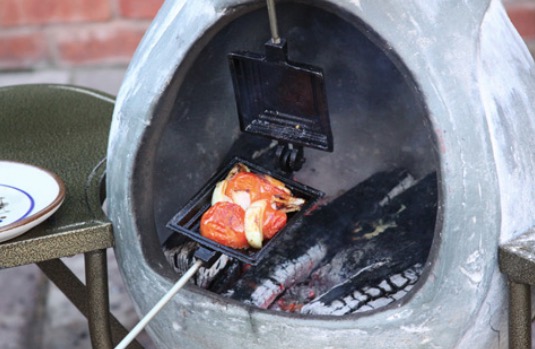 Chimineas owe their popularity (both back then and in present times) to the unique shape which facilitates a draft between the fire chamber and the top of the chimney. This ensures that the smoke actually goes up and directly out the chimney rather than being spread around, as happens with most firepits. At the same time, the current makes it so that there is more air circulation over the fuel, allowing the fire burn for a shorter time but more intensely. Because of these features, as well as their self-contained portability, they make a great addition to patios and decks.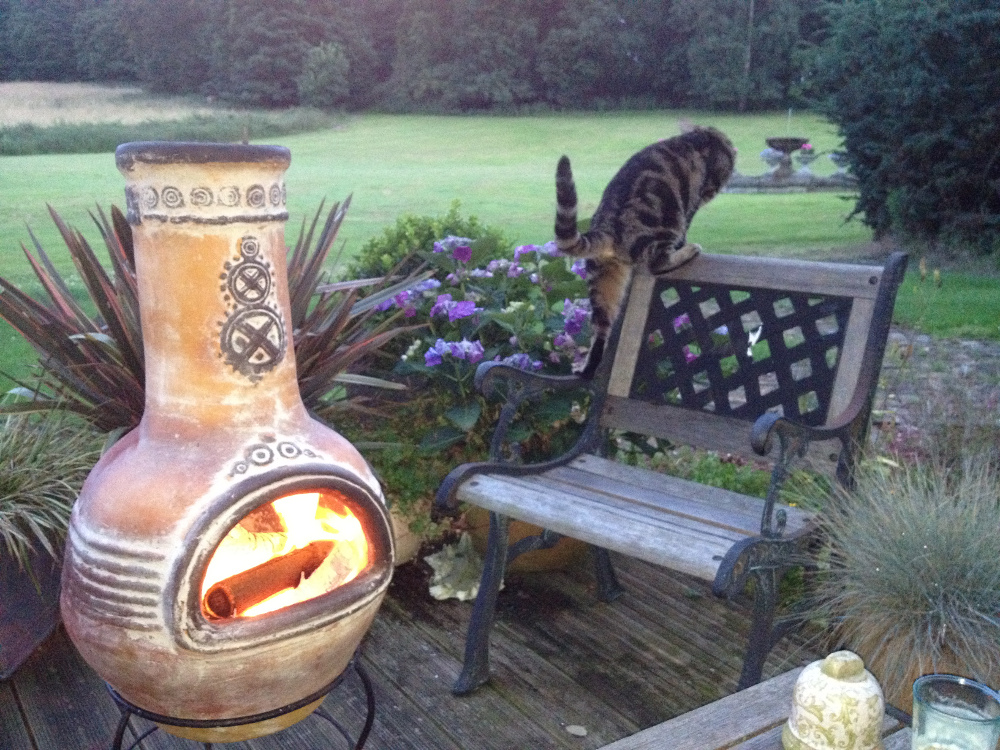 What Kinds of Chimineas Are Out There?
The most iconic and well-recognized version is the fired clay chiminea. They carry the traditional earthenware design and are well regarded as they require no assembly and the least amount of maintenance. On top of it all they are actually biodegradable as well.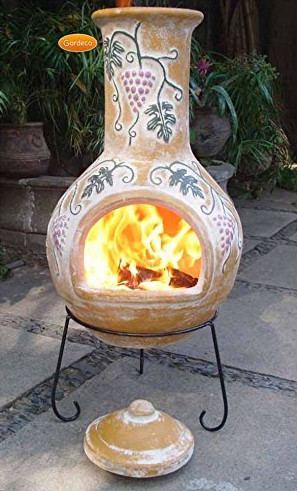 For those of you fancying the clay option, you should check out our top two pick of the best clay chimineas. Other alternatives include cast-iron chimineas, steel chimineas or even aluminum cast and copper chimineas. The metal varieties have longer lifespans because they are not as prone to cracking, however they do require more frequent maintenance and a bit of installation work before you get them going.
The maintenance typically revolves around reapplying temperature resistant coating to avoid rust buildup, which can be extra work, but you are rewarded by a having a much longer lived product. One advantage we like about the metal chimineas is that they come in a larger variety of shapes and sizes which can take on either the classic 'rustic' design (similar to the clay ones) or deviate into a more modern aesthetic depending on what you are looking for.
Considerations Before Buying
While deciding which chiminea is right for you, there are a couple of things you will need to consider to make sure you pick out the best one:
In terms of the design, is it appealing to you? Does it sit well with the current decor you have and your patio layout? Remember that there are traditional, 'rustic looking' designs, as well as many varieties with a modern aesthetic or even some that have a more neutral appeal which is easier to integrate with any decor
When receiving the item, did it arrive in good condition? Was it put together or cast properly by the manufacturer? Things to look out for are any dents in the chamber, if the funnel is crooked, or if the funnel appears to be too thick or too thin in comparison to the rest of the body (you can consult product pictures and user manuals for specifics on this one)
Is the size of the fire pit sufficient to fit standard pieces of wood? It's usually easiest if it can, however, if not you can either special order smaller sizes of wood chunks or you can look into chopping the wood up yourself (although this does create some degree of extra work and logistics)
What are the local bylaws regarding fire in your neighbourhood? Is there anything that would not allow a chiminea placement? Is there something like a ban on wood-burning fireplaces? If so, there are other options available which run on propane.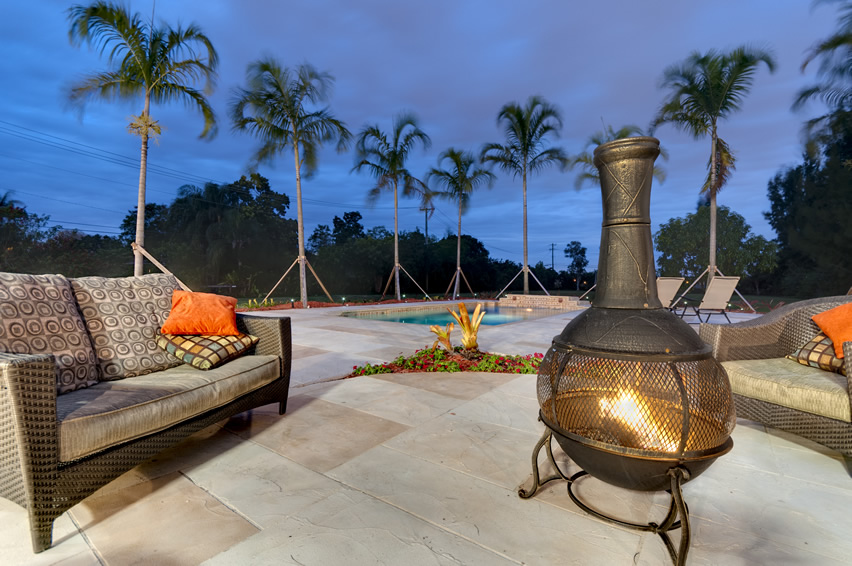 Ideal Placement for a Chiminea
You should always put a chiminea where you feel is best suited for your backyard arrangement and for your relaxation needs. However, there are some measures you will need to take to ensure safety and practicality. First, it's always wise to have any fire implementation positioned such that it is as visible from anywhere you might be in the backyard. Usually this can be pretty straightforward, however if your backyard is shaped differently or has a lot of things set up in it, you should be mindful of being able to keep an eye on the fire at all times.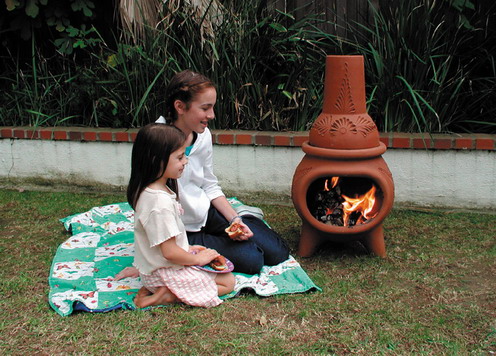 Along with this, it goes without saying that you should never leave a fire unsupervised. Second thing you will have to look out for is the clearing for your chiminea. This applies to any obstructions that might be too close at ground level but also any canopies, eaves, or trees that may reside above it.
Always make sure there is a safe radius of space around your chiminea both at ground level as well as above to ensure that heat escapes safely and there isn't anything that can catch fire or get smoke damaged. Finally, you will need to make sure there is a safe spot on the ground that is ready to host your chiminea. Brick, stone, or concrete patios are safe choices as they are at no risk of catching fire.
In case you are working with open ground or a wooden patio or deck, you should look into creating a 3×4 foot patio hearth to place it on. You can do so easily using bricks, patio pavers, or even flagstone. If you need some ideas on how to get started, you should check out our collection of fabulous flagstone patio ideas.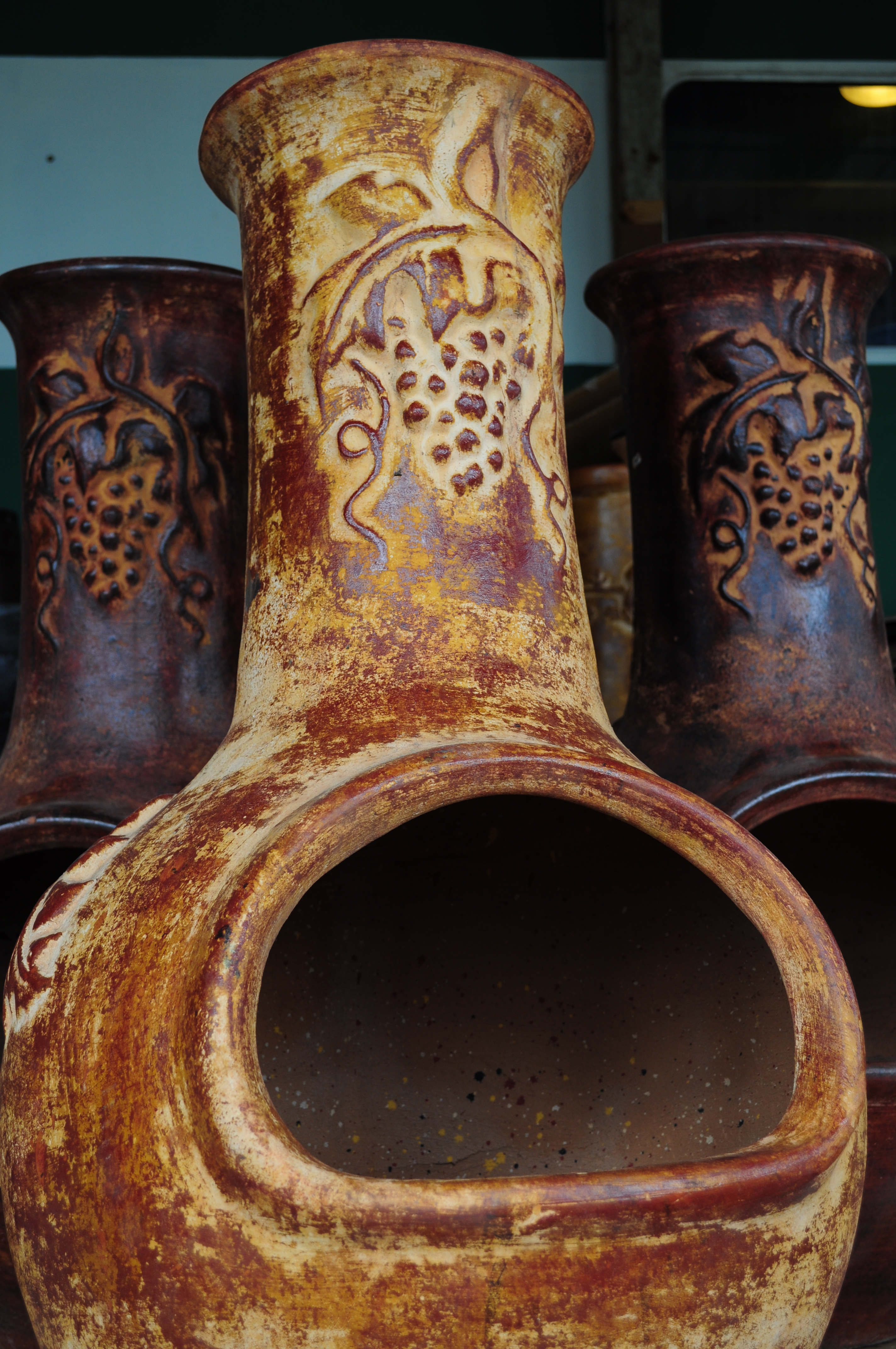 Best Practices for Maintaining Your Chiminea
Chimineas are great for fire placements as they are portable, particularly light (relative to size, of course) and come with little to no assembly required depending on the model. All in all, they are amazing for anyone eager to get a nice relaxing fire going in their backyard as soon as possible.
While they require significantly less logistics and work than most fire placements, there are still some things you will need to do to make sure your chiminea works well and keeps you nice and toasty for a long time to come.
If you need a more in depth look, you should definitely check out our fully detailed chiminea maintenance guide.
Here's a great video showing how to use a clay chiminea from JustAZ.com Productions on YouTube, who provides great information about the DIY lifestyle.
For Your Consideration
In the meantime, here are some further points to consider about chimineas. For clay chimineas, it is best practice to apply an acrylic finish or sealer before the first use and reapply every 6 to 8 weeks during seasons when you are using it. This will protect the clay from water and moisture while also softening it to prevent cracking. While it is something to keep in mind, it luckily isn't a task that will take up too much of your time and energy.
There is a similar process for cast-iron chimineas which we go into detail with in our chiminea maintenance guide.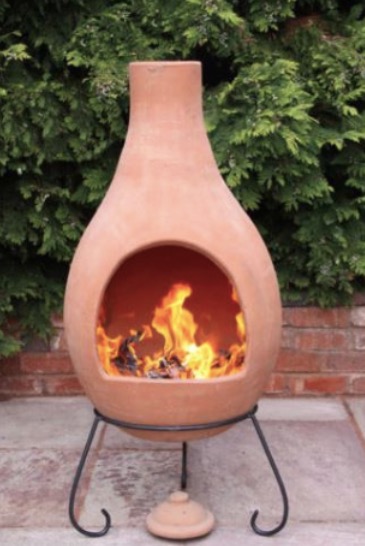 For the clay models, it is always safest to bring them back into a shed or garage during particularly rainy weather or during the winter months, similar to other patio furniture. Thankfully, their portability and the fact that they come in one piece makes this an easy switch. The ashes from the fire chamber should always be cleaned out after usage to avoid buildup.
You can place sand, pea gravel or lava rocks in the bottom of the pit for the ashes to collect in. Once the chiminea has cooled down, you can either rake them to get the ash out, or you can remove the contents completely to wash out the ash and return them once you're done. Both methods prove equally effective.
At the end of the day, chimineas don't require an abundance of maintenance, but they do need small amounts of regular attention here and there to ensure their safe and effective functioning.
Our page on chiminea maintenance will go into great detail to cover all of the things you need to know about your chiminea.
Related posts: