Oh, how we long to sit outside in the summer sun, to feel its warmth upon our skin, to breathe the air of freshly mown lawns, and listen to the call of the cicadas. As spring turns to summer, we envision all the backyard parties we can throw, the sangria pitchers we will brew, and the happy guests upon our patio. But then we look to the backyard and see a plain old wooden deck, or a plain old slab of concrete we call a patio, and wonder if our guests will be comfortable enough to enjoy an afternoon or evening back there. Not everyone is a fan of the sun, but we all like to be warm. We call lumber stores for quotes on having pergolas installed and cringe at the high cost of lumber and labour. Have no fear: there is a way around this, a way to protect yourselves from the sun, to add some classic elegance to your yard, and to avoid the high costs and commitment of a permanent installation.
Built from durable steel, the canopy gazebo by Sunjoy Parlay is a very elegant addition to any outdoor setting. Its four posts are decorative metal panels, which not only give the look of wrought iron, but also allow for aerodynamic wind flow. This means there are eight panels in total, two at each corner, featuring scrolls that will add a sense of classic, graceful beauty. This panel setup makes the gazebo sturdier than the usual post set-up. Their open bar design also gives room for many decorating options, such as entwining twinkle lights, or planting ivy at the bases of the corners and allowing it to grow. The gazebo weighs about ninety-three pounds, which means it's a pretty solid structure. It will really add some pizazz to your yard and garden. The metal is a lovely smoke grey tone, dark and matte, matching any outdoor setting perfectly. The canopy is a tan brown colour. All earth tones always look great together! It'll look lovely next to the pool, on the flagstone patio, or out in the grass. Now you can enjoy the outdoors in style and luxury, hanging out under the canopy sipping on gin and juice with a few of your best pals.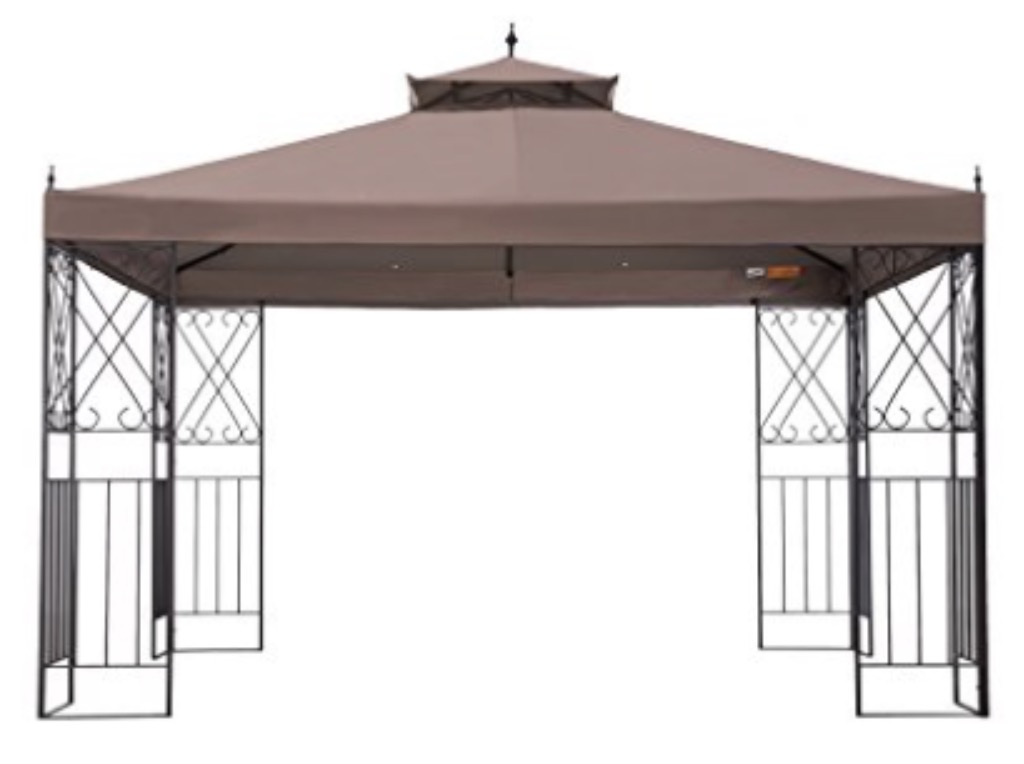 The valence is tan and brown and has an opening at its very peak to allow for airflow. Its symmetrical design is very grand indeed, with postcaps and second roof at the very peak. Otherwise, if the canopy were all one piece, the wind would go under the canopy and get caught, creating a draught and a mini-vortex. As wind passes through the canopy, the entire gazebo is made sturdier. Another great feature is the grommeted roof. Along the edges are holes that have been reinforced by metal grommets. The openings allow for water drainage, making it convenient to leave the canopy out in the rain. It is still possible for some water to build up, but all you have to do it push the roof up with a light punch and the excess water will fly off. It holds up well to rain and will not buckle; however, we recommend taking it down if there is a huge storm coming, or in the autumn before winter comes. It's very easy to keep mosquitos out, to maximize the comfort of you and guests: simply buy some mosquito netting and wrap it around the posts. It also may help to spray the canopy with some waterproofing spray (that you would typically use on shoes, etc.) to ensure full protection from the rain. This will also let you hang out under the canopy and enjoy an outdoor view of the rain.
The canopy gazebo sells for around $320. It will take a couple of hours to assemble and requires the work of two people. There are pre-drilled holes for the nuts and bolts. As well, you may want to fasten it down if you are putting it on top of a wooden structure, like a deck. In particular, this canopy works great at a trailer or campground, when you don't want to put up and take down something every single weekend. It has even been proven to stand up to Floridian thunderstorms!
You can easily fit a table with four dining chairs beneath the canopy, and will still have room for guests to walk around beneath it. Another great feature of this gazebo is the hanging piece in the centre, from which you can suspend planters or other décor of your choosing. It really does create an environment of its own, with a magical, regal feel. Simply set it up in your yard – it looks great on the patio, in the grass, or even at the campground – and enjoy protection from the sun, as well as a grand setting for your backyard entertaining.