Adding a small waterfall to your backyard will bring a point of interest, provide soothing background noise, and create an environment of luxury. Depending upon the size of your waterfall, it can create a cooling mist, perfect for summer backyard entertaining. You can customize your waterfall to the landscape and size of your yard, opting for multiple cascading pools, or a single stream that pours over slabs of rock. A waterfall is a clever way of disguising a small yard by allowing you to build up rather than across.
A backyard waterfall will usually build off of a water feature like a pond, for which there are endless design options. Water is symbolic of cleansing and purification. The movement of water creates a meditative atmosphere, adding entrancing visuals and calming sounds.
Here are 9 small backyard waterfall ideas that we think are fantastic, and we'll tell you why! *Just to clarify - we mean small waterfalls, not necessarily small backyards 🙂
Top 9 Best Small Backyard Waterfall Ideas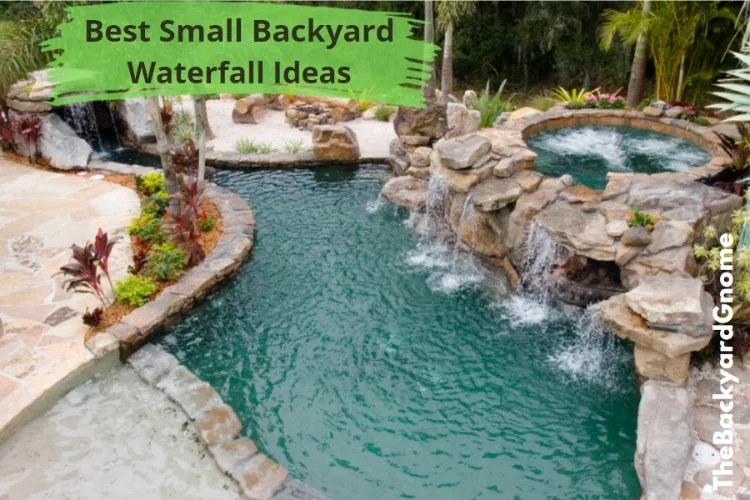 Desert Oasis
Water slides off of flat slabs of sandstone from a higher point, into a pool of rock. The height of the single stream creates a cooling mist. Smaller, rounded stone has been added to the perimeter of the pond to create a framed area. The effect is that of a desert oasis. The daring could even walk right under the stream to cool off their feet.
Soft Cascade
A path of sandstone leads to a fully planted, lush water feature in the middle of the backyard. Here the homeowner has made use of the yard elevation, by laying a series of flattish stones in staggered tiers. The short distance between each level makes for a soft cascade. This gently falling river is surrounded by ferns, grass plants, mulch, and others for pops of colour in a natural environment.
Sit & Enjoy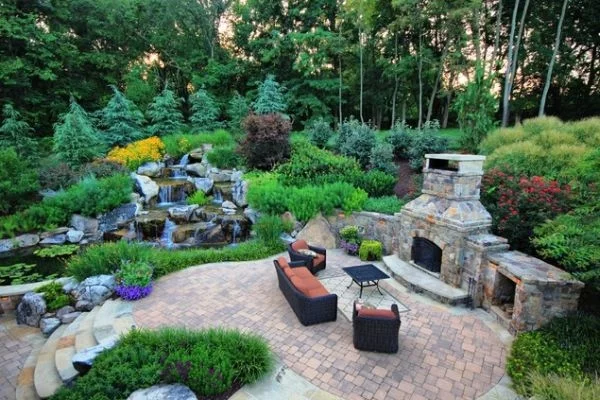 Pools are set inside arcs of stone and filled with vegetation. Ornamental birds add some dynamic and interesting shapes to the area. A small pond at the bottom of the fall creates a relaxing spot that invites you and guests to sit and enjoy the sight and sound of running water. Waterfalls will always look natural, as they can be customized to blend in with any surroundings. Try to match the flagstone to the hues in your house materials or fencing.
Push-Pull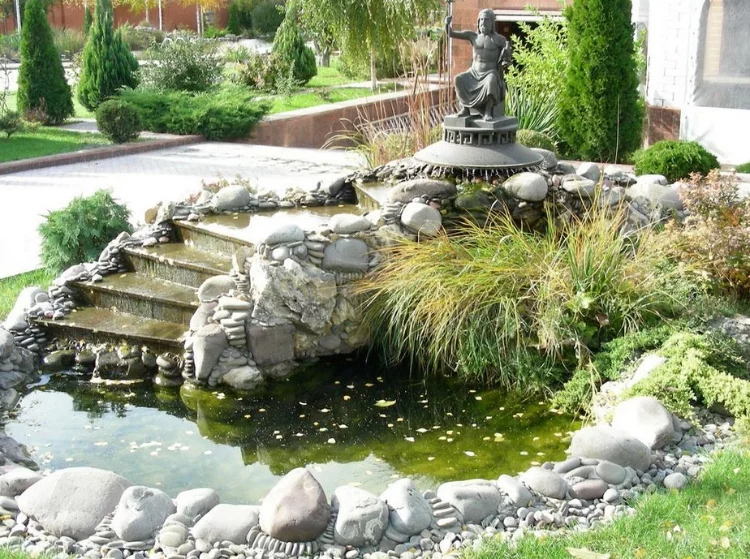 This garden pond is a work of art. Water has spiritual symbolism and by adding a statue or figure at the top of the fall, it appears to give life to the garden. From there the stream runs down concrete steps and into a small pond lined by rocks of varying shapes and sizes. The pool is serene and reflects the dynamic colours and shapes of what is built around it. The steps create a fun push-pull effect, where you are pulled in to look at the familiar structure, but they cannot be climbed.
Sacred Geometry
In this design, the focus is on the rock formation, while running water adds a bit of movement to an otherwise stoic material. Varying sizes of circular stone are stacked from largest on bottom to smallest on top for a staggered fountain. The water peeps out of a small opening at the very top centre, and slides down every surface, keeping the rock moist and glistening, just enough to add interest to this part of the garden. This geometrical design would be ideal for anyone looking to add a point of balance.
The Magic Jug
On a budget? You can still enjoy the effects of a water feature in your backyard. Once you have built a small pond, run a hose from the pond up to an old vessel or jug at the water inlet. From there, the water can pour down an assortment of rocks and into a pool. You end with the effect of a moment frozen in time, as though someone had dropped a full jug and it was now spilling. A rubble pile adds a bit of wild fun to the arrangement.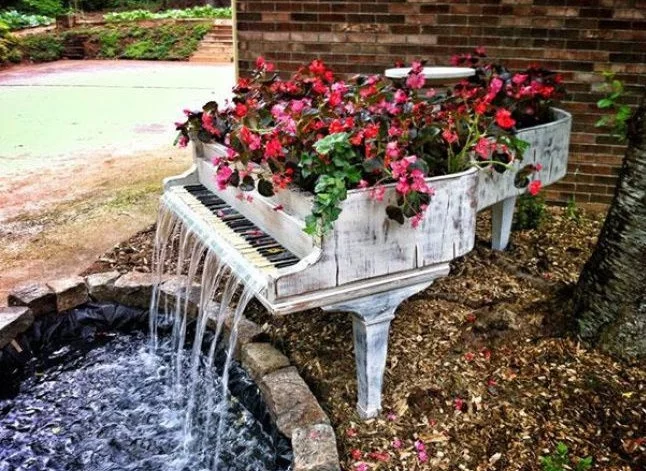 Backyard Lagoon
A curving perimeter and dark, earthy tones come together in a backyard lagoon. This project looks ambitious and perhaps intimidating, but can achieved easily, as long as you put in some design time. Height will always bring the wow factor: here a symmetrical waterfall stands inside an elevated pond. It is flanked by rocks and stands approximately six feet tall. The trick to creating a natural environment is allowing the plants to become overgrown. Ivy and sprawling water plants finish the effect.
Watering Can Waterfall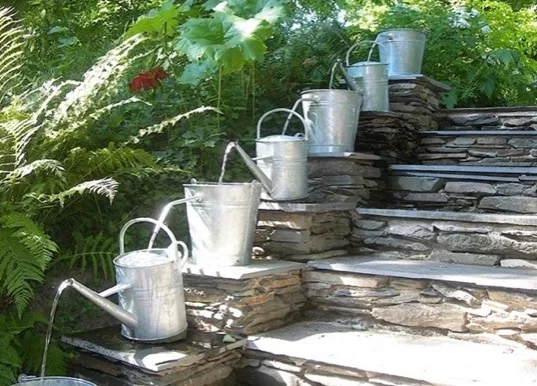 A waterfall can be as simple as something that lines a path or walkway. Flagstone steps are laid with watering cans that pour into each other. This keeps the cost minimal while adding some interest to the backyard. A clever and creative use of space and materials!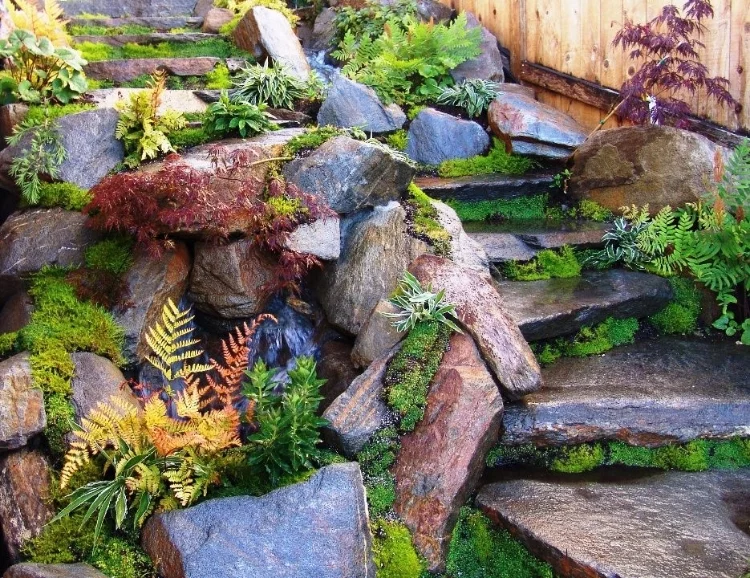 Benefits of Having a Small Waterfall in Your Backyard
If you're looking to add a touch of beauty and relaxation to your backyard, consider adding a small waterfall. Waterfalls can be both aesthetically pleasing and beneficial to your landscaping. Here are a few reasons why you should add a small waterfall to your backyard:
1. Aesthetics
There's no denying that waterfalls are simply beautiful. The sound of trickling water is relaxing, and the sight of running water can create a serene and peaceful atmosphere in your backyard.

2. Erosion Control
If you have a sloped yard, adding a waterfall can help control erosion by slowing down the flow of water and allowing it to seep into the ground instead of running off quickly.

3. Water Feature
A waterfall can turn your backyard into a mini oasis, providing a place to relax and enjoy the outdoors. If you add plants and rocks around your waterfall, you can even create a natural habitat for wildlife.

4. Value
Not only will a waterfall add beauty and peace to your backyard, but it can also increase the value of your home. If you're thinking of selling your home in the future, a waterfall may be just the thing to help it stand out from other houses on the market.
If you're considering adding a small waterfall to your backyard, keep these benefits in mind. With a little planning and effort, you can easily transform your backyard into an oasis.
What to Consider Building a Small Waterfall in Your Backyard
If you want to add a touch of beauty and relaxation to your backyard, then consider building a small waterfall. Waterfalls are relatively easy and inexpensive to build, and they can really transform the look of your yard. Plus, the sound of running water is incredibly soothing, making it the perfect addition to any backyard retreat.

Of course, before you start building, it's important to do your research and figure out exactly what kind of waterfall will best suit your yard. But once you've got that figured out, the rest is easy! Just follow these simple steps and you'll have a beautiful backyard waterfall in no time.

Choose the right location for your waterfall. You'll want to pick a spot that gets plenty of sunlight and is relatively level.
Dig a hole that's about twice the size of your waterfall basin.
Line the hole with landscaping fabric to prevent weeds from growing.
Place your basin in the hole and fill it with gravel or sand to help with drainage.
Create a waterfall by stacking rocks on top of each other, starting with the largest ones at the bottom and working your way up. Make sure that each rock is stable before adding the next one.
Once you've reached the desired height, add a layer of gravel or sand on top of the rocks to help with drainage.
Fill your basin with water and enjoy your new backyard waterfall!
Conclusion for Small Backyard Waterfall
No matter your budget or amount of available space, there is always a way to work a water feature into your yard.
If you want to create a backyard oasis, a small waterfall is a great way to add some visual interest and relaxation. Plus, it's a relatively easy project that can be completed in a weekend. Just be sure to do your research beforehand so you know what supplies you'll need and how to properly install everything. With a little planning and elbow grease, you can have your very own backyard waterfall in no time!