Beginner telescopes have a few details in common. They're easy for an amateur astronomer to use. They work in a way that makes them intuitive and easy to learn. You don't want to buy a telescope that is hard to learn. Some beginner telescopes have a hybrid system of lenses and mirrors while others have one or the other. The one you choose will depend on how much maintenance you'll want to invite into your life.  Here we present our review of the best telescopes for beginners!
Orion StarBlast 4.5 Astro Reflector Telescope
The Orion StarBlast has some great features for those who are just starting their stargazing journey. One of the best parts of the telescope is its EZ Finder red dot sight. It'll help you find objects in the night sky without spending hours searching.
Features for Beginners
Easy setup
EZ Finder for viewing
4.5 inch aperture
Stable base
Pre-assembled
Alt-azimuth tracking
The Orion StarBlast comes with Starry Night software that will help you plan your stargazing sessions. This is a compact, portable option that is perfect for times you want to spend with your children in the backyard. It's great to take camping, too.
Check out our full review of the Orion StarBlast
---
Celestron CPC 1100 StarBright XLT Telescope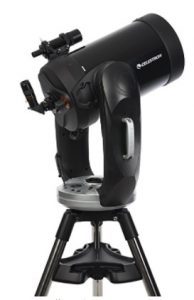 This is a computerized telescope that is perfect for beginners. It has NexStar control as well as a dual fork arm. The GPS available with this telescope means that you can easily see planets and stars with your children. They won't get bored waiting for you to find a star for viewing.
Features for Beginners
Dual fork arm
Alt-azimuth mount
Computerized
11-inch hybrid telescope
SkyAlign feature
This is a hybrid telescope with the best of refracting and reflecting capabilities. It's calibrated with NexStar technology, so you can easily find the objects you want to view. It's meant to see deep into space for objects that others can't readily view.
Check out our full review of the Celestron CPC 1100
---
Orion SkyQuest XT10 Classic Dobsonian Telescope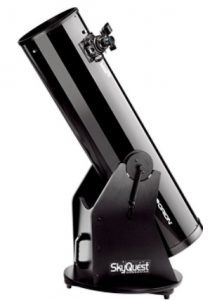 The aperture of a telescope is what allows in the light that makes images viewable. It's not all about magnification. This is a 10-inch aperture telescope that's reasonably priced. That's vital for beginners who aren't sure if they will love stargazing, but want their own equipment to give it a try.
Features for Beginners
Easy to use
10-inch aperture
Sturdy Dobsonian base
Focal length 1200 mm
Magnification 48x
EZ Finder II
Collimation cap
While this isn't a telescope we'd call portable, it's tall enough that everyone in the family can use the viewfinder quite easily. You don't have to crouch down low to see through it, and children can simply stand on a small stool to see. It's a heavy base that's sturdy and won't topple easily. That's good news when you want to have star parties with the kids and their friends.
Check out our full review of the Orion SkyQuest ST10
---
Astroscan Millennium Dobsonian Reflector Telescope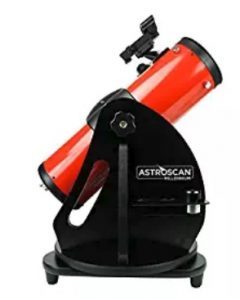 This is a tabletop Dobsonian telescope with a friendly price tag. It's meant to be used in the backyard or other places like a picnic table at a campground. The telescope is great for beginners while being easy to use.
Features for Beginners
Two eyepieces
Highest magnification 269x
Parabolic mirror
Red-dot finderscope
Scientifics Exclusive Star & Planet Locator
Alt-azimuth movement
With this large aperture telescope, you'll be able to see plenty of stars and planets. If you want to spend your time looking at the Moon, you'll be able to see many details in a crisp, clear image. The telescope is already assembled, so you don't have to worry about tools or screws for assembly.
Check out our full review of the Astroscan Millennium
---
Vixen Optics R130Sf Newtonian and Porta II Mount Telescope
The light gathered with this telescope means that you're able to view deep sky objects with ease. It's a great telescope for taking pictures, too. Beginner astronomers will find that this is a great option for stargazing parties with their children and friends.
Features for Beginners
Alt-azimuth mount
Compact and portable
Focal length 650 mm
Scope mount
Camera compatibility
This is a portable option for those who want to enjoy the view of the stars outside the city. You can take this camping quite easily since it has a mount with telescoping legs. Whether it's camping, a friend's house, local fields, or out in the wilderness, this is a lightweight option for your stargazing.
Check out our full review of the Vixen Optics R130Sf
---
Conclusion
The beginner telescope options we've covered here have a few things in common including their price tag. As an amateur astronomer or a person who wants to view stars occasionally in the backyard, these are all solid options that will fit beautifully with your skill and knowledge level. The options are portable, easy to use, and have enough aperture to get a clear image of objects in the sky.