Today we review the outdoor furniture set with sectional sofa by Ohana.
This set has seven pieces made of black wicker with dark grey cushions to bring a sense of both luxurious style and comfort to your outdoor experience.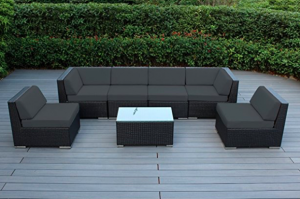 Ohana Outdoor Furniture Sectional Sofa
Includes two chairs, one sofa with four spots, one coffee table
Features:weather resistant resin wicker build, fade resistant cushions
Notes: no assembly required, ready to go out of the box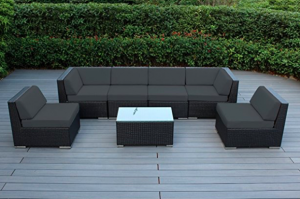 First, let's look at the materials. This set is made of polyurethane resin wicker, which is a synthetic version of the typical wooden/natural wicker.
Natural wicker becomes brittle with use and time, and therefore is prone to cracking and splitting, causing uncomfortable splinters for the user and breaking.
However, the weave of wicker has long been favoured especially in hot climates, since the weave allows for airflow throughout the furniture, compared to solid slabs of wood or stone that would impede airflow and create heat barriers.
Wicker makes for great patio furniture as it is very comfortable to sit on, with just the right amount of flexibility to conform slightly to your body.
Made of high quality resin, the wicker is woven by hand around the frame for a taut finish. The frame is rust-free and powder coated. The seat frames are reinforced to prevent sagging, and are backed by a three-year warranty.
This set provides a modular design, which leaves the layout up to you with numerous options for reconfiguration. The seven-piece set includes two corner sofas, four middle sofas and one coffee table.
Included are fade-resistant dark gray cushion covers that come with zippers, making cleaning very easy with ease of removal. Just throw them in the washing machine on a gentle cycle when they need to be cleaned.
Do not, however, put them in the dryer: you should always air dry the cushion covers. They will stand up to water and UV radiation.
The cushions are discreetly secured by Velcro strips and come with a one year warranty. The cushions are 4" thick. Also included are complimentary seat clips to secure the chairs in place once you have decided upon a layout.
The frames are welded, giving the overall structure sturdier construction and providing an overall more aesthetically pleasing finish.
The seamless finish also guarantees wobble-free furniture, and peace of mind knowing you didn't have to build the furniture yourself.
This allows you to enjoy the furniture right out of the box. Clean lines give a sleek silhouette accented by stainless steel for a luxurious touch with modern style.
This set offers a unique design with sloped cushion and 28" back height, so you can lean back comfortably for easy lounging that will take all your pain away.
This set includes a free cover so you can enjoy your set longer. The cushions are guaranteed 1500+ hours in the sun, and using the free cover will extend their life even longer!
When you're not using your furniture you can throw the cover on to protect any weather-related damage and stop the buildup of dust and dirt. While the frame is rust resistant, the cover will also help protect it from any undue damage.
The dimensions are as follows:
Two corner chairs: 32" by 32" by 28"
Four armless chairs: 26.5" by 32" by 28"
coffee table: 31.5" by 19.7" by 16.5"
The seating height is 17" from the ground. The weight limit per chair is 300 pounds. The chairs will withstand bodies up to this weight; anything over will put strain on the chairs and they may sustain damage.
If you see rain in the weather forecast, we recommend bringing the cushions inside. While the covers are water resistant, they are not fully waterproof.
This means water will eventually soak in and because the cushions are high quality and dense, it may take a couple of days for them to fully dry again.
To avoid missing out on using your patio furniture, simply bring the cushions in if you see the skies clouding up. This would also be a good time to put the cover on.
The reconfigurable nature of this set makes it ideal for virtually any patio or outdoor space, whether you want to enjoy some cocktails with friends on a summer evening or get cozy with family on the weekend.
This set allows you to choose between a conventional sofa set up or seating everyone individually in a circle, etc. The options are endless and you can position the furniture however you like.
Create a romantic loveseat using the two corner chairs or create a chaise longue with one corner seat and a couple of armless chairs.
This is a gorgeous, sleek patio furniture set that will bring comfort to your outdoor experience. Expand your living space by creating a hangout spot in your backyard.
Gather round the coffee table for barbecue or drinks with friends and family and enjoy those summer nights on cool, modern wicker patio furniture. This set sells for around $1100.