Last Updated on
By: The Backyard Gnome
You may have noticed that in this day and age, gardening supplies are for sale just about everywhere.  The reason being, gardening has "blown up" as the kids say, and has become wildly popular, to an unprecedented extent. 
Perennials, annuals, mulch, rocks, wood chips, ornamental trees, you name it – people are buying up anything and everything they can get their hands on for their latest landscaping projects.  Because of the popularity of gardening, many businesses that previously had nothing to do with gardening are getting in on the action (ie. the potential profits).
From your local large scale shopping centers setting up their own small gardening section outside of the store, to smaller grocery stores having gardening sections located out front when you walk through the door, to corner stores selling flowers and seeds, and even people on the side of the road setting up their own garden stands; clearly, it's garden-mania out there, and you need only open your eyes to see that.
And then, of course, there are actual specialized gardening centers which are most often found on the outskirts of urban areas, which are completely focused on gardening supplies of all types, and which have been around for decades for specifically that reason.  They employ experts who are trained to know everything about gardens, no matter what product you are interested in. 
Here is an example of a garden center that fits this description, called Cambridge Garden Centre in Cambridge, Ontario, Canada, where the growing season begins at about the end of May until Labour Day.
Image source: Cambridge Garden Centre
If you have any gardening experience, like we do, you might want to go straight to an actual gardening center for your gardening supply needs, and skip the grocery chains and home depots of the world. 
Sure, mega malls are handy, but they are just not the same in terms of resources and customer service as the kind you will find at a gardening center that's been open for several decades, like Cambridge Garden Centre has. 
Every time we've dared to visit the chain stores, our experience is that we've run into employees who lack knowledge and they simply have no time for us, because they're not educated in gardening and their wages, let us say, do not provide sufficient motivation to educate themselves about the topic.  
Your average minimum wage grocery clerk might not have the knowledge or the skills that you will require to be happy with your purchase and successful with your planting once you're back home.  That said, we don't expect less people to visit stores that are ultimately more conveniently located, however, we do want to make the point that these stores may not have what you need.
What A Good Garden Center Can Offer You
Right now, we will talk about everything that a good garden center can offer you that other places may not, or simply cannot provide.
Rocks
For the most part, a selection of rocks are one thing that garden centers have that grocery store chains do not.  At a good garden center, there is usually a section for all of your staple coverings, such as large and medium sized river rocks, pea stones, crushed stones, gravel, and many other types of rocks that can be used for driveways, borders, garden accents, patios, and so forth.
Garden centers also carry flagstones, or larger pieces of rock that can be used for various purposes (again – driveways, patios, etc). 
This selection of rocks available for purchase in bulk is usually found in one specific area of the center, often with easy access to the roadway so that trucks can come and go to make their deliveries. 
Image source: Cambridge Garden Centre
These different rocks are also divided up into sections and labelled conveniently, with prices listed.  They are usually sold by the cubic yard. 
These days, there are also stores that carry only rocks and patio stones, which we have here in Ontario, where there is an abundance of rocks, but garden centers are the next best place to look if you are looking for rocks for your property.
 Here's a quick little 18-minute video of my garden.  As you'll see, I have a number of large rocks that I've obtained from some of the garden centers and rock suppliers around the area.  (just to get a sense of what my garden looks like these days)
https://www.youtube.com/watch?v=Yur1jcDmnSY
Sometimes a garden center will sell even very large decorate rocks that they pick up in other parts of the country.  For this, they need specialized equipment for carrying and placing such beastly boulders.  You can even custom order rocks at some locations, and you may want to ask about that.  I personally like to visit Grand Valley Rocks in my little neck of the woods.
Soil, Sod, Fertilizers
Sure, you can get soil from a grocery or hardware store in small bagged amounts, but if you're looking to buy it by the cubic yard, then a garden center should be your destination.  Just look at this giant pile of dirt over in the distance there.  It's about 75 feet high and theres a backhoe clawing away at it that's out of view.  Now that's bulk, baby!
Image source: Cambridge Garden Centre
There are different types of soil, as you may know, such as potting soil for indoor and outdoor plants, sod for your lawn or garden, peat moss, manure, and more.  Each of these comes in a number of varieties as well.  You may also need some landscape carpet, in vast amounts, and that's where a fully stocked garden center ought to have you covered too.
Like the bagged stuff you buy in regular stores, garden centers will sell various soils pre-screened, ensuring that there are no bits of undesirables contained within, like branches, pebbles, and debris.  This soil might contain such "ingredients" as vermiculite and pearlite, to keep the soil from clumping and allowing it to breathe.
Depending on the gardening task at hand, you may wish to visit a gardening center just to make sure that you can get exactly what you need, and the amount you want.  Delivery fees apply, of course, and this is another service that your local Longo's isn't going to provide.  What happens when you need a ton of manure dumped on your front lawn ASAP?  Call the gardening center, not the grocery store.
Perennials & Annuals
A quick definition for those who don't know the difference – a perennial is a plant that you plant once and it will grow back every year, like a hosta, while an annual means you get just one year out of it before it dies, like a petunia. 
Both perennials and annuals are available in both seed form and fully grown, and they are available, as you probably know, just about everywhere. 
However, if you are a true gardener, then you likely know more than a few things about plants, and you may need more selection than your average store can provide.  This is why it's better to visit a fully stocked garden center, because variety is what they tend to offer.  The bigger the center, the more selection you'll find.  Here's a quick peek at the selection I was looking at today.  That's my kind of selection when it comes to plants!
Image source: Cambridge Garden Centre
Also, if you're looking for a rare perennial or annual, you might have to order it through a particular distributor, and there's more of a chance that your local garden center will be in touch with these people, over the local grocer or hardware store owner.  I can recall a time where I once needed a specific type of bonzai tree, and only my local garden center was able to order it for me.
Trees
Speaking of trees, a garden center is where I go to buy trees if I need one for my yard, or for a client's property.  Like perennials, and other plants, garden centers offer more variety and selection than your average corporate chain store. 
Cambridge Garden Centre (which is not a chain I might add), for example, has rows upon rows of different trees, some of which are quite large, and which you would not find anywhere else nearby.
Image source: Cambridge Garden Centre
Because most garden centers are located either in rural areas or on large lots, there is often more space to put trees, which take up a lot of space, especially if they have a more full foliage. In addition, trees don't usually do as well when positioned on smouldering tarmac in some mall parking lot (which is where some stores put their garden centers, without any type of shade).  We think you'll get the best, most healthy trees at the garden center, where they can be spaced out nicely for the customer to view, and this is better for the trees as well, not to be crushed together.
Lights (Lanterns, Spotlights, Solar Lights)
Many fully stocked garden centers offer lights for your garden, with a recent focus on solar lights, which are gaining popularity due to a more environmentally conscious culture. 
At any given garden center, you might find a selection of lights in a display room somewhere, where they are sometimes set up to show what they are capable of, along with fountains, statues, special plants, etc.
Because there is a strong element of decoration and outdoor design in gardening, it benefits the garden center to show off their various wares, and lights are one of the more dazzling and extravegant garden accessories because they can be very showy.  On the other hand, you can purchase lights for purely practical reasons, like seeing where you're going at night, or lining a pathway or poolside. 
Not all garden centers carry lights, but some do, because they are reacting to the marketplace just like any other business.  If the local grocery or hardware store doesn't have much in the way of lighting for your garden, this allows garden centers to stock up and become the place to go to pick up outdoor lighting fixtures specifically designed for gardens.
Ornaments / Statuary / Fountains
One thing that you'll see at many comprehensive garden centers are various ornamental or decorative pieces, whether that be a statue, a fountain, plant holder, or some other art piece. This sort of more artisanal inventory goes hand in hand with lights, which are often designed to compliment and highlight such pieces.
This isn't to say that you won't find these items at a larger chain, because they certainly like to offer these products so long as they're in demand.  However, we will once more wager that you're more likely to find a better, or at least more unique, selection at your local garden center. 
Again, it comes down to the source of such items, as in the artist themselves or the distributor(s) and what they can provide to the garden center.  Today, for instance, we saw a very cool bust and some seriously heavy duty and yet beautiful fountains that we've never seen anywhere else, and definitely not something I'd expect to see at a home store.
Image source: Cambridge Garden Centre
Expert Advice
There's no question that if you go to a garden center, you're much more likely to receive expert advice, versus a grocery store that also sells floral arrangements and a few plants.  Now, it's worth noting that while the person behind the counter taking your cash / credit at the garden center may not be the expert you're looking for (they may be summer help or co-op students), but, at least, an expert or two is most likely somewhere on the premises, and they can be paged. 
Once that expert is with you, you can theoretically ask them about anything garden-related and they will probably have an answer backed up with appropriate education and experience.  Try that at a grocery store, hardware store, or home center – it's not the same.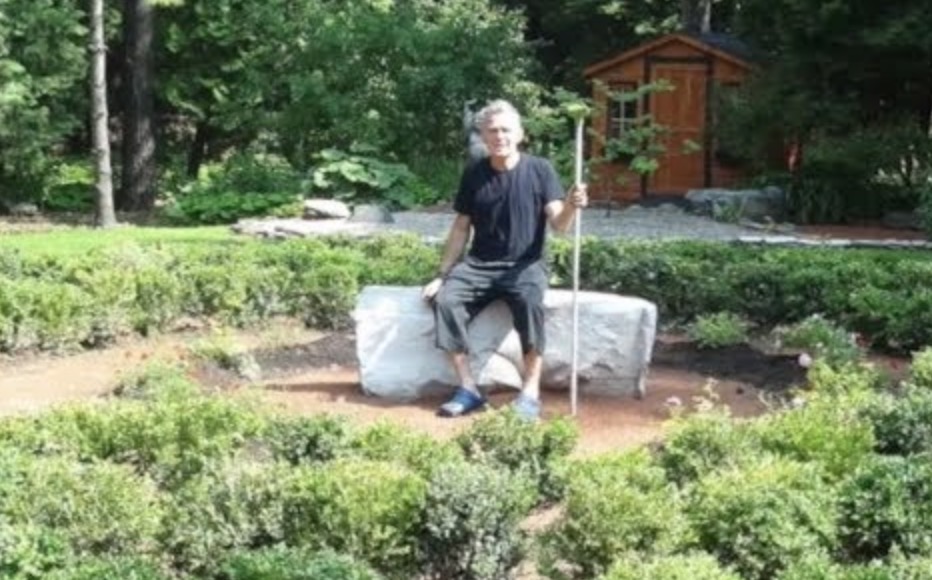 Sure, those people know a lot about their respective fields – hardware, home renos, produce – but it's a crapshoot as to whether you'll get expert gardening advice.  Probably not.
For instance, when we went to Cambridge Garden Centre today, we talked to the owner, Maria, who we've known for 40+ years and has as much collective gardening experience as the entire staff of your local Zehrs.
Deals
The last thing we'll mention is deals.  Everyone loves a good deal, and while big chain stores are going to be able to cut you deals every now and then, your local garden center is going to be in competition with them, and so they'll be cutting just as many deals if not more. 
With more selection all around, and seasons coming and going, the garden center is going to be pricing products to sell, and that means if you're a gardener, you're going to be getting some truly unexpected deals at times.  Whenever we go to visit our local garden center, there are many items that are on sale, for what I'd consider great deals.  I may not need that exact sale item at that time, but I inevitably walk out with a few extras, simply due to sales that are going on.
Here's another view from the Cambridge Garden Centre.  You can't see the tags, but they currently have slashed prices on many items, due to a current sale they're having.  This, of course, makes me want to look at the more at their current stock in case there's something extra I may want to pick up before I head back to my home garden.
Image source: Cambridge Garden Centre
I remember once my team was building a hedge maze for a landscaping contract, and there was a need for many, many boxwood shrubs.  Luckily, the gardening center had them on sale and we were able to swoop in one day and buy about 50 of these little bushes at a very reduced rate. This really wouldn't have been possible anywhere else in town.  It just so happened they had an entire section of about 200 of these boxwoods and we came by three days in a row and practically cleaned the place out.
Conclusion
By this point, you probably get the gist of what I've been rambling on about all this time.  Support your local garden centers.  They tend to know more, have more supplies, and often have better deals going on.  It also does more for the local economy when you support local businesses rather than huge chains.  It's a win-win for me, which is why I do it.  Please share your favourite gardening centers below if you happen to read this!
Here's a video taken from Cambridge Garden Centre where we go on a mini tour, check it out!
https://www.youtube.com/watch?v=Ar0d-hDx8Us&t=575s